Vagus Nerve Stimulation Market: Global Size, Share, Trends, Growth and Forecast Year ( 2022 – 2032 )
FREE Report Sample is Available
In-depth report coverage is now just a few seconds away
Get FREE Report Sample
---
Vagus Nerve Stimulation Market Dynamics
Vagus Nerve Stimulation Market by Product Type (Implantable VNS Device, External VNS Device), Application (Epilepsy, Depression, Migraine), Biomaterial (Metallic, Ceramics, Polymeric), End-use (Hospitals, Neurology Clinics, Ambulatory Surgical Centers, Research Centers) and Geographic Regions (North America, Europe, Asia Pacific, Latin America, Middle East and Africa): Industry Trends and Global Forecasts, 2023-2032.
---
Vagus Nerve Stimulation Market Size and Overview: Size and Share
The Vagus Nerve Stimulation (VNS) market has witnessed substantial growth, with a notable compound annual growth rate (CAGR) of 10.6% from 2023 to 2032, reaching a market value of $1.3 billion in 2032. This growth can be attributed to the increasing prevalence of neurological disorders and the growing demand for non-pharmacological treatment options. Vagus Nerve Stimulation is a therapeutic approach that involves the use of implanted devices to stimulate the vagus nerve, offering potential benefits in the management of epilepsy, depression, and other neurological conditions. The market comprises various VNS devices and accessories, including implantable pulse generators, leads, and external programming systems. Key players in the market are actively engaged in research and development activities to introduce innovative VNS solutions and expand their product portfolios, catering to the evolving needs of patients and healthcare professionals.
---
Vagus Nerve Stimulation (VNS) Market: Report Scope

Base Year Market Size

2022

Forecast Year Market Size

2023-2032

CAGR Value

10.6%

Segmentation

By Product Type
By Application
By Biomaterial
By End-Use
By Geographic Regions

Challenges

High cost of VNS devices
Strict government regulations

Growth Drivers

Increasing prevalence of neurological disorders
Rising adoption of non-pharmacological treatment approaches
Introduction of innovative non-invasive Vagus nerve stimulation
Government initiatives
Advancements in VNS device technology
Increasing investment in research and development activities
---
Vagus Nerve Stimulation Market Segmentation:
Product Type:
Implantable VNS Device
External VNS Device
Application:
Epilepsy
Depression
Migraine
Biomaterial:
Metallic
Ceramics
Polymeric
End-use:
Hospitals
Neurology Clinics
Ambulatory Surgical Centers
Research Centers
Geographic Regions:
North America
Europe
Asia Pacific
Latin America
Middle East and Africa
Implantable VNS Device: The implantable VNS device segment holds a significant market share in the vagus nerve stimulation market. These devices are surgically implanted in patients to provide continuous electrical stimulation to the vagus nerve. They are primarily used for the management of epilepsy, depression, and migraines. The effectiveness of implantable VNS devices in reducing the frequency and severity of seizures and improving mood disorders contributes to the growth of this segment.
Epilepsy: Epilepsy is a major application area for vagus nerve stimulation. It is a chronic neurological disorder characterized by recurrent seizures. Vagus nerve stimulation has emerged as a valuable treatment option for patients with drug-resistant epilepsy. The demand for VNS devices for epilepsy management is expected to witness substantial growth as awareness about the therapy increases.
---
Regional Analysis:
North America, this region dominates the global market in terms of market share and revenue. The high prevalence and incidence of neurological disorders in North America contribute to its market dominance. Additionally, the region benefits from significant investments in research and development, leading to the launch of new products and driving market growth. In Europe, countries such as Germany, France, and the United Kingdom hold significant market shares in the vagus nerve stimulation market. These countries have well-established healthcare systems and a growing awareness of neurological disorders. In the Asia Pacific region, rapid urbanization, increasing disposable incomes, and a growing appreciation for advanced healthcare technologies drive market expansion. Countries like China and India, with their large population and rising prevalence of neurological disorders, play a pivotal role in the market's growth. Latin America demonstrates steady growth in the vagus nerve stimulation market. Urban development, a rising middle class, and a growing demand for advanced medical treatments contribute to the region's market expansion. The Middle East and Africa region showcases a developing market with a focus on improving healthcare infrastructure and an increasing emphasis on advanced medical treatments. The United Arab Emirates, Saudi Arabia, and South Africa are notable contributors to the market's growth in this region.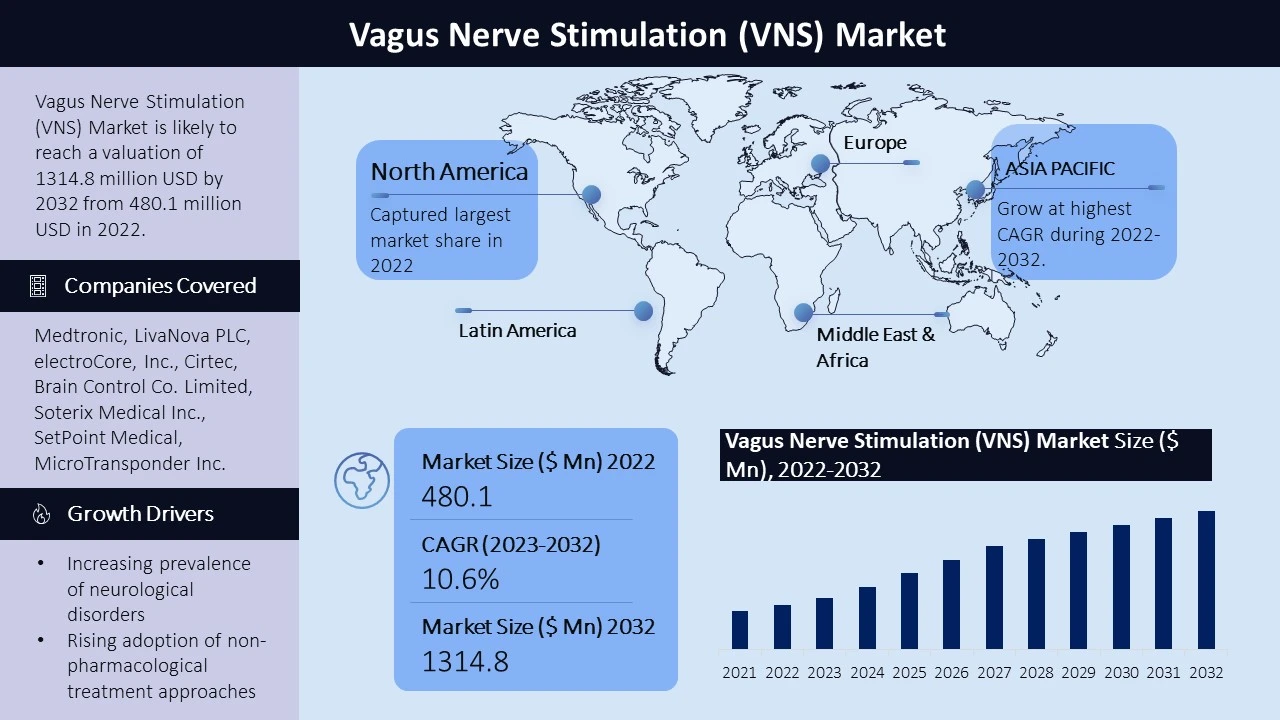 ---
Vagus Nerve Stimulation Market Growth Drivers:
Several factors drive the growth of the Vagus Nerve Stimulation market. Firstly, the increasing prevalence of neurological disorders, such as epilepsy and depression, contributes to the demand for effective treatment options. VNS therapy has shown efficacy in reducing seizures and managing symptoms in patients with drug-resistant epilepsy, driving market growth.
Additionally, the rising adoption of non-pharmacological treatment approaches, especially among patients who do not respond well to medications or have adverse side effects, is fueling the demand for Vagus Nerve Stimulation. The introduction of innovative non-invasive vagus nerve stimulation devices is another significant growth driver. Non-invasive options provide patients with a less invasive and more convenient treatment approach, leading to increased demand and market expansion.
Government initiatives aimed at addressing neurological diseases play a crucial role in driving the demand for vagus nerve stimulation devices. Moreover, advancements in VNS device technology, including smaller and more advanced implantable pulse generators, improved battery life, and enhanced programming systems, are driving market growth. These innovations aim to enhance patient comfort, simplify device management, and improve treatment outcomes.
Furthermore, increasing investment in research and development activities by key market players and academic institutions contributes to the expansion of the Vagus Nerve Stimulation market. Continuous efforts to improve device performance, expand the application of VNS therapy, and explore new therapeutic indications are expected to drive market growth in the coming years.
---
Challenges:
Challenges include the high cost of VNS devices and limited reimbursement coverage in some regions, regulatory hurdles in gaining approvals for new indications, Strict government regulations regarding manufacturing and product approvals pose hurdles for manufacturers in this industry.
---
Key Companies:
The report profiles leading companies in the vagus nerve stimulation market, such as Medtronic, LivaNova PLC, electroCore, Inc., Cirtec, Brain Control Co. Limited, Soterix Medical Inc., SetPoint Medical, MicroTransponder Inc, Parasym Ltd, and tVNS Technologies GmbH among other players. These companies have established themselves as key players in the market, with strong market presence, extensive distribution networks, and a diverse product portfolio. They employ competitive strategies such as product innovation, strategic partnerships, mergers, and acquisitions to enhance their market share and cater to the evolving needs of customers.
In December 2022, electroCore, Inc. announced the launch of Truvaga, a new wellness product offering in the United States. This product showcases the company's commitment to providing innovative solutions in the field of bioelectronic therapy.
Another prominent player, LivaNova PLC, introduced SenTiva DUO in February 2023. SenTiva DUO is an implantable pulse generator (IPG) with a dual-pin header, specifically designed to deliver VNS (vagus nerve stimulation) therapy for the treatment of drug-resistant epilepsy. This launch signifies LivaNova's dedication to advancing medical technology and providing effective treatment options for patients with epilepsy.
---
Publication date:

Aug 2023

Base year:

2022

Forecast year:

2023-2033
- Quick Contact -
- ISO Certified Logo -



---
FAQ
The market is primarily driven by the increasing prevalence of neurological disorders, the demand for alternative treatment options, and technological advancements in device technology.
Implantable VNS Device currently dominate the market, owing to their long-term effectiveness in managing chronic neurological conditions.
The North America region showcases significant market share, driven by well-established healthcare infrastructure, high disease prevalence, and favorable reimbursement policies.
Vagus Nerve Stimulation Market