Polymerase Chain Reaction Market By Type (Standard PCR, Real-time PCR, and Digital PCR), By Product (Instruments and Reagents & Consumables), By Indication (Infectious Diseases, Oncology, Genetic Disorders, and Others), By End User (Hospitals & Clinics, Pharmaceutical & Biotechnology Industries, Diagnostic Centers, and Academic & Research Organizations) And Geographic Regions (North America, Europe, Asia Pacific, Latin America, Middle East and Africa): Industry Trends and Global Forecasts, 2023-2032
FREE Report Sample is Available
In-depth report coverage is now just a few seconds away
Get FREE Report Sample
---
Market Size and Overview
The polymerase chain reaction market size is poised to reach USD 18.5 billion by the end of 2032, growing at a CAGR of 8.4% during the forecast period, i.e., 2023 – 2032. In the year 2022, the industry size of polymerase chain reaction market was USD 8.3 billion. The reason behind the growth may be attributed to the developing occurrence of infectious and chronic illnesses, the improvements in technology, growing need for precision medicinal drug and customized healthcare, augmented investments in research and improvement efforts and increasing healthcare infrastructure. The marketplace incorporates a wide range of products. The market is highly competitive with key players striving to meet evolving customer demands.
---
Polymerase Chain Reaction Market: Report Scope

Base Year Market Size

2022

Forecast Year Market Size

2023-2032

CAGR Value

8.4%

Segmentation

By Type
By Product
By Indication
By End-User
By Geographic Regions

Challenges

High cost
Complexity of PCR procedures

Growth Drivers

Increasing prevalence of infectious and chronic diseases
Growing adoption of PCR testing in pharmaceutical and biotechnology
Growing investment in research and development
Expanding healthcare infrastructure
---
Market Segmentation:
Type
Standard PCR
Real-time PCR
Digital PCR
Product
Instruments
Reagents & Consumables
Indication
Infectious Diseases
Oncology
Genetic Disorders
Others
End User
Hospitals & Clinics
Pharmaceutical & Biotechnology Industries
Diagnostic Centers
Academic & Research Organizations
Geographic Regions:
North America
Europe
Asia Pacific
Latin America
Middle East and Africa
The reagents & consumables category held the highest market share of revenue in 2022. Is expected to maintain its dominance throughout the projected timeframe. The segments growth can be attributed to the increasing burden of chronic diseases the growing demand, for consumables and reagents in diagnostic assays and the rise in partnerships and collaborations, among diagnostic companies. As an example, Roche recently announced on May 18 2022 the release of their PCR reagent called LightMix Modular SARS CoV 2 Detection Assay. This particular reagent has been designed to identify variants of the SARS CoV 2 virus allowing for swift diagnosis of COVID 19.

Regional Analysis:
North America stands as one of the major markets for polymerase chain reaction, driven through the well-established healthcare infrastructure. Additionally, emphasis on advanced diagnostic technologies in hospitals and diagnostic centers make contributions to the region's dominance. The United States, primarily, is a key contributor on this marketplace. Europe is one of the leading marketplaces for polymerase chain reaction because of the region's mix of hospitals and diagnostic centers, pharmaceutical and biotechnology companies, and academic and research institutes. The European market showcases a developing interest in research and development. The Asia Pacific polymerase chain reaction market is estimated to witness significant growth, during the forecast timeframe led by, rising healthcare expenditure, increasing prevalence of infectious and chronic diseases, and technological advancements. The demand for polymerase chain reaction is anticipated to rise in countries like China and India, in which large population and rising healthcare needs. Latin America and the Middle East and Africa display steady growth inside the polymerase chain reaction market, fueled via growing focus on personalized medicine, focus on improving healthcare infrastructure and increasing access to advanced diagnostic technologies. in these regions. Key participants to the market's growth in these areas encompass Brazil, Mexico, the United Arab Emirates, and South Africa.
Growth Drivers:
The growing prevalence of infectious and chronic illnesses propel the demand for efficient and dependable PCR testing. Furthermore, the advancements, in technology have given rise to the emergence of novel. PCR techniques such as digital PCR and real time PCR captivating the interest of healthcare providers and researchers. The increasing need for precision medicine and personalized healthcare has also played a role in stimulating market growth. There is growth potential offered by the escalating adoption of PCR testing within pharmaceutical and biotechnology companies. PCR testing finds application in drug development activities and other research undertakings thus bolstering the sales of instruments, reagents and consumables. PCR serves as a tool not for investigating DNA structure and function but also for developing cutting edge diagnostic tests and treatments for various diseases. The augmented investments in research and development efforts are fueling the demand for PCR within the research domain. As an illustration entity like the National Institutes of Health (NIH), in the United States allocate billions of dollars annually towards disease research where PCR proves to be an asset. The expanding healthcare infrastructure, particularly in growing areas, drives the demand for PCR testing. Healthcare providers put money into superior diagnostic technologies to enhance affected person outcomes and decrease healthcare costs.
Challenges:
High cost of polymerase chain reaction and the complexity of PCR procedures are hindering the growth of market. In developing regions, this factor has resulted in limited demand for product. Moreover, the need for highly skilled personnel is also restricting the growth of market.
---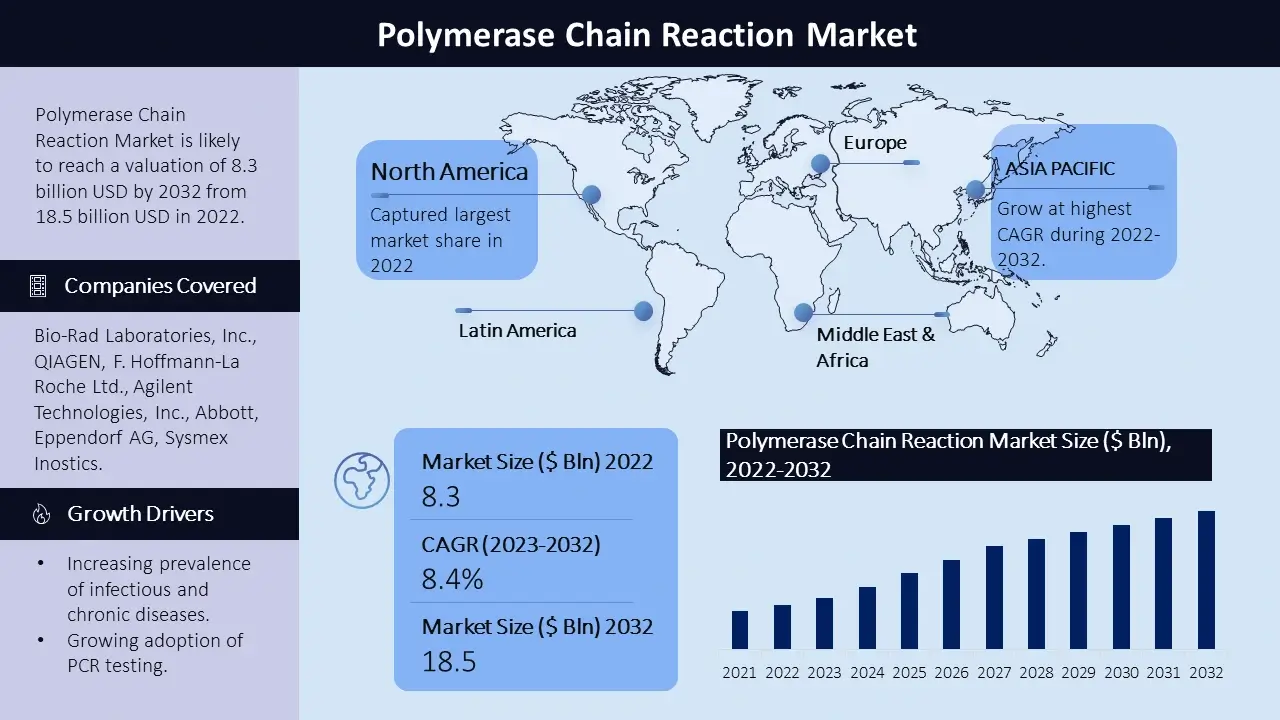 ---
Key Companies: The polymerase chain reaction market is poised by several main corporations, each making big contributions to the industry through their sturdy market presence and progressive product offerings. Among these principal players are Bio-Rad Laboratories, Inc., QIAGEN, F. Hoffmann-La Roche Ltd., Agilent Technologies, Inc., Abbott, Eppendorf AG, Sysmex Inostics, Thermo Fisher Scientific Inc., BD, Standard BioTools, Microsynth AG, Stilla. And other players. These essential players constantly try and revamp their marketplace percentage and meet the desires of a diverse investor base. Their competitive techniques encompass product innovation, forging strategic partnerships, undertaking mergers and acquisitions, and increasing their distribution networks.
In January 2023, Bio-Rad announced the launch of its new CFX Connect real-time PCR system.
In February 2023, QIAGEN announced the launch of its new QIAcuity Dx real-time PCR system. The QIAcuity Dx is a high-throughput system that is designed for clinical diagnostics.
---
Publication date:

Aug 2023

Base year:

2022

Forecast year:

2023-2033
- Quick Contact -
- ISO Certified Logo -



---
FAQ
The market is primarily driven by the Increasing prevalence of infectious and chronic diseases, Growing adoption of PCR testing in pharmaceutical and biotechnology.
The market is segmented by product; reagents & consumables segment accounted the highest market share in 2022.
The Asia Pacific region showcases immense growth potential, attributed to the rising healthcare expenditure, increasing prevalence of infectious and chronic diseases, and technological advancements in the region.
Polymerase Chain Reaction Market