Phthalic Anhydride Market Growth Potential By process, By application, By end-use industries, and Development Forecast 2032
FREE Report Sample is Available
In-depth report coverage is now just a few seconds away
Get FREE Report Sample
---
Phthalic AnhydrideMarket:
Phthalic anhydride is a white-colored organic crystalline compound with the chemical formula C6H4(CO)2O that is formed due to the catalytic oxidization of O-Xylene. It reacts exothermically when in contact with water and as such can accelerate corrosion. It is used to manufacture materials such as artificial resins. It is the commercially used form of phthalic acid. Phthalic anhydride is usually used as a chemical medium for the production of plastics from vinyl chloride. It is known as an adaptable intermediate in chemical processes because it is bifunctional and readily available.
---
Phthalic Anhydride Market:
The market size for the phthalic anhydride market was USD 4.04 billion in the year 2022. It is expected that the market size for phthalic anhydride will increase by approximately USD 7.7 billion by 2032 as the market for phthalic anhydride is continuously growing at a compound annual growth rate (CAGR) of 6.6% during the forecast period 2023-2032.
---
Phthalic Anhydride Market Key Drivers:
There are various factors that help in the growth of the phthalic anhydride market. They are as follows:
Growing usage of phthalic anhydride: Phthalic anhydride is frequently used as a monomer for synthetic resins like polyester, alkyd, and glyptic resins, which are utilized in applications for heat-resistant paints, maritime coatings, and insulation varnishes.
Extensive Phthalic Anhydride Properties: The demand for phthalic anhydride is rising in the building, furniture, automotive, and aviation industries due to its advantages over other materials, including its low weight, resistance to chemical rot, high transparency, and resilience to weather, corrosion, abrasion, and impact.
Market Strategies and Product Development: various market strategies adopted by the market players, such as acquisition and collaborations, further enhance product applications and extend profitable opportunities to the market players.
---
Phthalic Anhydride Market Challenges:
There are many challenges that are faced by the phthalic anhydride market. They are listed below:
Negative Impact: The development of a bio-based replacement to phthalic anhydride and the negative impacts of phthalates due to their toxicity is anticipated to restrain the growth of the phthalic anhydride market during the forecast period.
Bio-Based Alternatives: Factors such as the development of bio-based alternatives for phthalic anhydride will challenge the growth rate of the phthalic anhydride market.
---
Phthalic Anhydride Market Regional Synopsis:
North America: The North American market, on the other hand, is estimated to show lucrative growth due to the increasing usage across end-use industries and surging research and development activities in the region.
Europe: The European phthalic anhydride (PA) industry has been highly fragmented due to different feedstock requirements across countries such as Germany, France, and Italy which have led to higher competition among producers resulting in lower profits overall thus impacting future growth prospects negatively.
Asia-Pacific: The region accounts for the highest market share. The market is driven by several key players and industries present in the region. India and China are the major markets of the region.
LAMEA: Latin America, the Middle East, and Africa are the regions having less growth as compared to other regions in the phthalic anhydride market.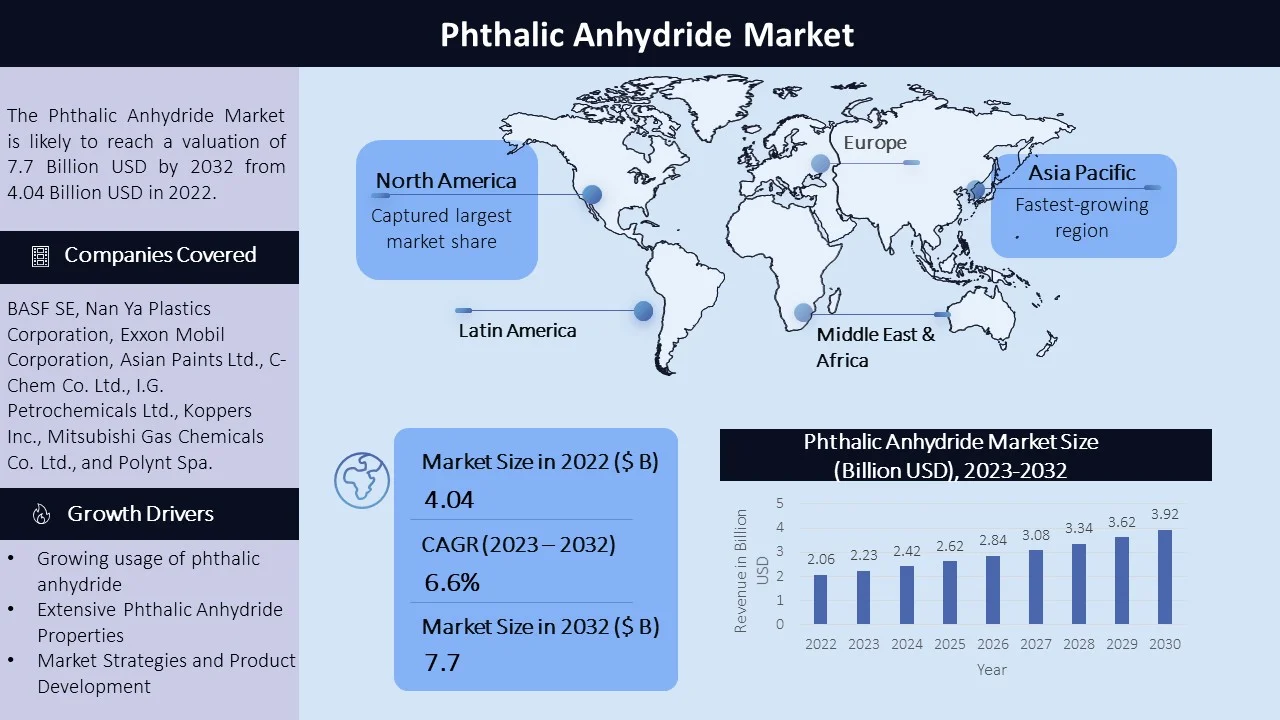 ---
Phthalic Anhydride Market Segmentation:
The phthalic anhydride market is segmented into various categories which are listed below:
By process:
O-Xylene Catalytic Oxidation
Naphthalene Catalytic Oxidation
By application:
Plasticizers
Alkyd Resins
Unsaturated Polyester Resins
Others
By end-use industries:
Paints & Coatings
Automotive
Electrical & Electronics
Building & Construction
Agriculture
Marine
Others
By geography:
North America
Europe
Asia-Pacific
LAMEA
---
Phthalic Anhydride Market Key Players:
I.G. Petrochemicals Ltd.
C-Chem Co. Ltd.
Polynt Spa
Exxon Mobil Corporation
Mitsubishi Gas Chemicals Co. Ltd.
Thirumalai Chemicals Ltd.
Koppers Inc.
Stepan Company
Asian Paints Ltd.
NAN YA Plastics Corporation
UPC Technology Corporation
BASF SE
Others
---
Publication date:

Aug 2023

Base year:

2022

Forecast year:

2023-2033
- Quick Contact -
- ISO Certified Logo -



---
FAQ
Growing usage of phthalic anhydride in the manufacturing of plasticizers, and increasing consumption of alkyd resin in paints and coatings industry are the key factors boosting the phthalic anhydride market growth.
BASF SE, Nan Ya Plastics Corporation, Exxon Mobil Corporation, Asian Paints Ltd., C-Chem Co. Ltd., I.G. Petrochemicals Ltd., Koppers Inc., Mitsubishi Gas Chemicals Co. Ltd., Polynt Spa, Stepan Company, Thirumalai Chemicals Ltd. and UPC Technology Corporation are the most established players of the global phthalic anhydride market.
Phthalic Anhydride Market