Phenol Market : Global Size, Share, Trends, Growth and Forecast, 2022-2032
FREE Report Sample is Available
In-depth report coverage is now just a few seconds away
Get FREE Report Sample
---
Phenol Market: Size and Share
Phenol is a versatile chemical compound used in various processes with color and care. Here are some important details regarding the phenol market:
The cumene process is utilized for the production of phenol, commonly known as carbolic acid, which is a white crystalline solid derived from benzene.
Phenol is extensively employed in the production of downstream goods such as alkylphenols, caprolactam, phenolic resins, and bisphenol-A (BPA).
The phenol market is driven by demand from industries such as automotive, construction, electrical and electronics, healthcare, and consumer products.
Phenol Market is estimated to reach $40.7 Billion by 2030 from initial market size of $24.2 Billion in 2022 by growing at a CAGR of 5.1 % over the forecast period ( 2023 – 2032 )
---
Phenol Market: Report Scope

Base Year Market Size

2022

Forecast Year Market Size

2023-2032

CAGR Value

5.1%

Segmentation

By Application
By Derivatives
By Production Process
By Region

Challenges

Volatile Feedstock Prices
Environmental Regulations
Health and Safety Concerns
Competition from Substitutes

Growth Drivers

Growing Demand for Bisphenol-A (BPA)
Expansion of Construction and Infrastructure
Increasing Demand for Electrical and Electronics
Growth in Automotive Production
Rising Healthcare Expenditure
---
Phenol Market Driving Factors
Several driving factors contribute to the growth and demand in the phenol market:
Growing Demand for Bisphenol-A (BPA): The production of epoxy resin resins and polycarbonate plastics extensively utilizes Bisphenol-A, which is derived from phenol. The automotive and electrical industries, in particular, drive the demand for these components, fueling the phenol market.
Expansion of Construction and Infrastructure: Phenolic resins play a crucial role in building projects such as adhesives, coatings, and laminates. The expansion of the construction industry, especially in emerging markets, fuels the demand for phenol.
Increasing Demand for Electrical and Electronics: Phenol is a key component in producing epoxy resin resins, which find extensive use in electrical and electronic components. The growth of consumer electronics, telecommunications equipment, and electrical appliances drives the demand for phenol.
Growth in Automotive Production: Phenolic resins are utilized in various automotive applications such as engine parts, clutches, and bumper pads. The expansion of the automotive industry, driven by increasing vehicle production and demand, contributes to the rising demand for phenol.
Rising Healthcare Expenditure: Phenol is used in the production of pharmaceuticals, antiseptics, and detergents. The demand for phenol in the healthcare industry is driven by rising healthcare costs, an increased emphasis on sanitation and sterilization, and the growing demand for healthcare products.
---
Phenol Market Challenges
Some key challenges faced by the phenol market are:
Volatile Feedstock Prices: The price of benzene, which is the primary feedstock for phenol production, is subject to fluctuations influenced by factors such as crude oil prices and supply-demand dynamics. These price fluctuations can impact the profitability of phenol manufacturers.
Environmental Regulations: Phenol production and its derivatives are regulated due to the inherent hazards associated with the emulsion. Compliance with environmental norms, waste management, and emissions control pose challenges for the industry.
Health and Safety Concerns: Improper handling of phenol can cause health problems and pose dangers. Manufacturers of phenol face significant hurdles in ensuring worker safety, implementing appropriate safety measures, and adhering to occupational health standards.
Competition from Substitutes: Phenol faces competition from alternative tools or processes that offer similar properties and functionality. The traditional demand for phenol is challenged by the development of bio-based phenol and the elimination of certain chemicals in certain circles.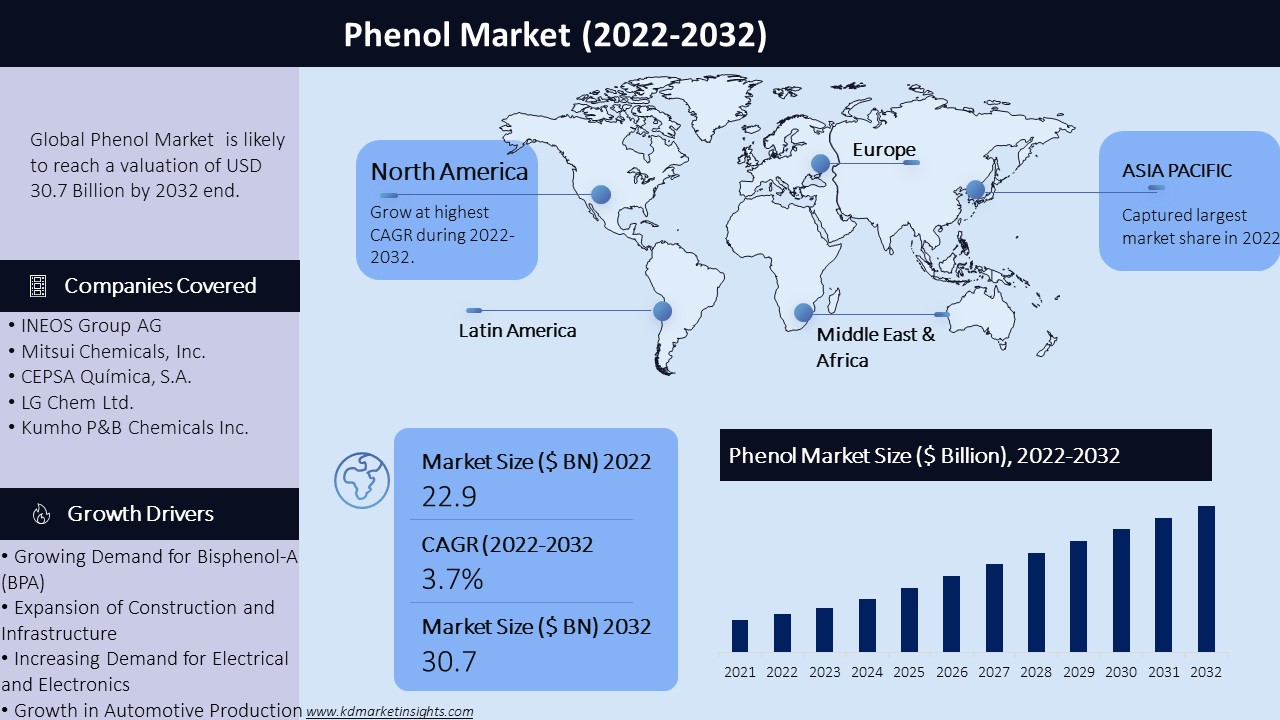 ---
Phenol Market Regional synopsis
North America: The demand for phenol in North America is substantial. The US and Canada are major producers and users of phenol. Technical advancements, product innovation, and the presence of significant market players contribute to the region's demand growth. Sustainability and environmental regulations also shape the dynamics of demand in North America.
Europe: The phenol market in Europe is well-developed, with industries such as electronics, construction, and the automobile industry being well-represented. The region emphasizes sustainability, compliance with regulations, and the adoption of eco-friendly alternatives. The demand is driven by the need for phenol derivatives and applications in thriving industries.
Asia Pacific: The Asia-Pacific region is the largest consumer and producer of phenol globally. It is driven by major end-use industries such as automotive, construction, electrical and electronics, and healthcare. Emerging countries in Asia have a strong demand for phenol due to rapid industrialization, infrastructure development, and a growing middle class. The region benefits from low product costs, ample feedstock availability, and favorable government programs, making it a crucial player in the phenol market.
Latin America: The demand for phenol is increasing in Latin America, driven by factors similar to those in the building, automotive, and consumer goods industries. Economic development, urbanization, and increased consumer demand contribute to the need for phenol in the region.
The Middle East and Africa: The Middle East and Africa region show potential for growth in the phenol market. The market is driven by the construction industry, infrastructure projects, and the presence of major end-use industries.
---
Phenol Market Segmentation
The phenol market is segmented based on:
By Application:
Phenolic Resins
Bisphenol-A (Bpa)
Caprolactam
Alkylphenols
By Derivatives:
Phenolic Resins
Bpa
Caprolactam
By Production Process:
The Cumene Process
The Dow Process
Others
By Region:
Asia-Pacific
North America
Europe
Latin America
The Middle East & Africa.
---
Phenol Market Key players
Some of the key players profiled in the ethylene oxide market are:
INEOS Group AG
Mitsui Chemicals, Inc.
CEPSA Química, S.A.
LG Chem Ltd.
Kumho P&B Chemicals Inc.
PTT Global Chemical Public Company Limited
Saudi Basic Industries Corporation (SABIC)
Royal Dutch Shell plc
Mitsui Phenols Singapore Pte. Ltd.
Formosa Chemicals & Fibre Corporation
Sumitomo Chemical Co., Ltd.
Mitsui & Co., Ltd.
AdvanSix Inc.
Deepak Phenolics Limited
Honeywell International Inc.
Uflex Ltd.
Sunoco LP
Altivia
PTT Phenol Company Limited
Koch Industries, Inc.
---
Publication date:

Aug 2023

Base year:

2022

Forecast year:

2023-2033
- Quick Contact -
- ISO Certified Logo -



---
Phenol Market