Pharmaceutical Excipients Market - Global Size, Share, Trends, Growth and Forecast Year ( 2022 – 2032 )
FREE Report Sample is Available
In-depth report coverage is now just a few seconds away
Get FREE Report Sample
Pharmaceutical Excipients Market Dynamics
Pharmaceutical Excipients Market by Product Type (Organic Chemicals, Inorganic Chemicals, and Others), Functionality (Fillers and Diluents, Suspension, and Viscosity Agents, Coating Agents, Binders, Disintegrants, Colorants, Lubricants and Glidants, Preservatives, Emulsifying Agents, Flavoring Agents and Sweeteners, Other Functionalities), Formulations (Topical Formulations, Oral Formulations, Parenteral Formulations, Other Formulations), End-Users(Pharmaceuticals Companies, Research Organization, Academics, Others) and Geographic Regions (North America, Europe, Asia Pacific, Latin America, Middle East and Africa): Industry Trends and Global Forecasts, 2023-2032.
---
Market Size and Overview:
The pharmaceutical excipients market has witnessed substantial growth, with a projected market value of $16.4 billion by 2032, growing at a CAGR of 5.9% from 2023 to 2032. This growth can be attributed to various factors such as the expanding pharmaceuticals market, the increasing demand for functional excipients, the surge in the generics market, the rising uptake of biopharmaceuticals, and the adoption of orphan drugs. The market encompasses a wide range of excipients that play crucial roles in pharmaceutical formulations. The emergence of multifunctional excipients, the shift of pharmaceutical manufacturing to emerging countries, and the growth of the biosimilars market present significant growth opportunities. However, stringent regulatory requirements for drug and excipient approvals, as well as the time and cost-intensive drug development process, pose challenges to market growth during the forecast period.
---
Pharmaceutical Excipients Market: Report Scope

Base Year Market Size

2022

Forecast Year Market Size

2023-2032

CAGR Value

5.9%

Segmentation

By Product Type
By Functionality
By Formulations
By End-Users
By Geographic Regions

Challenges

Cost and time-intensive drug development process
Safety and quality concerns

Growth Drivers

Surge in the generics market
Increasing demand for functionality excipients
Rapid advancements in nanotechnology
Recent expiration of patents for several drugs
---
Market Segmentation:
Product Type:
Organic Chemicals
Inorganic Chemicals
Others
Functionality:
Fillers and Diluents
Suspending and Viscosity Agents
Coating Agents
Binders
Disintegrants
Colorants
Lubricants and Glidants
Preservatives
Emulsifying Agents
Flavoring Agents and Sweeteners
Other Functionalities
Formulations:
Topical Formulations
Oral Formulations
Parenteral Formulations
Other Formulations
End-Users:
Pharmaceuticals Companies
Research Organization
Academics
Others
Geographic Regions:
North America
Europe
Asia Pacific
Latin America
Middle East and Africa
Organic Chemicals: The organic chemicals segment holds the dominant share in the pharmaceutical excipients market. This can be attributed to the non-toxic nature and efficacy of organic chemicals as excipients for oral drug formulations. Within the organic chemicals segment, oleochemicals, carbohydrates, petrochemicals, proteins, and other organic chemicals contribute to the overall market growth.
Oral Formulations: The oral formulations segment represents a substantial portion of the pharmaceutical excipients market. With the majority of pharmaceutical products being administered orally, excipients are crucial in enhancing drug stability, taste masking, and controlled release. The increasing prevalence of chronic diseases and the growing aging population drive the demand for oral drug formulations, thereby propelling the growth of this segment.
---
Regional Analysis:
North America, region boasts one of the largest and most mature markets, primarily driven by the United States. The well-established pharmaceutical industry, extensive research and development activities, and the presence of major pharmaceutical companies contribute to the market's dominance. Europe, holds the largest market share, driven by the presence of major pharmaceutical players and the growing demand for high-quality pharmaceutical products. The emphasis on generics and biosimilars in Europe fuels the need for novel excipients, supporting market growth. The Asia Pacific region showcases substantial growth potential, attributed to the increasing population, rising healthcare expenditure, and the expansion of the pharmaceutical manufacturing sector in countries like China and India. Latin America demonstrates steady growth, driven by improving healthcare infrastructure, rising disposable incomes, and an increasing demand for quality pharmaceutical products. Brazil, Mexico, and Argentina are key markets within the region. Lastly, the Middle East and Africa exhibit emerging market opportunities, driven by an expanding pharmaceutical industry, rising healthcare investments, and the growing prevalence of chronic diseases. The United Arab Emirates, Saudi Arabia, and South Africa are notable contributors to the market's growth in this region.
---
Growth Drivers:
Several factors drive the growth of the pharmaceutical excipients market. Firstly, the surge in the generics market plays a significant role. The rise in generic drug production and usage fuels the demand for pharmaceutical excipients. As more generic drugs enter the market, there is a need for excipients to formulate these medications effectively and ensure their quality and safety.
Furthermore, the increasing demand for functionality excipients drives market growth. Functionality excipients are specialized ingredients that enhance the performance and effectiveness of pharmaceutical formulations. They play a crucial role in drug stability, solubility, and bioavailability, contributing to improved patient outcomes.
rapid advancements in nanotechnology have a positive impact on the pharmaceutical excipients market. Nanotechnology enables the development of innovative drug delivery systems and formulations, which require specialized excipients. These excipients help enhance drug delivery, improve therapeutic efficacy, and enable targeted treatment approaches. Moreover, the recent expiration of patents for several drugs drives the demand for pharmaceutical excipients. With the expiration of patents, generic versions of these drugs enter the market, leading to increased production and the need for excipients in their formulations.
---
Challenges:
The pharmaceutical excipients market faces challenges related to the cost and time-intensive drug development process. Developing new drugs involves extensive research, clinical trials, and regulatory approvals, which can be time-consuming and costly. Additionally, safety and quality concerns are critical challenges.
---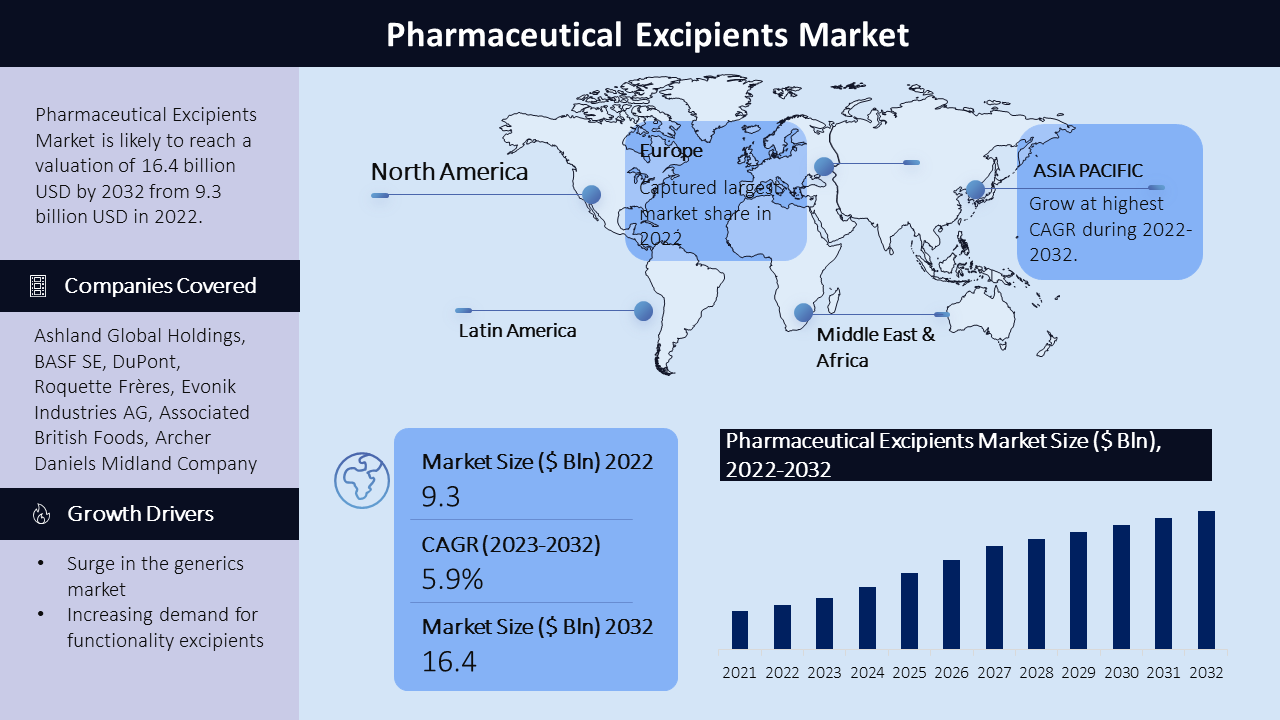 ---
Key Companies:
The pharmaceutical excipients market is led by prominent players such as Ashland Global Holdings, BASF SE, DuPont, Roquette Frères, Evonik Industries AG, Associated British Foods, Archer Daniels Midland Company, Lubrizol Corporation, Croda International, and Kerry Group among other players. These companies have established a strong market presence and possess extensive expertise in the production and supply of pharmaceutical excipients. They have robust distribution networks and offer a wide range of excipient solutions to cater to the diverse needs of the pharmaceutical industry.
In February 2022, Kerry Group, a leading taste and nutrition company, made significant biotechnology acquisitions to expand its expertise and capabilities. The company acquired c-LEcta, a biotechnology innovation company specializing in precision fermentation and bio-transformation, as well as Enmex, a Mexican-based enzyme manufacturer.
In March 2022, CD Formulation launched tailored solutions for increased bioavailability excipients, addressing the long-standing challenge of poor bioavailability in drug development. Their specialized formulations aim to improve the absorption and effectiveness of pharmaceutical products, offering innovative solutions to enhance patient outcomes.
---
Publication date:

Aug 2023

Base year:

2022

Forecast year:

2023-2033
- Quick Contact -
- ISO Certified Logo -



---
FAQ
The market is primarily driven by the increasing demand for pharmaceutical formulations, advancements in drug delivery technologies, and the expanding generic drugs market.
The organic chemicals segment holds the dominant share in the pharmaceutical excipients market.
The Asia Pacific region showcases immense growth potential, attributed to the rising population, expanding pharmaceutical manufacturing sector, and increasing healthcare expenditure.
Pharmaceutical Excipients Market