Pet Food Market By Product (Dry, Wet/Canned, Nutritious, Snacks/treats, others); By Application (Dog, Cat); By Distribution Channel (Supermarkets/Hypermarkets, Specialty Pet Food Stores, Online channels, and Others); By Region (North America, Europe, Asia Pacific, Latin America, Middle East & Africa) - Global Market Analysis, Trends, Opportunity and Forecast, 2022-2032
FREE Report Sample is Available
In-depth report coverage is now just a few seconds away
Get FREE Report Sample
Pet Food Market Overview and Definition
The global pet food market was valued at USD 99.8 billion in 2022 and is expected to reach at 157.5 billion by 2032, growing at a CAGR of 4.6% between the forecast period from 2022 to 2032
The growth of the pet food market is being driven by a number of factors, including:
Increasing pet ownership
Rising disposable incomes
Growing humanization of pets
Increasing demand for premium and functional pet food products
The pet food market refers to the industry involved in the production, distribution, and sale of food and treats for domestic animals, primarily cats and dogs, but also for other pets such as birds, fish, and small mammals. Pet food is specially formulated to provide balanced and complete nutrition to meet the dietary needs of different types of animals.
The pet food market includes a wide variety of products, including dry and wet food, treats, and supplements. These products are typically sold through a range of distribution channels, including pet stores, supermarkets, online retailers, and veterinary clinics.
The pet food market is driven by a growing demand for pet ownership and an increasing trend towards humanization of pets, where owners view their pets as part of the family and want to provide them with high-quality, nutritious food. The market is also subject to trends in consumer preferences, with a growing demand for natural and organic pet food, as well as for products that address specific health concerns or dietary requirements.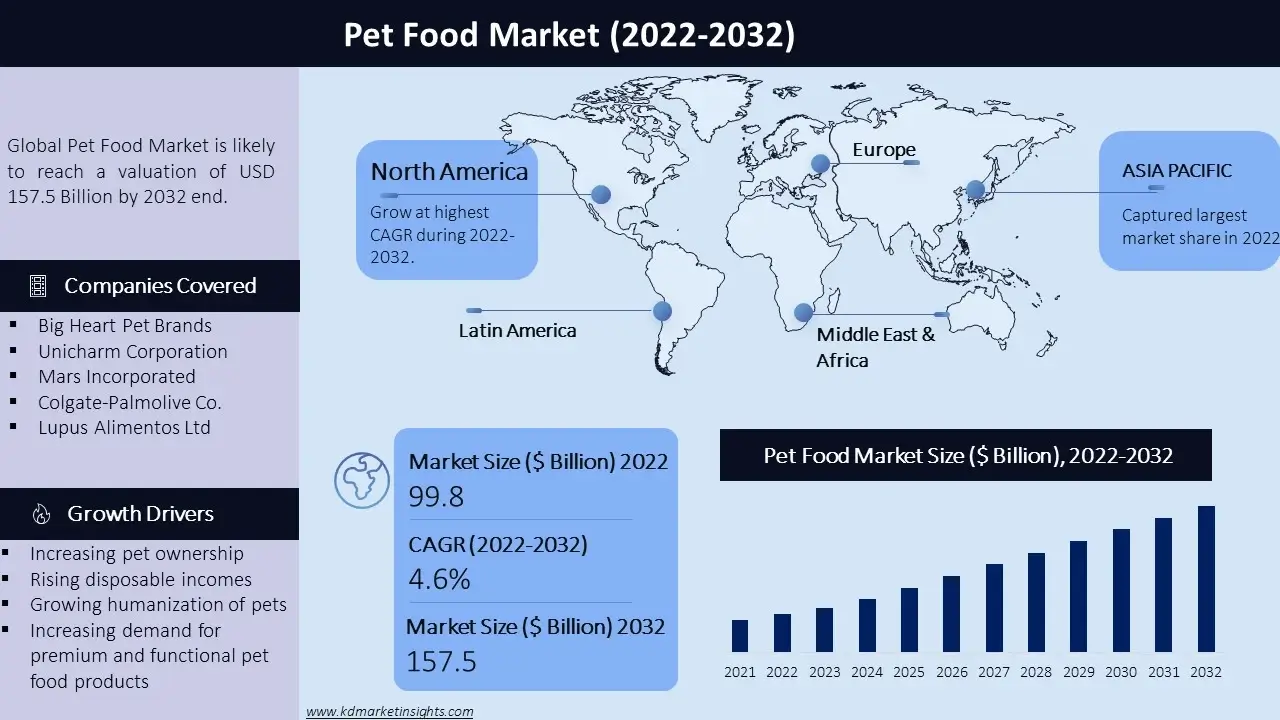 The pet food market is highly competitive, with a large number of manufacturers and brands competing for market share. Manufacturers often invest in research and development to create new products and improve existing ones, while also focusing on sustainability and ethical sourcing of ingredients.
KD Market Insights provides a forecast for global Pet Food market for a span of 6 years i.e. between 2021 and 2027. This report presents an overview on Pet Food market and technologies used in it such as Dry, Wet/Canned, Nutritious, Snacks/treats and Others used for various Application segments such as Dog, Cat and Others.
Report Description
Pet Food research provides a detailed analysis of its global market and provides useful insights to understand the reason behind the popularity of this emerging technology along with its advantages and challenges. The report covers detailed analysis of key industry drivers, challenges, market trends as well as market structure. The report has been segregated on the basis of Product, Application and global regions. This research also provides an assessment of key industry giants and their strategies that helps them to succeed in business.
Pet Food market has been segmented by Product, Application and by region. On the basis of Product market has been divided as Dry, Wet/Canned, Nutritious, Snacks/treats and Others. By Application, it is further divided as Dog, Cat and Others.
Coming to next segment, report provides an analysis of Pet Food market for global countries in the region. It covers a market overview for 2020-2025 and gives probable forecast with the context of Pet Food. This also covers new technological development and their role in the market. The research covers the pivotal trends within countries contributing to growth of the market, as well as analyses the factor due to which drivers impact the market in each region. Key regions and countries included in this report includes North America (U.S& Canada), Europe (Germany, U.K, France, Italy) Asia Pacific (China, India, Japan, South Korea, Indonesia, Taiwan and Rest of Asia), Middle East &Africa (GCC, North America, North America, South America).
The report also reflects the current scenario and the target of the Pet Food market. For this evaluation, 2021 considered as base year, 2022 as an estimated year, 2022-2027 as forecasted year. As already mentioned, the global pet food market is divided into a number of segments. All segments in terms of Product, Application and different regions are examined in terms of base points to understand the relative contributions of each segments to market growth. This detailed level of facts & information is essential for the identification of various key factors in the global Pet Food market.
In the final section of the report, we have included a competitive landscape to provide clients a dashboard view based on categories of providers in the value chain, their presence in the Pet Food market, and key differentiators. This section is mainly designed to provide clients an objective and detailed comparative assessment of key providers specific to a market segment in the current scenario and the main competitors for the same. Report audiences can gain segment-specific vendor insights to identify and evaluate key competitors based on the in-depth assessment of capabilities and success in the marketplace. Detailed profiles of providers are also included in the scope of the report to evaluate their long-term and short-term strategies, key offerings, and recent developments in the Pet Food market.
Some of the key competitors covered in the report are Big Heart Pet Brands, Unicharm Corporation, Mars Incorporated, Colgate-Palmolive Co., Lupus Alimentos Ltd, Total Alimentos SA, Others Major and Niche Key Players.
---
Pet Food Market Key Segmentation
By Product
Dry
Wet/Canned
Nutritious
Snacks/treats
Others
By Application
By Distribution Channel
Supermarkets/Hypermarkets
Specialty Pet Food Stores
Online channels
Others
---
Pet Food Market Key Players
- Big Heart Pet Brands
- Unicharm Corporation
- Mars Incorporated
- Colgate-Palmolive Co.
- Lupus Alimentos Ltd
- Total Alimentos SA
- Others Major and Niche Key Players
---
Publication date:

13th October 2023

Base year:

2022

Forecast year:

2023-2033

Format:

PDF, PPT,Word,Excel
- Quick Contact -
- ISO Certified Logo -



---
Pet Food Market