Nutraceutical Supplements Market By Type (Functional Food, Functional Beverages, Dietary Supplements, Personal Care); By  Ingredients Type (Probiotic, Proteins and amino acids, Phytochemical & plant extracts, Fibers & specialty carbohydrates, Omega 3 fatty acids, Vitamins, Prebiotic, Carotenoids, Minerals); By Form Type (Dry, Liquid); By Source (Plant, Animal, Microbial); By Region (North America, Europe, Asia Pacific, Latin America, Middle East & Africa) - Global Market Analysis, Trends, Opportunity and Forecast, 2022-2032
FREE Report Sample is Available
In-depth report coverage is now just a few seconds away
Get FREE Report Sample
Nutraceutical Supplements Market Overview
The global nutraceutical supplements market size was valued at around USD 86.5 billion in 2022 and is projected to grow at a compound annual rate of growth (CAGR) of around 8.2% from 2022 to 2032.The market size is projected to succeed in USD 199.7 billion by 2032.
Nutraceuticals, sometimes also referred to as 'bioceuticals' are pharmaceutical alternatives derived from food sources that provide extra health benefits, in addition to the basic nutritional value found in foods which also claim to provide physiological benefits. These are said to prevent chronic diseases, improve health, delay the aging process, increase life expectancy, and also support the structure and functions of the body.
Comprising of fortified nutrients, such as taurine, CoQ10, omega-3, calcium, zinc, and antioxidants, these help in averting medical conditions, such as hypertension, diabetes, heart diseases, allergies and also improve the digestive and immune systems and enhance the cognitive behavior of consumers.
These are used in numerous industries such as pharmaceutical food & beverages, animal feed additives, and personal care. As such, their demand is increasing and this market is expected to grow at a rapid CAGR in the years to come.
---
Nutraceutical Supplements Market Drivers
The growth of this market is attributed towards major relying factors including the rising health awareness among consumers of all age groups, increasing prevalence of obesity and focus on preventive healthcare, inclination toward personalized nutrition, increasing awareness for nutraceuticals, growing trend to alter dietary habits, rise in disposable income, rise and evolution of wellness focused diets, such as keto and paleo, rising healthcare costs, growing geriatric population etc.
Moreover, with chronic lifestyle diseases are on a rapid ascent among the masses, nutraceuticals have firmly established themselves as key to human health owing to their disease prevention advantages. Functional food products, such as probiotics and omega-3, are highly used in yogurt and fish oils in order to reduce the risk of cardiovascular diseases and develop the quality of intestinal microflora, which is further projected to fuel the market growth of the nutraceutical supplements over the coming years.
Furthermore, emerging innovations in this sector, rising awareness regarding calorie reduction and weight loss along with increasing orientation towards preventive health care owing to the sharp increase in the healthcare cost enhance the global market of nutraceuticals supplements drastically.
However, stringent government regulations, risk related to marketing-hype, higher costs of fortified products dissuading large-scale usage and adoption, limited awareness in the underdeveloped countries are expected to restrict the growth of the global nutraceuticals supplements market.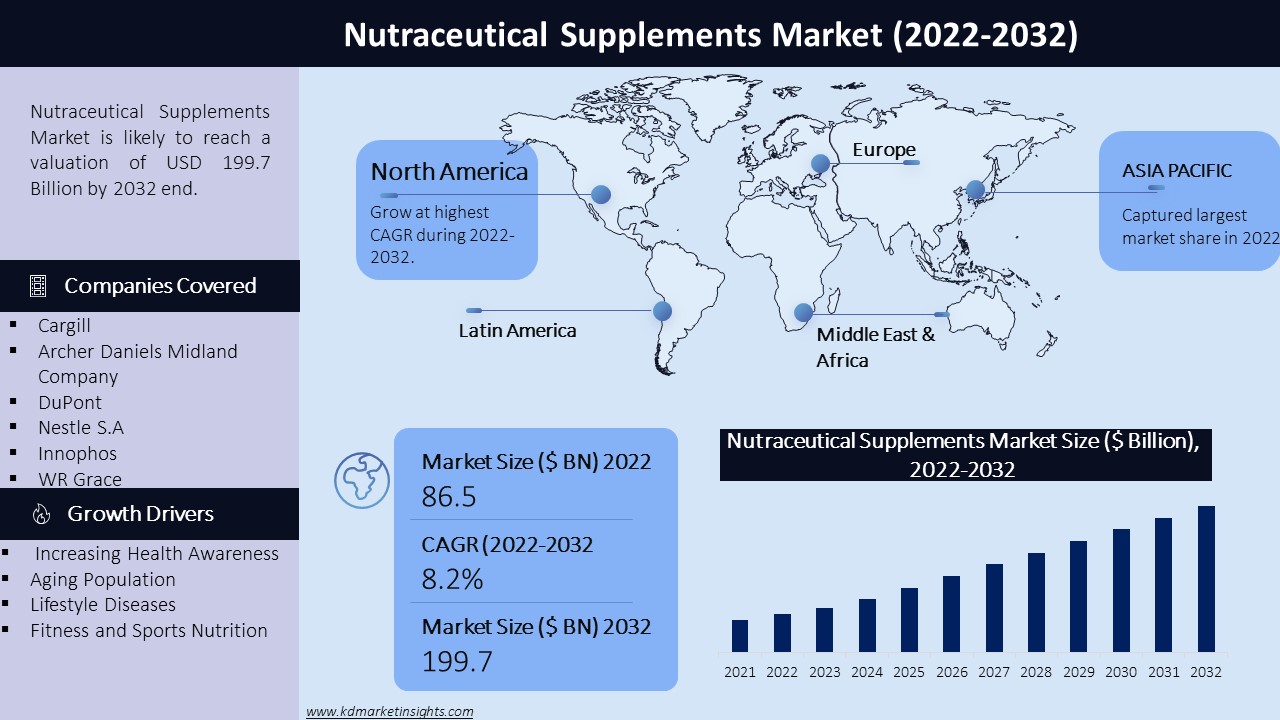 ---
Nutraceutical Supplements Market Segmentation
By Type
Functional Food
Functional Beverages
Dietary Supplements
Personal Care
By Ingredients Type
Probiotic
Proteins and amino acids
Phytochemical & plant extracts
Fibers & specialty carbohydrates
Omega 3 fatty acids
Vitamins
Prebiotic
Carotenoids
Minerals
Others
By Form Type
By Source
By Form:
Capsules, Tablets, & Softgels
Powder
Liquid & Gummies
By Distribution Channel:
Store-Based
Non-Store-Based
---
Nutraceutical Supplements Market Regional Insight
North America accounted for the largest market share of the global nutraceuticals supplements market in the last few years and is expected to continue the trend owing to the increasing focus on preventive healthcare measures among the aging population in the region.
Asia-Pacific is expected to witness the fastest growth in the coming years due to the expansion of the retail chain, the changing lifestyles and dietary patterns, growing awareness about nutrition, increasing consumption of dietary supplements and functional foods in the region. Growing awareness about health and fitness is already paving the way for a thriving competitive landscape for nutraceuticals in India. An ASSOCHAM report released in 2018 predicted that "the Indian nutraceuticals market is expected to grow from $4 billion in 2017 to $18 billion in 2025."
The European market also accounted for a significant share in last 2 years. The demand for probiotic nutraceutical products is increasing rapidly in European countries.
High demand for electricity in the developing economies, such as Brazil and Middle-Eastern countries (Iran and Saudi Arabia) is the key growth factor for the nutraceuticals market in the region.
---
Few Key Players In Nutraceutical Supplements Market
Cargill
Archer Daniels Midland Company
DuPont
Nestle S.A
Innophos
WR Grace
Amway Corporation.
PepsiCo
Kellogg's
Suntory
The Nature's Bounty Co.
General Mills, Inc.
Herbalife International of America, Inc.
Danone S.A.
Helion Nutraceuticals, LLC
Perrigo Company plc
Glanbia Plc
GlaxoSmithKline plc
Abbott Laboratories
Daflorn Ltd
Bactolac Pharmaceutical Inc
Yakult Honsha Co.
Meiji Holdings Co.
Other Players
RECENT DEVELOPMENTS:
In October 2020, Digital agency Langoor Havas, part of the Havas CX network, won the digital transformation mandate for Curegarden. Curegarden deals in science-based natural health supplements market and a venture of Livlong Nutraceuticals Limited, a sister organisation of Arjuna Natural Limited, a manufacturer and exporter offering botanical extracts for the pharmaceutical and nutraceutical industry.
In October 2020, Mumbai-based pharmaceuticals manufacturer Vaishali Pharma said reportedly entered the US market by launching its orthopaedic belts and similar products. The company is said to manufacture and supply bulk drugs, pharmaceutical ingredients, formulations, surgical products, veterinary supplements and herbal & nutraceutical products to various companies.
In October 2020, Nutrify India, a Nutra consulting firm and ideas-to-commercialization platform was reported to work on bridging the gap of connecting nutra innovators to large commercialization channels as it expanded market access, venture capital in international nutraceutical marketplaces.
Timeline Considered for Analysis:
- 2021: Base Year
- 2022: Estimated Year
- 2022 to 2032: Forecast Period
---
Research Scope and Deliverables
Overview & Executive Summary
Market Drivers, Trends, Challenges and Opportunities
Market Size and Forecast Projections
Macroeconomic Indicators of Various Countries Impacting the Growth of the Market
Extensive Coverage of Industry Players including Recent Product Launches and Market Activities
Porter's Five Force Analysis
Market Segmentation Analysis:
Industry report analyses the global Nutraceutical Supplements market by the following segments:
- Type
- Ingredients Type
- Form Type
- Source
- Form
- Distribution Channel
Customization: We also offer customization's in the industry report as per the company's specific needs.
Key Questions Answered in the Global Nutraceutical Supplements Industry Report
What is the overall market size in 2022? What will be the market growth during the forecast period i.e. 2022-2032?
Which region would have high demand for product in the upcoming years?
What are the factors driving the growth of the market?
Which sub-market will make the most significant contribution to the market?
What are the market opportunities for existing and entry-level players?
What are various long-term and short-term strategies adopted by the market players?
---
Publication date:

12th October 2023

Base year:

2022

Forecast year:

2023-2033

Format:

PDF, PPT,Word,Excel
- Quick Contact -
- ISO Certified Logo -



---
Nutraceutical Supplements Market