Narcolepsy Drugs Market - Global Size, Share, Trends, Growth and Forecast Year ( 2022 – 2032 )
FREE Report Sample is Available
In-depth report coverage is now just a few seconds away
Get FREE Report Sample
Narcolepsy Drugs Market Dynamics
Narcolepsy Drugs Market by Disease type (Daytime Extreme Sleepiness, Cataplexia, and Other Disease Type), Therapeutic Type (Central Nervous System Stimulants, Tricyclic Antidepressants, Sodium Oxybate, Selective Serotonin Reuptake Inhibitor, and Other Therapeutic Type) and Geographic Regions (North America, Europe, Asia Pacific, Latin America, Middle East and Africa): Industry Trends and Global Forecasts, 2023-2032.
---
Market Size and Overview
The narcolepsy drugs market has witnessed substantial growth, with a compound annual growth rate (CAGR) of 9.6% from 2023 to 2032, reaching a market value of $7.8 billion in 2032. This growth can be attributed to the rising prevalence of narcolepsy, a chronic sleep disorder characterized by excessive daytime sleepiness and sudden episodes of sleep. The market for narcolepsy drugs encompasses a range of pharmaceutical products, including stimulants, antidepressants, and sodium oxybate. The increasing awareness about narcolepsy, advancements in drug therapies, and the growing emphasis on improving the quality of life for affected individuals are key factors driving market growth. Additionally, the expanding research and development activities in the field of sleep medicine and the availability of novel treatment options are expected to further propel market expansion. The market is highly competitive, with pharmaceutical companies focusing on research, development, and strategic collaborations to gain a competitive edge in the market.
---
Narcolepsy Drugs Market: Report Scope

Base Year Market Size

2022

Forecast Year Market Size

2023-2032

CAGR Value

9.6%

Segmentation

By Disease Type
By Therapeutics Type
By Geographic Regions

Challenges

Limited awareness
High cost

Growth Drivers

Aging population
Advancements in medical research and development
Rise in narcoleptic diseases
Reimbursement policies
---
Market Segmentation:
Disease Type:
Daytime Extreme Sleepiness
Cataplexia
Other Disease Type
Therapeutics Type:
Central Nervous System Stimulants
Tricyclic Antidepressants
Sodium Oxybate
Selective Serotonin Reuptake Inhibitor
Other Therapeutic Type
Geographic Regions:
North America
Europe
Asia Pacific
Latin America
Middle East and Africa
By therapeutic type, the narcolepsy drugs market is segmented into central nervous system stimulants, tricyclic antidepressants, sodium oxybate, selective serotonin reuptake inhibitor, and other therapeutic types. The sodium oxybate segment dominated the narcolepsy drugs market in 2022, owing to its widespread use in the treatment of narcolepsy symptoms.
By disease type, the excessive daytime sleepiness segment dominates the narcolepsy drugs market. Moreover, the development of drugs for narcolepsy treatment has gained incredible momentum in recent years. Governments of countries such as India and South Africa are promoting the production of narcolepsy drugs considering their health benefits, which is further expected to boost the growth of the narcolepsy drugs market.
---
Regional Analysis:
North America, region showcases significant market potential driven by the United States, which holds a dominant position in the market. The high prevalence of narcolepsy and the presence of well-established healthcare infrastructure contribute to the market's growth in this region. In Europe, countries such as Germany, France, and the United Kingdom hold substantial market shares in the narcolepsy drugs market. The presence of a large patient population and the rising awareness about narcolepsy contribute to the market's growth in this region. The Asia Pacific region witnesses significant market growth due to factors such as rapid urbanization, increasing healthcare expenditure, and a rising prevalence of narcolepsy. Countries like China, Japan, and India are major contributors to market expansion in the region. The increasing focus on improving healthcare infrastructure and the availability of cost-effective treatment options further drive market growth. Latin America demonstrates steady growth in the narcolepsy drugs market, fueled by the increasing awareness about the condition and improving healthcare facilities. Brazil, Mexico, and Argentina emerge as key markets within the region. The Middle East and Africa exhibit a developing market for narcolepsy drugs, with a focus on improving healthcare access and enhancing treatment options. The United Arab Emirates, Saudi Arabia, and South Africa are prominent contributors to market growth in this region.
---
Growth Drivers:
The market is primarily driven by the aging population and their vulnerability to various chronic and acute diseases that require medical care. The rise in narcoleptic diseases, changing lifestyles, and the increase in stress levels, which can contribute to the development of narcolepsy disorders, are also expected to fuel market expansion during the forecast period. Additionally, the narcolepsy therapeutics market is projected to witness significant growth in the coming years due to increased research efforts, a rise in healthcare expenditure, and the presence of enhanced medical infrastructure.
Furthermore, advancements in medical research and development have led to the introduction of innovative and effective treatment options. Pharmaceutical companies are investing in extensive research to develop novel therapeutics, including targeted therapies and personalized medicine, which are expected to drive market growth.
The presence of reimbursement policies for narcolepsy drugs provides financial support to patients, making the medications more accessible and affordable. These reimbursement policies incentivize patients to seek appropriate treatment, thereby driving the market growth. Moreover, the rise in healthcare expenditure and the presence of advanced medical infrastructure in many regions create a favorable environment for the growth of the narcolepsy therapeutics market.
---
Challenges:
Limited awareness about narcolepsy among the general population and healthcare professionals hinders early diagnosis and treatment initiation. Additionally, the high cost of narcolepsy drugs and the lack of reimbursement coverage in some regions pose challenges to market growth.
---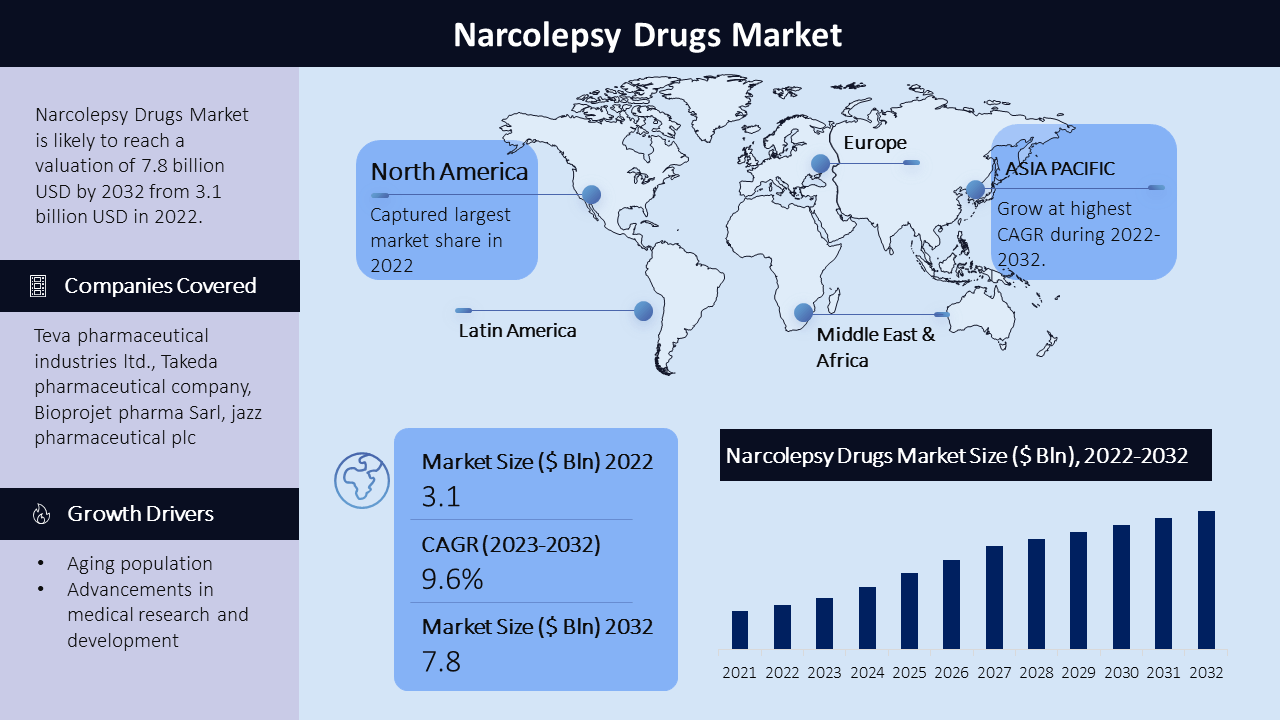 ---
Key Companies:
Key Market Players in the narcolepsy drugs market include Teva pharmaceutical industries ltd., Takeda pharmaceutical company, Bioprojet pharma Sarl, jazz pharmaceutical plc, arena pharmaceutical, inc., Novartis international ag, Shinogi inc., and ligand pharmaceuticals incorporated among other players. These companies are prominent players in the market, known for their strong market presence, extensive distribution networks, and diverse product portfolios. They employ competitive strategies such as product innovation, strategic partnerships, mergers, and acquisitions to enhance their market share and cater to the varied needs of customers.
In recent developments, Avadel Pharmaceuticals received FDA approval for its new drug application (NDA) for FT218, an investigational medication designed to treat excessive daytime sleepiness and cataplexy in adults with narcolepsy. This approval marks a significant milestone in narcolepsy treatment, as FT218 offers a promising therapeutic option for individuals with this neurological disorder. By addressing the debilitating symptoms of narcolepsy, including excessive daytime sleepiness and muscle weakness, FT218 has the potential to significantly improve the quality of life for narcoleptic patients.
A phase 3 study conducted by a Stanford researcher in 2022 demonstrated the effectiveness of sodium oxybate extended release in helping patients with narcolepsy. The study showed that this medication successfully reduced daytime sleepiness and improved muscle weakness, which are common symptoms experienced by narcolepsy patients.
---
Publication date:

Aug 2023

Base year:

2022

Forecast year:

2023-2033
- Quick Contact -
- ISO Certified Logo -



---
FAQ
The market is primarily driven by the increasing prevalence of narcolepsy, advancements in drug therapies, and growing awareness about the impact of the disorder on individuals' quality of life.
sodium oxybate segment, dominate the market due to their effectiveness in managing excessive daytime sleepiness in narcolepsy patients.
The Asia Pacific region showcases significant growth potential, attributed to the rising prevalence of narcolepsy, increasing healthcare expenditure, and growing awareness about sleep disorders.
Narcolepsy Drugs Market