MRI Systems Market by Field Strength Architecture Type , by End User, Geographic Regions: Industry Trends and Global Forecasts, 2023-2032.
FREE Report Sample is Available
In-depth report coverage is now just a few seconds away
Get FREE Report Sample
---
MRI Systems Market Size and Overview:
The MRI systems market has witnessed substantial growth, with a projected market value of USD 13.39 billion by 2032, compared to USD 7.41 billion in 2022, at a CAGR of 6.1% during the forecast period. The market growth can be attributed to several factors, including increasing awareness about the benefits of early diagnosis, technological advancements leading to the replacement of low-field MRI systems with high-field MRI systems, and the discovery of new helium deposits. However, the high cost of MRI systems, incompatibility with some patient populations, and declining reimbursement rates for MRI procedures pose challenges to market growth.
MRI Systems Market by Field Strength (Low-field Systems, High-field Systems, and Medium-field Systems) Architecture Type (Open MRI and Closed MRI Systems), by End User (Hospitals, Academics & Research Institute, Ambulatory Surgical Centers, Diagnostic Centers), and Geographic Regions (North America, Europe, Asia Pacific, Latin America, Middle East, and Africa): Industry Trends and Global Forecasts, 2023-2032.
---
Market Segmentation:
Field Strength:
Low-to-mid-field MRI systems (<1.5T)
High-field MRI systems (1.5T to 3T)
Very-high-field MRI systems (4T and above)
Architecture:
End User:
Hospitals
Academics & Research Institute
Ambulatory Surgical Centers
Diagnostic Centers
Geographic Regions:
North America
Europe
Asia Pacific
Latin America
Middle East and Africa
High-Field MRI Systems: The high-field MRI systems segment holds a significant market share in the MRI systems market. This can be attributed to the higher image quality and improved diagnostic capabilities offered by these systems. With advancements in technology and the increasing demand for precise and detailed imaging, the high-field MRI systems segment is expected to witness steady growth. These systems are widely used in various healthcare settings, including hospitals and diagnostic centers.
Closed MRI Systems: The closed MRI systems segment accounts for a major portion of the global MRI systems market. These systems offer enhanced image quality and throughput, making them suitable for a wide range of diagnostic applications. The closed MRI systems segment is projected to record a high compound annual growth rate (CAGR) during the forecast period due to their superior performance and increasing adoption in healthcare facilities.
---
Regional Analysis:
The regional analysis of the MRI systems market reveals distinct trends and dynamics across different parts of the world. Starting with North America, this region holds a significant market share, driven by the United States. The advanced healthcare infrastructure, high prevalence of chronic diseases, and favorable reimbursement policies contribute to the market's dominance. Moving to Europe, countries like Germany, Italy, France, and the United Kingdom play a crucial role, with a mix of research institutes, hospitals, and diagnostic centers adopting advanced MRI systems. The Asia Pacific region showcases significant market potential, driven by countries such as China, Japan, and India. Rapid urbanization, increasing healthcare investments, and the growing geriatric population fuel market expansion in this region. Latin America demonstrates steady growth, propelled by improving healthcare infrastructure and rising awareness about early disease diagnosis. Brazil, Mexico, and Argentina are key markets within the region. Lastly, the Middle East and Africa exhibit a developing market, with a focus on enhancing healthcare facilities and expanding diagnostic capabilities. The United Arab Emirates, Saudi Arabia, and South Africa are among the prominent contributors to the market's growth in this region.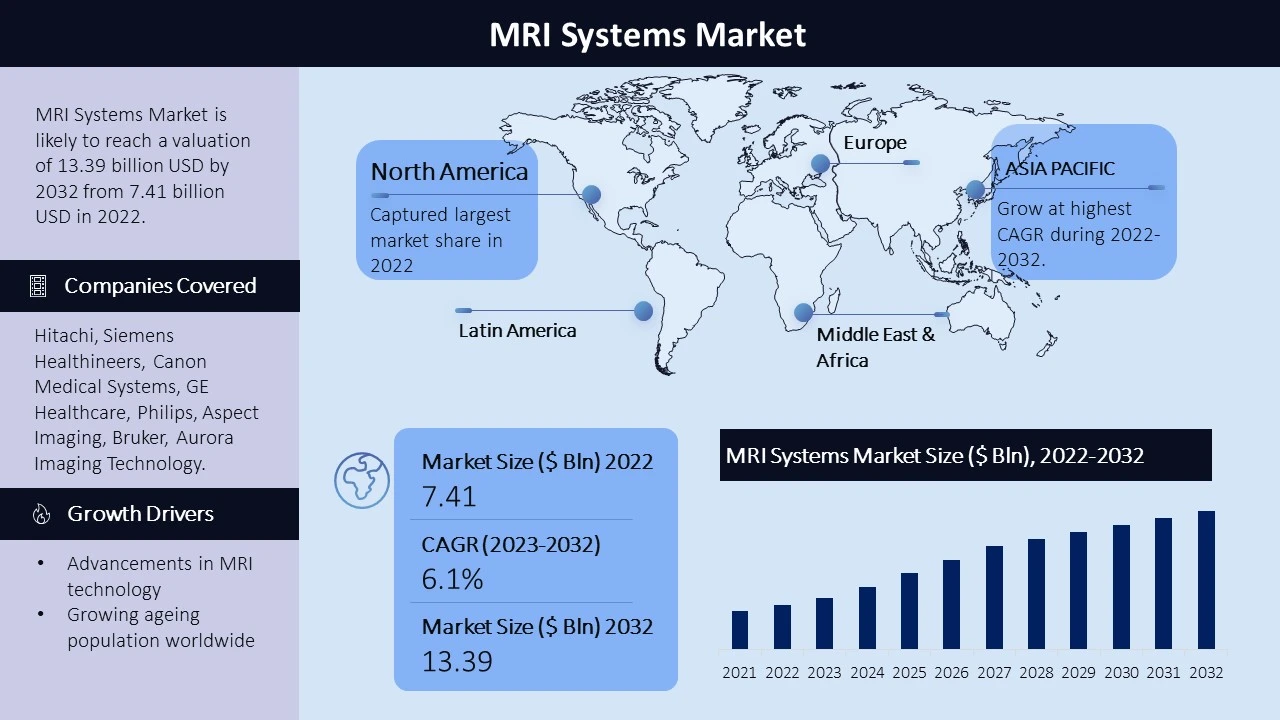 ---
Growth Drivers:
The MRI systems market is experiencing significant growth due to several key factors. Firstly, advancements in MRI technology are driving market expansion. Technological improvements, such as enhanced image quality, higher magnetic field strengths, and the development of advanced software applications, have attracted the interest of academic institutes, research laboratories, hospitals, and physicians. These advancements enable more accurate diagnoses, improved patient outcomes, and enhanced research capabilities, leading to increased adoption of MRI systems.
Additionally, the emergence of new applications for MRI systems, such as MRI-compatible pacemakers, has expanded the potential patient population. This development has increased the demand for MRI procedures and contributed to market growth.
Furthermore, the growing elderly population worldwide is a significant driver for the MRI systems market. As the global population ages and life expectancy increases, the need for advanced medical imaging technologies rises. MRI systems play a crucial role in diagnosing and monitoring various diseases and conditions prevalent in the elderly population, leading to a higher demand for these systems.
Moreover, the rising prevalence of chronic diseases, such as cancer and neurological disorders, has increased the demand for MRI systems. These diseases often require frequent imaging for diagnosis, treatment planning, and monitoring, driving the adoption of MRI technology.
---
Challenges:
One of the key challenges is the high cost of MRI systems. These systems require substantial investments, making them less accessible to certain healthcare facilities and regions with limited resources. Additionally, the complexity of MRI technology requires skilled operators, which can be a limitation in areas with a shortage of trained personnel.
---
Key Companies:
The MRI systems market is highly competitive, with several key companies leading the industry. Prominent players in the market include Hitachi, Siemens Healthineers, Canon Medical Systems, GE Healthcare, Philips, Aspect Imaging, Bruker, Aurora Imaging Technology, Esaote S.P.A, Fonar, Neusoft Medical Systems, and Shenzhen Mindray Bio-Medical Electronics and other players. These companies have established a strong market presence, extensive distribution networks, and a wide range of products.
To maintain their competitive edge, these companies focus on product innovation, strategic partnerships, mergers, and acquisitions. They continuously invest in research and development to introduce advanced MRI systems with improved features and capabilities. Additionally, strategic collaborations with healthcare providers and research institutions enable these companies to expand their customer base and cater to diverse needs.
Recent developments in the MRI systems market include the launch of innovative products by industry leaders. For instance, Hitachi, in collaboration with Canon Medical Systems, introduced the latest generation of MRI systems with enhanced imaging capabilities. These advancements contribute to improved diagnostic accuracy and patient outcomes.
---
Publication date:

Aug 2023

Base year:

2022

Forecast year:

2023-2033
- Quick Contact -
- ISO Certified Logo -



---
FAQ
The market is primarily driven by technological advancements, increasing demand for advanced medical imaging, and the growing elderly population worldwide.
MRI systems for diagnostic imaging currently dominate the market, owing to their widespread use in various medical specialties and research applications.
The Asia Pacific region showcases immense growth potential, attributed to the rising healthcare infrastructure,
MRI Systems Market