Molecular Spectroscopy Market By Technology (Nuclear Magnetic Resonance Spectroscopy, UV-Visible Spectroscopy, Infrared Spectroscopy, Near-Infrared Spectroscopy, Colour Measurement Spectroscopy, Raman Spectroscopy, Other Technologies); By Application (Pharmaceutical Applications, Food and Beverage Testing, Biotechnology and Biopharmaceutical Applications, Environmental Testing, Academic Research, Other Applications); and By Geographic Regions (North America, Europe, Asia Pacific, Latin America, Middle East and Africa) – Global Market Analysis, Trends, Opportunity and Forecast, 2022-2032
FREE Report Sample is Available
In-depth report coverage is now just a few seconds away
Get FREE Report Sample
Molecular Spectroscopy Market Size and Overview
The molecular spectroscopy market size is poised to reach USD 14.4 billion by the end of 2032, growing at a CAGR of 7.2% during the forecast period, i.e., 2023 – 2032. In the year 2022, the industry size of molecular spectroscopy market was USD 7.2 billion. The reason behind the growth can be attributed to the increasing application of molecular spectroscopy in environment screening, pharmaceutical and biotechnology industry witnesses rising utilization of molecular spectroscopy, discovery of newer molecules by pharmaceutical companies and technological advancements in molecular spectroscopy systems. The market is highly competitive with key players striving to meet evolving customer demands.
Molecular Spectroscopy Market: Report Scope

Base Year Market Size

2022

Forecast Year Market Size

2023-2032

CAGR Value

7.2%

Segmentation

By Technology
By Application
By Geographic Regions

Challenges

High equipment costs
Need for skilled operators

Growth Drivers

Increasing application of molecular spectroscopy in environment screening
Pharmaceutical and biotechnology industry witnesses rising utilization of molecular spectroscopy
Discovery of newer molecules by pharmaceutical companies
Technological advancements
---
Molecular Spectroscopy Market Segmentation
By Technology
Nuclear Magnetic Resonance Spectroscopy
UV-Visible Spectroscopy
Infrared Spectroscopy
Near-Infrared Spectroscopy
Colour Measurement Spectroscopy
Raman Spectroscopy
Other Technologies
By Application
Pharmaceutical Applications
Food and Beverage Testing
Biotechnology and Biopharmaceutical Applications
Environmental Testing
Academic Research
Other Applications
By Geographic Regions:
North America
Europe
Asia Pacific
Latin America
Middle East and Africa
Among technologies, Raman spectroscopy stands out as a segment with promising growth potential. The wide range of applications and the availability of technologically advanced products are driving the demand for Raman spectroscopy in the market.
The pharmaceutical Applications represents a major portion of the molecular spectroscopy market. Molecular spectroscopy plays a crucial role in drug development, quality control, and formulation analysis, contributing to the sector's growth. The increasing focus on precision medicine and personalized therapies further fuels the demand for spectroscopy instruments.
---
Molecular Spectroscopy Market Regional Analysis
North America stands as one of the major markets for molecular spectroscopy, driven through the presence of well-established pharmaceutical and biotechnology companies. Additionally robust investment in research and development activities and the growing adoption of advanced analytical technologies make contributions to the region's dominance. The United States, primarily, is a key contributor on this marketplace.
Europe is one of the leading marketplaces for molecular spectroscopy because of the presence of leading academic institutions and research facilities. The European market showcases considerable demand from the food and beverage industry for quality assessment and authentication purposes.
The Asia Pacific molecular spectroscopy market is estimated to witness significant growth, during the forecast timeframe led by, rapid industrialization, increasing healthcare spending, and growing awareness. The demand for molecular spectroscopy is anticipated to rise in countries like China and India, in which expanding pharmaceutical and biotechnology sectors and rising academic research activities.
Latin America and the Middle East and Africa display steady growth inside the molecular spectroscopy market, fueled via increasing focus on pharmaceutical development and the development of modern infrastructure in research and healthcare facilities, rising investments in healthcare infrastructure, research capabilities, and the implementation of stringent quality control regulations. Key participants to the market's growth in these areas encompass Brazil, Mexico, the United Arab Emirates, and South Africa.
---
Molecular Spectroscopy Market Growth Drivers
A key factor contributing to marketplace growth is the increasing application of molecular spectroscopy in environment screening. As environmental concerns expand, governments and regulatory bodies are enforcing stringent legal guidelines and rules to monitor pollutants degrees and make sure environmental sustainability. Rising pollutants ranges and the extreme depletion of natural sources have underscored the need for advanced analytical tools like molecular spectroscopy to appropriately verify and monitor environmental conditions.
The pharmaceutical and biotechnology industry witnesses growing utilization of molecular spectroscopy, bolstering the marketplace's development rate. Its significance in drug discovery, structural evaluation, and quality assessment drives its adoption in this zone. Moreover, the marketplace benefits from the growing recognition on making sure the quality of food products. Molecular spectroscopy permits particular evaluation of meals components, ensuring protection and satisfactory, which amplifies its demand for in the food enterprise.
The discovery of more recent molecules by using pharmaceutical organizations acts as a prime marketplace driver, fostering the increase of molecular spectroscopy. With the rising emphasis on drug innovation and development, molecular spectroscopy proves instrumental in characterizing and reading complex molecules, permitting pharmaceutical advancements.
Technological advancements in molecular spectroscopy structures contribute extensively to the marketplace's boom. Ongoing trends and innovations improve the performance, accuracy, and user-friendliness of these structures, encouraging their adoption throughout diverse industries.
---
Molecular Spectroscopy Market Challenges
The high equipment costs and the need for skilled operators are hindering the growth of market, particularly in developing regions. Also, the shortage of well-trained operators capable of handling complex spectroscopic data, which can be a major challenge.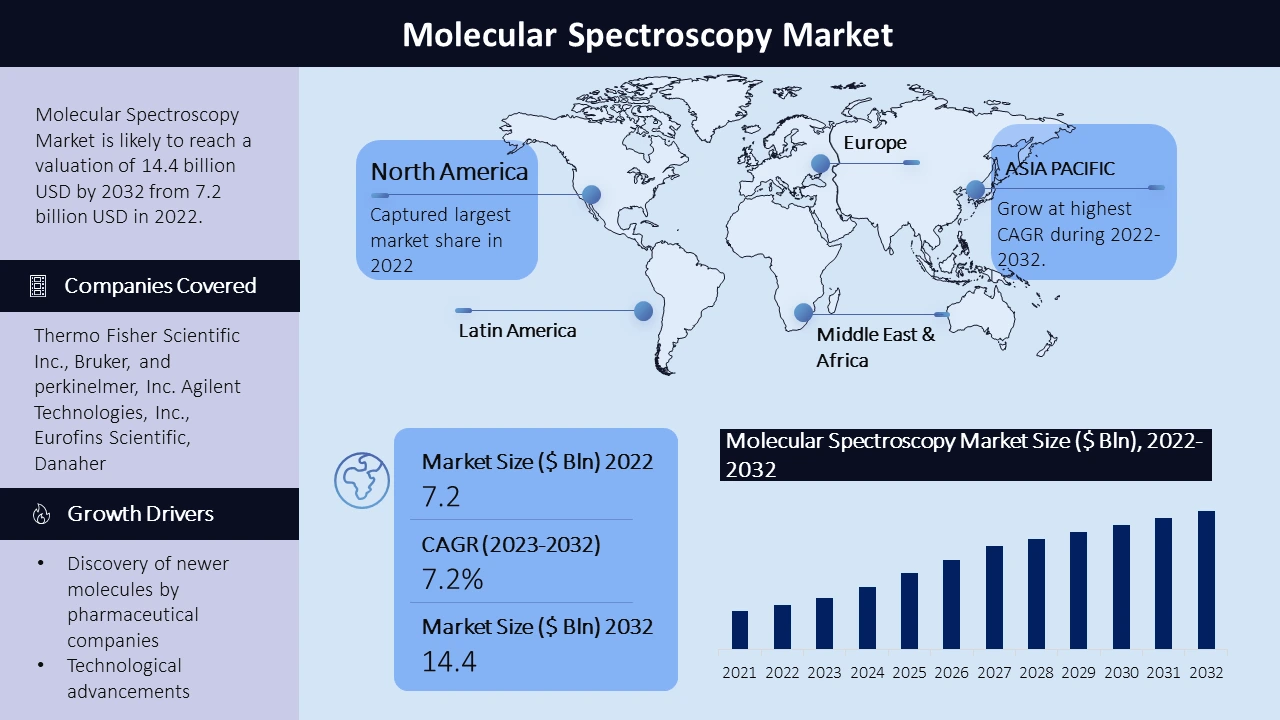 ---
Molecular Spectroscopy Market Key Companies
The molecular spectroscopy market is poised by several main corporations, each making big contributions to the industry through their sturdy market presence and progressive product offerings. Among these principal players are Thermo Fisher Scientific Inc., Bruker, and perkinelmer, Inc. Agilent Technologies, Inc., Eurofins Scientific, Danaher, Merck kgaa, Siemens Healthcare gmbh, Medtronic, ABB, B&W Tek (US), Digilab Inc., Hamamatsu Photonics K.K., JASCO International Co., Ltd. (Japan), JEOL Ltd., Endress+Hauser Group Services AG, Metrohm India Limited, Montana Instruments Corporation, Coherent, Inc., Teledyne Technologies Incorporated, Renishaw plc. And other players. These essential players constantly try and revamp their marketplace percentage and meet the desires of a diverse investor base. Their competitive techniques encompass product innovation, forging strategic partnerships, undertaking mergers and acquisitions, and increasing their distribution networks.
In March 2020, Thermo Fisher Scientific made a significant impact on the market by introducing a range of cutting-edge analytical instruments and software, designed to streamline laboratory workflows and improve efficiency in scientific research and analysis.
In August 2020, Shimadzu Corporation,The company entered into a basic agreement to collaborate with HORIBA, a renowned name in Raman spectrometers. This collaboration aims to jointly develop and market LC-Raman analytical and measuring instruments, thereby leveraging the strengths of both companies to bring innovative solutions to the market.
---
Publication date:

Aug 2023

Base year:

2022

Forecast year:

2023-2033
- Quick Contact -
- ISO Certified Logo -



---
FAQ
The market is primarily driven by the increasing adoption of spectroscopy techniques in pharmaceutical, biotechnology, and food industries for molecular analysis, research, and quality control purposes.
Infrared spectroscopy holds a significant market share due to its ability to analyze molecular vibrations and provide valuable information about chemical structures.
The Asia Pacific region showcases immense growth potential, attributed to rapid industrialization, increasing healthcare spending, and growing awareness about molecular spectroscopy's benefits.
Molecular Spectroscopy Market