miRNA Sequencing and Assay Market : Global Size, Share, Trends, Growth and Forecast Year ( 2022 – 2032 )
FREE Report Sample is Available
In-depth report coverage is now just a few seconds away
Get FREE Report Sample
---
miRNA Sequencing and Assay Market Dynamics
miRNA Sequencing and Assay Market by Product (Sequencing Consumables, Library Preparation Kits), Technology (Sequencing By Synthesis, Nanopore, Ion Semiconductor Sequencing and SOLiD), End User (Clinical Laboratory, Life Science Organization, Academia & Research Institute, CRO) and Geographic Regions (North America, Europe, Asia Pacific, Latin America, Middle East and Africa): Industry Trends and Global Forecasts, 2023-2032.
---
Market Size and Overview: Size and Share
The miRNA sequencing and assay market has experienced significant growth, with a compound annual growth rate (CAGR) of 11.2% from 2023 to 2032, reaching a market value of $867.9 million in 2032. This growth can be attributed to the increasing adoption of miRNA sequencing and assay techniques in various research applications, including disease diagnostics, biomarker discovery, and drug development. Additionally, the rising awareness about the role of miRNAs in gene regulation and disease progression has fueled the demand for advanced sequencing and assay technologies. The market comprises a wide range of products and services, including sequencing instruments, consumables, software, and data analysis tools. The market is highly competitive, with key players continuously investing in research and development to introduce innovative solutions and capture a larger market share.
---
MiRNA Sequencing And Assay Market: Report Scope

Base Year Market Size

2022

Forecast Year Market Size

2023-2032

CAGR Value

11.2%

Segmentation

By Product Type
By Technology
By End-Users
By Geographic Regions

Challenges

Dearth of skilled professionals

Growth Drivers

Advantages of miRNA sequencing over other technologies
Substantial increase in research funding for genomics
The decreasing cost of sequencing
Advancements in sequencing technologies
---
Market Segmentation:
Product Type:
Sequencing Consumables
Library Preparation Kits
Technology:
Sequencing by Synthesis
Nanopore Sequencing
Ion Semiconductor Sequencing
SOLiD (Sequencing by Oligonucleotide Ligation and Detection)
End User:
Clinical Laboratory
Life Science Organization
Academic & Research Institutes
Contract Research Organizations
Geographic Regions:
North America
Europe
Asia Pacific
Latin America
Middle East and Africa
Sequencing Consumables: The sequencing consumables segment holds a significant market share in the miRNA sequencing and assay market. This can be attributed to the continuous demand for consumable products such as reagents, enzymes, and buffers used in miRNA sequencing workflows. The increasing adoption of miRNA sequencing across various research and diagnostic applications drives the demand for consumables, making this segment a key revenue generator in the market.
Sequencing by Synthesis: Sequencing by synthesis is one of the prominent technologies used in miRNA sequencing and assay. This technology allows for high-throughput sequencing of miRNAs by incorporating fluorescently labeled nucleotides during the sequencing process. The accurate and efficient detection of miRNA sequences using this technology has contributed to its widespread adoption in research and clinical laboratories.
---
Regional Analysis:
North America, region boasts one of the largest and most mature markets, primarily driven by the presence of leading research institutions and a well-established pharmaceutical industry. there is a significant increase in investments in the development of sequencing technologies, which has propelled advancements in the field of genomics and RNA biology. This has further fueled the demand for miRNA sequencing and assays in North America. In Europe, countries like Germany, France, and the United Kingdom hold significant market shares, driven by strong government support for genomics research and increasing collaborations between academia and industry. The Asia Pacific region is expected to witness remarkable growth, attributed to the growing investment in life sciences research, rising awareness about personalized medicine, and the presence of a large patient pool for clinical studies. Latin America and the Middle East and Africa regions are also witnessing steady growth in the miRNA sequencing and assay market. Factors such as increasing healthcare expenditure, rising focus on genomics research, and efforts to improve healthcare infrastructure contribute to the market's expansion in these regions.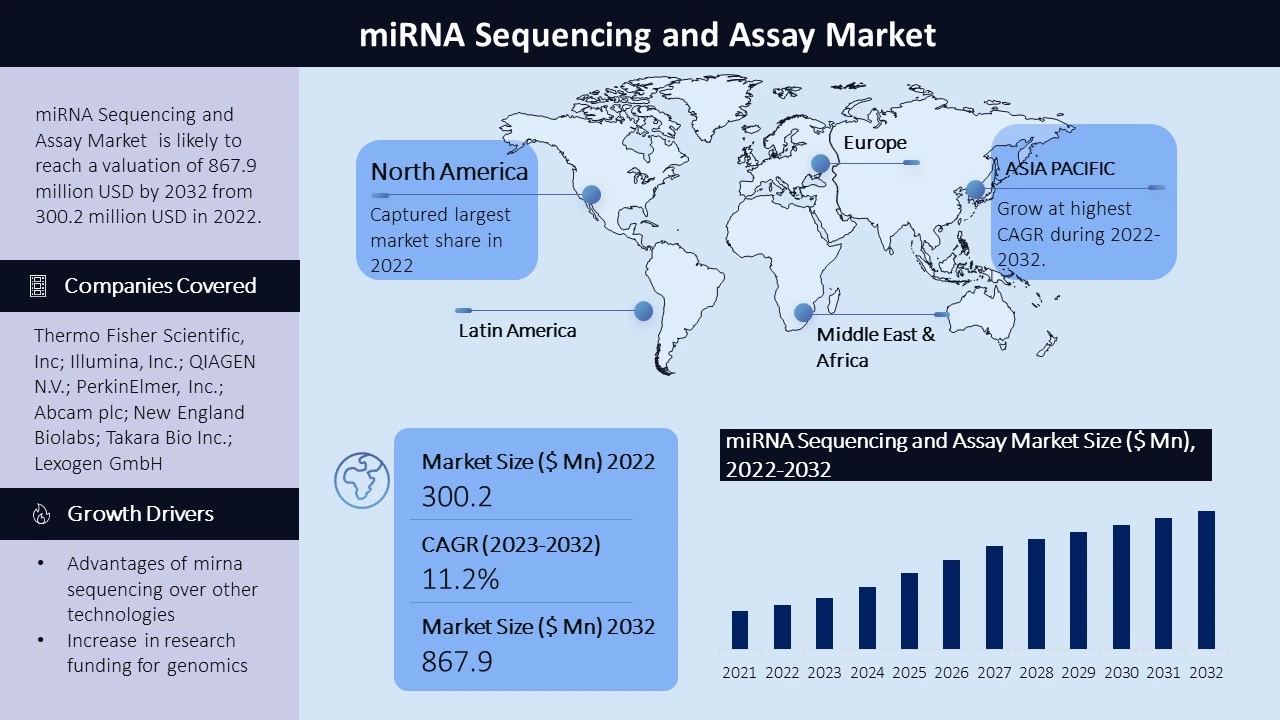 ---
Growth Drivers:
The miRNA sequencing and assay market is driven by several factors that contribute to its growth and development. Firstly, the advantages of miRNA sequencing over other technologies play a significant role in driving market growth. MiRNA sequencing offers higher accuracy, sensitivity, and specificity, allowing researchers to obtain comprehensive and detailed information about miRNA expression profiles. This has led to an increased adoption of miRNA sequencing techniques in various research applications.
Secondly, there has been a substantial increase in research funding for genomics, particularly in the field of miRNA studies. Governments, research institutions, and private organizations are investing heavily in genomics research, including miRNA sequencing and analysis. The availability of funding resources has facilitated extensive research activities, driving the demand for miRNA sequencing and assay technologies. increasing investment in genomics research, particularly in research and academic institutes, has propelled the demand for miRNA sequencing and assay services.
Additionally, the decreasing cost of sequencing has played a significant role in the market's growth. Technological advancements and economies of scale have led to a substantial reduction in the cost of sequencing, making miRNA sequencing more accessible and affordable for researchers. This has expanded the user base and created new opportunities for market growth. Furthermore, the advancements in sequencing technologies, such as NGS, have significantly improved the efficiency, accuracy, and cost-effectiveness of miRNA profiling.
---
Challenges:
One of the key challenges is the dearth of skilled professionals in the field. The specialized nature of miRNA sequencing requires expertise in molecular biology, genomics, and bioinformatics. The shortage of professionals with the necessary skills and knowledge hinders the widespread adoption and implementation of miRNA sequencing technologies. Efforts to bridge this skill gap and train more professionals in miRNA sequencing are essential to overcome this challenge.
---
Key Companies:
The miRNA sequencing and assay market is led by several prominent companies that have a strong presence and play a significant role in driving market growth. Thermo Fisher Scientific, Inc; Illumina, Inc.; QIAGEN N.V.; PerkinElmer, Inc.; Abcam plc; New England Biolabs; Takara Bio Inc.; Lexogen GmbH; Norgen Biotek Corp.; Maravai LifeSciences; HTG Molecular Diagnostics, Inc.; Meridian Bioscience, Inc.; System Biosciences, LLC and other players. are the key companies profiled in this market.
In April 2022, HTC Molecular Diagnostics Inc. made headlines with the unveiling of new features of its proprietary HTG EdgeSeq technology. The company's improved technology allows miRNA and mRNA profiling without the need for additional samples. This development has the potential to simplify and streamline miRNA sequencing workflows, making it more accessible and efficient for researchers.
in January 2022, between Allogene Therapeutics and Antion Biosciences. This collaboration aims to advance multiplex gene silencing for the development of next-generation allogeneic CAR T products. Antion's miRNA technology, known as miCAR, will be utilized to enhance the efficacy and safety of allogeneic CAR T therapies.
---
Publication date:

Aug 2023

Base year:

2022

Forecast year:

2023-2033
- Quick Contact -
- ISO Certified Logo -



---
FAQ
The miRNA sequencing and assay market is primarily driven by several key factors. One of the primary drivers is the increasing demand for advanced tools and techniques in genomic research, particularly in the field of miRNA analysis. The growing awareness of miRNA's role in various biological processes and disease pathways has fueled the need for accurate and efficient sequencing methods.
Currently, sequencing by synthesis (SBS) technology holds the largest market share in miRNA sequencing and assays. SBS technology offers high-throughput capabilities, allowing researchers to analyze a large number of miRNAs simultaneously. This technology provides accurate sequencing results and enables the detection of subtle miRNA expression changes, making it a preferred choice in the market.
The North America region showcases the highest market share potential in the miRNA sequencing and assay market. This growth can be attributed to several factors, including the presence of well-established biotechnology and genomics research institutions, significant investments in research and development activities, and a robust healthcare infrastructure.
Global miRNA Sequencing and Assay Market is Likely to Grow at a CAGR of 11.2% Over the Forecast Period in future