Mineral Ingredients Market - By Product Type (Micronutrients and Macro Nutrients & Mimics), By Form (Powder, Liquid, Others), By Application (Dairy Products, Infant Formula, Bakery & Confectionery, Functional Foods, Food Supplement, Beverages, Others) & And By Geographic Regions (North America, Europe, Asia Pacific, Latin America, Middle East and Africa) – Global Market Analysis, Trends, Opportunity and Forecast, 2023-2032
FREE Report Sample is Available
In-depth report coverage is now just a few seconds away
Get FREE Report Sample
Mineral Ingredients Market Growth Driver
Increasing demand for mineral-fortified food and beverages
Rising awareness of the health benefits of minerals
Growing demand for natural and organic ingredients
Increasing urbanization and busy lifestyles, leading to a higher consumption of processed foods
KD Market Insights added a title on "Mineral Ingredients Market – 2023-2032" to its collection of industry research reports that offers extensive and highly detailed current and future market trends in the global and regional/market. The report includes market size, Y-O-Y growth analysis and structure of the overall industry based on a unique combination of industry research, fieldwork, market sizing analysis, and our in-house expertise.
The market research report demonstrates market dynamics which includes growth drivers, restraining factors and opportunities and trends spearheading current Weight Application and future status of this market. Our general approach is to target several individuals with specific questions that we believed would satisfy our research objective. Further, to speed up the data collection process, we employed an online survey, delivered via email. The research team analyzed the results to identify potential opportunities and risks for the market.
In addition, the report offers recent industry activities and value chain analysis for the Mineral Ingredients Market. Moreover, Porter's Five Forces analysis demonstrates the five forces which include buyers bargaining power, suppliers bargaining power, the threat of new entrants, the threat of substitutes, and degree of competition in Mineral Ingredients Market. Along with figures and tables, a market attractiveness and BPS analysis has been provided for every segment in the report.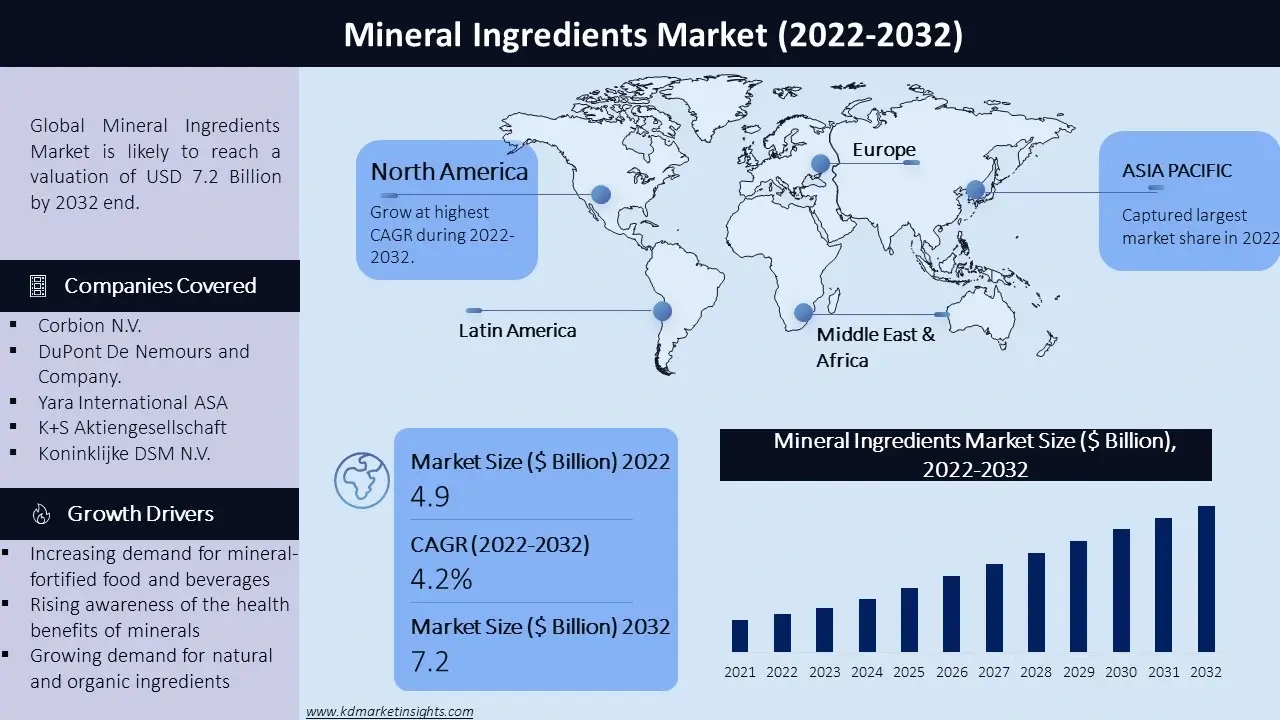 ---
Global Mineral Ingredients Market Size & Forecast
The global mineral ingredients market size was valued at around USD 4.9 billion in 2022 and is projected to grow at a compound annual rate of growth (CAGR) of around 4.2% from 2022 to 2032.The market size is projected to succeed in USD 7.2 billion by 2032. The report analyses the market by geographies i.e. North America, Europe, Asia Pacific, Latin America & Middle East & Africa. Further, the geographies are fragmented into the country and regional groupings:
- North America (U.S. & Canada)
- Europe (Germany, United Kingdom, France, Italy, Spain, Russia and Rest of Europe)
- Asia Pacific (China, India, Japan, South Korea, Indonesia, Taiwan, Australia, New Zealand and Rest of Asia Pacific)
- Latin America (Brazil, Mexico, Argentina and Rest of Latin America)
- Middle East & Africa (GCC, North Africa, South Africa and Rest of Middle East & Africa)
---
Global Mineral Ingredients Market Segmentation
The research offers a comprehensive analysis of global Mineral Ingredients market with respect to following sub-markets:
Based on Product Type:
- Micro-nutrients
- Macro Nutrients & Mimics
Based on Form:
- Powder
- Liquid
- Others
Based on Application:
- Dairy Products
- Infant Formula
- Bakery & Confectionery
- Functional Foods
- Food Supplement
- Beverages
- Others
---
Global Mineral Ingredients Market Competitive Landscape
The report also highlights the competitive landscape of the global Mineral Ingredients market, market share and positioning of all the major players in the industry. The competitive landscape analysis provides detailed strategic analysis of the company's business and performance such as company overview, financial information, revenue breakup by segment and by geography, SWOT Analysis, key facts, business strategy, key product offerings, marketing and distribution strategies, new product development, recent news (acquisition, expansion, Type development, research & development and other market activities).
The report includes profiles of leading companies in the global Mineral Ingredients market.
---
Some of the key players profiled include
- Corbion N.V.
- DuPont De Nemours and Company.
- Yara International ASA
- K+S Aktiengesellschaft
- Koninklijke DSM N.V.
- Minerals Technologies, Inc.
- Compass Minerals International, Inc.
- Akzo Nobel NV
- Arla Foods amba
- BASF SE
- Air Products & Chemicals, Inc.
- Nutrien Ltd.
- Syngenta AG
- Other Major & Niche Key Players
Timeline Considered for Analysis:
- 2021 – Base Year
- 2022 – Estimated Year
- 2022 to 2032 – Forecasted Year
Customization: We also offers customization's in the industry report as per the company's specific needs.
---
Key Questions Answered in the Global Mineral Ingredients Industry Report:
- What is the overall market size in 2021? What will be the market growth during the forecast period i.e. 2022-2032?
- Which region would have high demand for product in the upcoming years?
- What are the factors driving the growth of the market?
- Which sub-market will make the most significant contribution to the market?
- What are the market opportunities for existing and entry-level players?
- What are various long-term and short-term strategies adopted by the market players?
---
Publication date:

14th October 2023

Base year:

2022

Forecast year:

2023-2033

Format:

PDF, PPT,Word,Excel
- Quick Contact -
- ISO Certified Logo -



---
Mineral Ingredients Market