Mammography Market by Product (Film Screen, Digital Systems, Analog Systems, 3D Systems), Technology (Breast Tomosynthesis, CAD, Digital), End-use (Hospitals, Specialty Clinics, Diagnosis Centers, Others) And Geographic Regions (North America, Europe, Asia Pacific, Latin America, Middle East and Africa): Industry Trends and Global Forecasts, 2023-2032
FREE Report Sample is Available
In-depth report coverage is now just a few seconds away
Get FREE Report Sample
Market Size and Overview: The mammography market size is poised to reach USD 5.5 billion by the end of 2032, growing at a CAGR of 10.3% during the forecast period, i.e., 2023 – 2032. In the year 2022, the industry size of mammography market was USD 2.1 billion. The growth can be attributed to factors, including the increasing prevalence of breast cancer advancements, in technology an understanding of the importance of early detection and the expansion of healthcare infrastructure in developing regions. Within this market there is a variety of products and devices making it highly competitive. Key players, in the industry are constantly striving to meet the changing demands of their customers.
---
Mammography Market: Report Scope

Base Year Market Size

2022

Forecast Year Market Size

2023-2032

CAGR Value

10.3%

Segmentation

By Product
By Technology
By End-use
By Geographic Regions

Challenges

High cost
Lack of awareness

Growth Drivers

The growing occurrence of breast cancer
Advancements in technology
The increased understanding of the importance of detection
Expansion of healthcare infrastructure in developing regions
---
Market Segmentation:
Product
Film Screen Systems
Digital Systems
Analog Systems
3D Systems
Technology
Breast Tomosynthesis
CAD Mammography
Digital Mammography
End-use
Hospitals
Specialty Clinics
Diagnosis Centers
Others
Geographic Regions:
North America
Europe
Asia Pacific
Latin America
Middle East and Africa
On the basis of technology in the mammography market the digital mammography segment accounted the highest market share in 2022. The digital mammography section has the market share, in the field of mammography. This is because increasingly people are deciding on to apply mammography devices due to their stepped forward accuracy and performance in figuring out breast cancers. Technological improvements, like computer aided detection (CAD) structures also are contributing to the boom opportunities of this section.

Regional Analysis:
North America stands as one of the major markets for mammography, driven through the well-established healthcare infrastructure. Additionally, emphasis on early detection and screening programs for breast cancer make contributions to the region's dominance. The United States, primarily, is a key contributor on this marketplace. Europe is one of the leading marketplaces for mammography because of the region's mix of public and private healthcare providers. The European market showcases a developing interest in digital mammography devices, fueled by advancements in technology and increasing awareness about breast cancer. The Asia Pacific mammography market is estimated to witness significant growth, during the forecast timeframe led by, rising healthcare expenditure, increasing awareness about breast cancer, and the growing adoption of advanced mammography devices. The demand for mammography is anticipated to rise in countries like China and India, in which large population and high prevalence of breast cancer. Latin America and the Middle East and Africa display steady growth inside the mammography market, fueled via improving access to healthcare services and increasing government initiatives and awareness campaigns to promote early detection and treatment of breast cancer in these regions. Key participants to the market's growth in these areas encompass Brazil, Mexico, the United Arab Emirates, and South Africa.
Growth Drivers:
The growing occurrence of breast cancer and the increasing awareness surrounding detection and screening initiatives are driving the demand, for dependable mammography equipment. Furthermore, advancements in technology have resulted in the development of mammography devices that offer levels of accuracy and efficiency in detecting breast cancer. This progress has attracted both healthcare providers and patients. The rising utilization of mammography devices holds potential for growth as they provide improved visualization and detection capabilities compared to traditional mammography devices. The increased understanding of the importance of detection plays a role in propelling the mammography market forward. Detecting breast cancer at a stage is crucial for improving survival rates with mammography being the effective method for such early detection. According to data from the American Cancer Society finding breast cancer on and receiving state of the art treatment are two strategies in preventing deaths caused by this disease. The expansion of healthcare infrastructure in developing regions is fueling the demand for mammography equipment. Governments and healthcare providers are investing in cutting edge mammography devices to ensure timely diagnosis well as treatment for breast cancer patients. Moreover, there has been an impact on the market due to the integration of intelligence (AI) into these machines. AI powered features, like automated detection and diagnosis significantly enhance accuracy and efficiency thereby driving market growth.
Challenges:
High cost of mammography and lack of awareness are hindering the growth of market. In developing regions, this factor has resulted in limited demand for product. Moreover, the radiation exposure is also restricting the growth of market.
---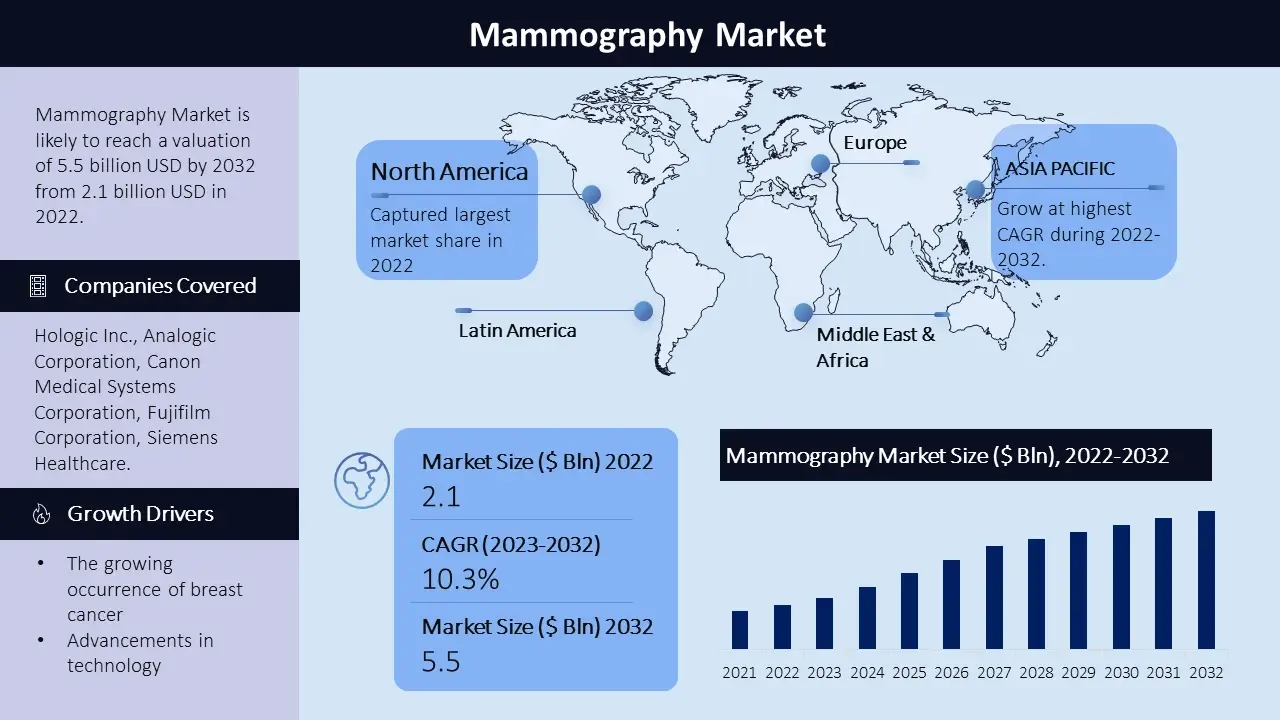 ---
Key Companies: The mammography market is poised by several main corporations, each making big contributions to the industry through their sturdy market presence and progressive product offerings. Among these principal players are Hologic Inc., Analogic Corporation, Canon Medical Systems Corporation, Fujifilm Corporation, Siemens Healthcare, Toshiba Medical Systems, GE Healthcare, Metaltronica, Koninklijke Philips NV, PLANMED OY And other players. These essential players constantly try and revamp their marketplace percentage and meet the desires of a diverse investor base. Their competitive techniques encompass product innovation, forging strategic partnerships, undertaking mergers and acquisitions, and increasing their distribution networks.
In January 2023, GE Healthcare launched its new digital mammography system, the Senographe Pristina.
In February 2023, Siemens Healthineers announced the launch of its new tomosynthesis system, the Mammomat Inspiration.
---
Publication date:

Aug 2023

Base year:

2022

Forecast year:

2023-2033
- Quick Contact -
- ISO Certified Logo -



---
FAQ
The market is primarily driven by the growing occurrence of breast cancer, Advancements in technology.
The market is segmented by technology; digital mammography segment accounted the highest market share in 2022.
The Asia Pacific region showcases immense growth potential, attributed to the rising healthcare expenditure, increasing awareness about breast cancer, and the growing adoption of advanced mammography devices in the region.
Mammography Market