Intradermal Injection Market: Global Size, Share, Trends, Growth and Forecast Year ( 2022 – 2032 )
FREE Report Sample is Available
In-depth report coverage is now just a few seconds away
Get FREE Report Sample
---
Intradermal Injection Market Dynamics
Intradermal Injection Market By Product Type (Normal Sized Needles, Short Needle (Intradermal Microinjection, Microneedle Arrays, And Tattoo Devices), And Without Needle (Intradermal Liquid Jet Devices And Ballistic Intradermal Injectors)), Application (Tuberculin Skin Test, Allergy Test, Local Aesthetics, And Others), And End User (Hospitals, Diagnostic Laboratories, Academics And Research Institutes, And Others) And Geographic Regions (North America, Europe, Asia Pacific, Latin America, Middle East And Africa): Industry Trends And Global Forecasts, 2023-2032.
---
Market Size and Overview: Size and Share
The intradermal injection market has experienced substantial growth, with a steady compound annual growth rate (CAGR) of 11.4% from 2023 to 2032, reaching a market value of $10.3 billion in 2032. This growth can be attributed to the increasing demand for effective drug delivery methods and the rising prevalence of chronic diseases requiring frequent injections. Intradermal injections offer several advantages, including improved drug absorption, reduced pain, and enhanced patient compliance. The market encompasses a wide range of products, including intradermal needles, syringes, and delivery devices. Key players in the market are focusing on product innovation and strategic partnerships to cater to evolving customer needs and gain a competitive edge in the market.
---
Intradermal Injection Market: Report Scope

Base Year Market Size

2022

Forecast Year Market Size

2023-2032

CAGR Value

11.4%

Segmentation

By Product Type
By Application
By End-Users
By Geographic Regions

Challenges

Limited awareness
Unfavorable government provisions
Development and production costs

Growth Drivers

Growing adoption of intradermal vaccination
Rising incidence of various communicable and non-communicable diseases
Increasing acceptance of aesthetic procedures
Needle-free injection systems demand
Technological advancements
---
Market Segmentation:
Product Type:
Normal Sized Needles
Short Needle

Intradermal Microinjection
Microneedle Arrays
Tattoo Devices

Without Needle

Intradermal Liquid Jet Devices
Ballistic Intradermal Injectors
Application:
Tuberculin Skin Test
Allergy Test
Local Aesthetics
Others
End Users:
Hospitals
Diagnostic Laboratories
Academics and Research Institutes
Others
Geographic Regions:
North America
Europe
Asia Pacific
Latin America
Middle East and Africa
Normal-Sized Needles: The normal-sized needles segment holds a significant market share in the intradermal injection market. This can be attributed to their widespread use in various medical procedures, including tuberculin skin tests, allergy tests, and local anesthetics. The availability of different gauge sizes enables healthcare professionals to administer intradermal injections based on patient needs and specific requirements.
Hospitals: The hospital segment represents a major end user in the intradermal injection market. Hospitals are equipped with skilled medical professionals and advanced healthcare infrastructure, making them ideal settings for performing intradermal injections. The increasing prevalence of chronic diseases and the growing need for diagnostic tests contribute to the demand for intradermal injections in hospitals.
---
Regional Analysis:
The regional analysis of the intradermal injection market reveals diverse trends and dynamics across different parts of the world. Starting with North America, this region boasts advanced healthcare systems and a strong presence of key market players. The demand for intradermal injections is driven by the rising prevalence of chronic diseases, increasing healthcare expenditure, and the focus on early diagnosis and preventive care. In Europe, countries like Germany, France, and the United Kingdom hold significant market shares in the intradermal injection market. The presence of well-established healthcare infrastructure, research institutions, contribute to market growth. In the Asia Pacific region, countries such as China, India, and Japan showcase significant growth potential in the intradermal injection market. Rapidly expanding healthcare infrastructure, increasing patient population, and rising awareness about advanced medical treatments contribute to market growth. Latin America demonstrates steady growth in the intradermal injection market, Brazil, Mexico, and Argentina are key markets within the region, driven by the rising prevalence of chronic diseases and the need for accurate diagnostic tests. The Middle East and Africa region exhibits a developing market for intradermal injections. The United Arab Emirates, Saudi Arabia, and South Africa are notable contributors to the market's expansion in this region.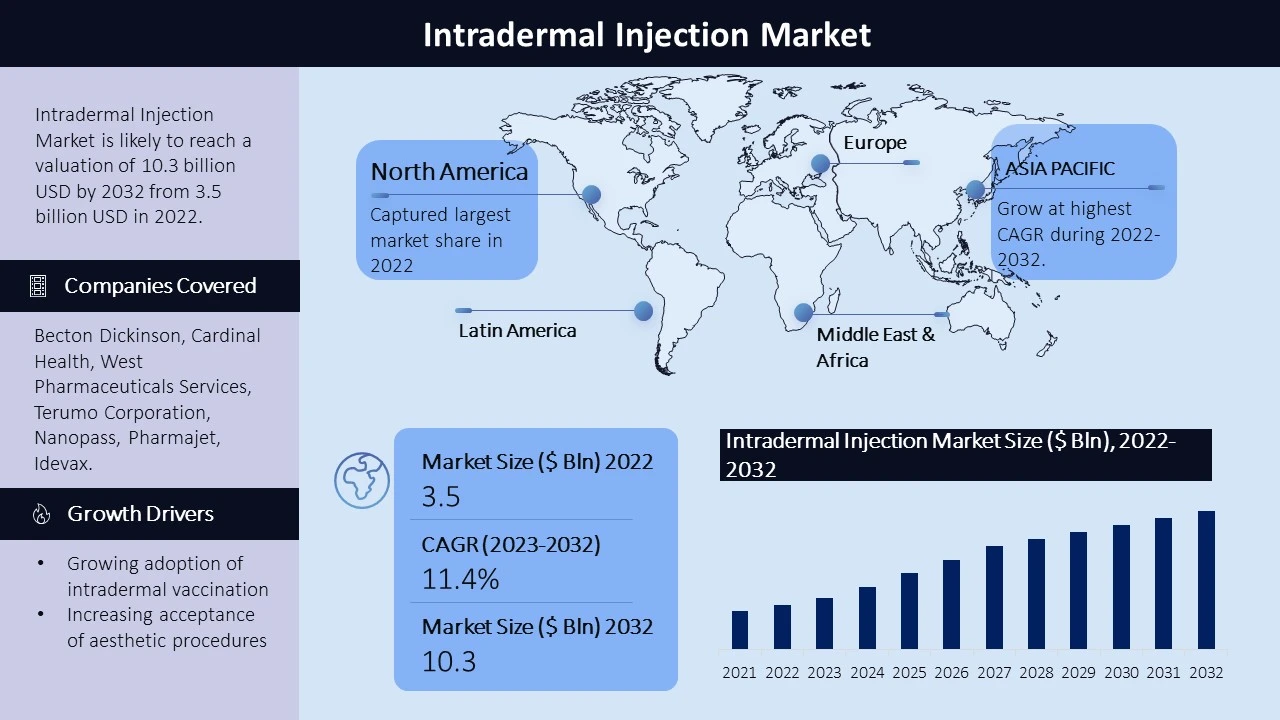 ---
Growth Drivers:
the growing adoption of intradermal vaccination is a significant driver. Intradermal injections offer advantages such as reduced vaccine doses, improved immune response, and cost savings, leading to their increased use in immunization programs and disease prevention initiatives. Additionally, the rising incidence of various communicable and non-communicable diseases fuels the demand for effective diagnostic tests and therapeutic interventions, driving the market growth for intradermal injections.
Furthermore, the increasing acceptance of aesthetic procedures contributes to the market growth. Intradermal injections are widely used for aesthetic purposes, including dermal fillers, skin rejuvenation, and tattoo removal. The desire for a youthful appearance and the availability of minimally invasive procedures drives the demand for intradermal injections in the field of aesthetics. Needle-free injection systems are in demand due to needle phobia and the risk of needlestick injuries, making intradermal injections a preferred painless and convenient alternative.
Technological advancements play a crucial role in driving market growth. Continuous research and development in intradermal drug delivery systems, such as microneedles and jet injectors, enhance drug delivery efficiency, reduce pain, and improve patient experiences. These advancements attract healthcare providers and patients alike, leading to increased adoption of intradermal injections.
---
Challenges:
Limited awareness among healthcare professionals regarding intradermal injection techniques, Unfavorable government provisions in certain regions, especially in developed economies like Europe and the United States. Development and production costs can hinder market growth for intradermal injection systems, particularly for small enterprises.
---
Key Companies:
The report profiles leading companies in the intradermal injection market, such as Becton Dickinson, Cardinal Health, West Pharmaceuticals Services, Terumo Corporation, Nanopass, Pharmajet, Idevax, Enusung, Crossject, Hindustan Syringes and Medical Devices, and other players. These companies have established a strong market presence, possessed extensive distribution networks, and offered a diverse product portfolio. They employ competitive strategies such as product innovation, strategic partnerships, mergers, and acquisitions to enhance their market share and meet the diverse needs of customers.
In May 2022, Stevanato Group S.p.A. entered into an exclusive agreement with Owen Mumford Ltd., a prominent medical device developer and manufacturer, for the Aidaptus auto-injector. Aidaptus is a versatile 2-step, single-use auto-injector designed to accommodate both 1 mL and 2.25 mL prefilled glass syringes within the same base device. This collaboration signifies a significant advancement in the field of intradermal injection technology.
In May 2021, Crossject announced the strengthening of its partnership with Cenexi, a long-term collaborator, to scale up the industrial manufacturing of the ZENEO® needle-free auto-injection. This collaboration enables Crossject to leverage Cenexi's expertise in innovation and sterile manufacturing, enhancing their capabilities in pharmaceutical development.
---
Publication date:

Aug 2023

Base year:

2022

Forecast year:

2023-2033
- Quick Contact -
- ISO Certified Logo -



---
FAQ
The market is primarily driven by the increasing demand for efficient and reliable drug delivery methods, the rising prevalence of chronic diseases, and advancements in intradermal injection technologies.
Normal sized needles currently dominate the market, owing to their ease of administration, reduced risk of needlestick injuries, and improved patient comfort.
The Asia Pacific region showcases immense growth potential, attributed to rapid economic growth, increasing healthcare expenditure, and a large patient population.
Intradermal Injection Market