Hysteroscope Market By Product Type (Rigid Hysteroscope, Flexible Hysteroscope), By Application (Myomectomy, Polypectomy, Endometrial Ablation, Others), By End User (Hospitals, Ambulatory Surgical Centers, Gynecology Clinics, Others) And Geographic Regions (North America, Europe, Asia Pacific, Latin America, Middle East and Africa) - Global Size, Share, Trends, Growth and Forecast Year ( 2023 – 2032 )
FREE Report Sample is Available
In-depth report coverage is now just a few seconds away
Get FREE Report Sample
---
Market Size and Overview:
The hysteroscope market size is poised to reach USD 464.8 million by the end of 2032, growing at a CAGR of 6.6% during the forecast period, i.e., 2023 – 2032. In the year 2022, the industry size of hysteroscope market was USD 245.3 million. The reason behind the growth can be attributed to the increasing prevalence of gynecological problems, such as irregular menstrual bleeding, uterine fibroids, and issues with conception, technological advancements, increasing use of hysteroscopes in fertility examinations and trans cervical sterilizations and expanding healthcare infrastructure. The marketplace incorporates a wide range of products. The market is highly competitive with key players striving to meet evolving customer demands.
---
Hysteroscope Market: Report Scope

Base Year Market Size

2022

Forecast Year Market Size

2023-2032

CAGR Value

6.6%

Segmentation

By Product Type
By Application
By End-User
By Geographic Regions

Challenges

High cost
Lack of skilled professionals

Growth Drivers

Increasing prevalence of gynecological problems
Technological advancements
Increasing use of hysteroscopes in fertility examinations and trans cervical sterilizations
Expanding healthcare infrastructure.
---
Market Segmentation:
Product Type
Rigid Hysteroscope
Flexible Hysteroscope
Application
Myomectomy
Polypectomy
Endometrial Ablation
Others
End User
Hospitals
Ambulatory Surgical Centers
Gynecology Clinics
Others
Geographic Regions:
North America
Europe
Asia Pacific
Latin America
Middle East and Africa
On the basis of product type in the hysteroscope market the rigid hysteroscope segment accounted the highest market share in 2022. Rigid hysteroscopes are commonly used for diagnostic procedures and are less priced than flexible hysteroscopes. Rigid hysteroscopes are substantially utilized in hospitals and clinics due to availability of a huge variety of diameters, allowing in-office and operating room processes.

Regional Analysis:
North America stands as one of the major markets for hysteroscope, driven through the incidence of gynecological disorders. Additionally, emphasis on women's health and gynecological procedures in healthcare facilities make contributions to the region's dominance. The United States, primarily, is a key contributor on this marketplace. Europe is one of the leading marketplaces for hysteroscope because of the region's increasing focus on minimally invasive procedures, fueled by advancements in technology and patient preference. The European market showcases a developing interest in healthcare solutions, aiming to enhance overall healthcare. The Asia Pacific hysteroscope market is estimated to witness significant growth, during the forecast timeframe led by, rapid urbanization, increasing disposable incomes, and a growing awareness of women's health The demand for hysteroscope is anticipated to rise in countries like China and India, in which expanding healthcare infrastructure and rising demand for advanced medical devices and equipment. Latin America and the Middle East and Africa display steady growth inside the hysteroscope market, fueled via urban development, a rising middle class, and a growing demand for gynecological procedures and increasing access to medical devices and equipment in these regions. Key participants to the market's growth in these areas encompass Brazil, Mexico, the United Arab Emirates, and South Africa.
Growth Drivers:
The growing incidence of gynecological issues, consisting of abnormal menstrual bleeding, uterine fibroids, and troubles with theory, propel the demand for hysteroscopes. Additionally, technological improvements have caused the development of high-definition imaging and 3d visualization, attracting healthcare vendors and patients alike. The rising demand for minimally invasive methods and affected person preference for much less painful and shorter recovery times additionally contribute to marketplace growth. The increasing use of hysteroscopes in fertility examinations and trans cervical sterilizations gives widespread boom capability. Hysteroscopes provide a minimally invasive and effective way to diagnose and deal with fertility issues, and trans cervical sterilizations offer a non-surgical alternative to traditional sterilization strategies. The increasing healthcare infrastructure, especially in developing regions, drives the demand for hysteroscopes. Healthcare facilities require advanced scientific devices and equipment to offer first-rate care to patients, boosting the sales of hysteroscopes and other clinical devices.
Challenges:
High cost of glaucoma surgery devices is hindering the growth of market. In developing regions, this factor has resulted in limited demand for product. Moreover, the lack of skilled professionals is also restricting the growth of market.
---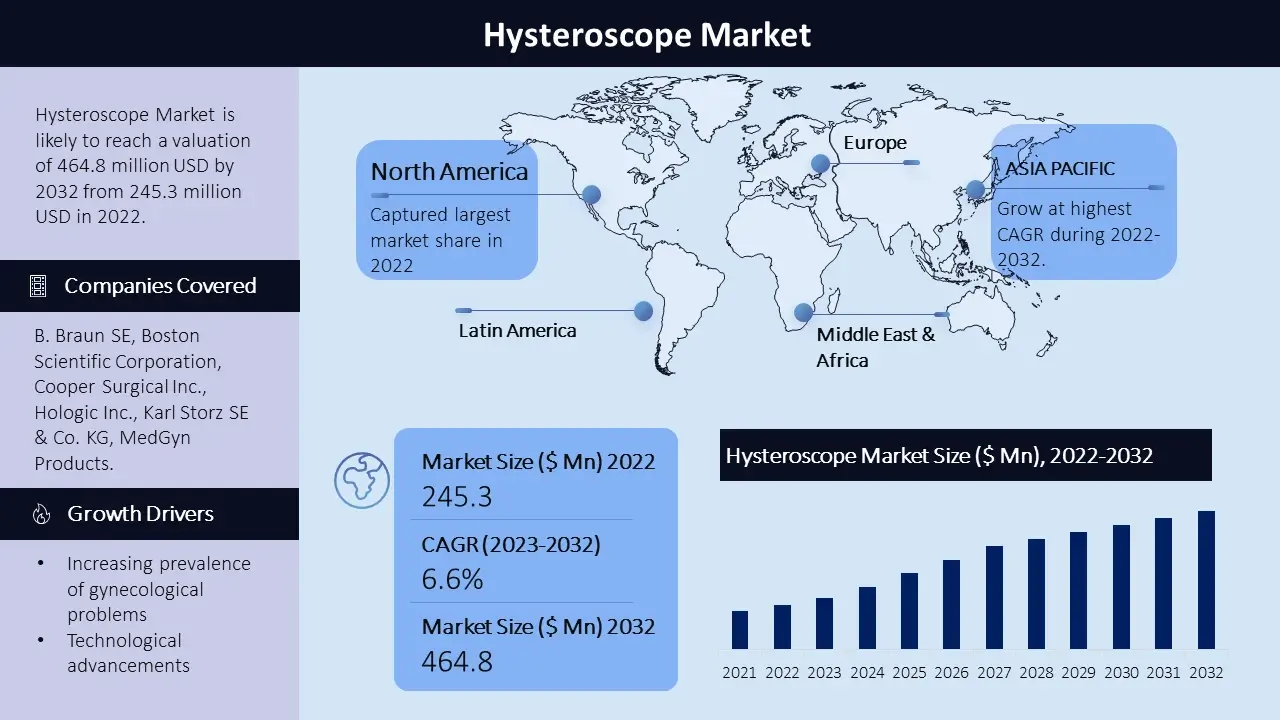 ---
Key Companies: The hysteroscope market is poised by several main corporations, each making big contributions to the industry through their sturdy market presence and progressive product offerings. Among these principal players are B. Braun SE, Boston Scientific Corporation, Cooper Surgical Inc., Hologic Inc., Karl Storz SE & Co. KG, MedGyn Products, Inc., Medtronic, Olympus Corporation, Richard Wolf GmbH, Stryker, and XION. And other players. These essential players constantly try and revamp their marketplace percentage and meet the desires of a diverse investor base. Their competitive techniques encompass product innovation, forging strategic partnerships, undertaking mergers and acquisitions, and increasing their distribution networks.
In June 2022, UroViu Corp launched the new Hystero-V, a single-use semi-rigid hysteroscope compatible with UroViu's Always Ready endoscopy platform.
In September 2021, Hologic, Inc has launched its expanded Omni suite, a comprehensive gynecological surgical offering designed to optimize diagnostic and operative hysteroscopy, in Europe, Africa and the Middle East (EMEA).
---
Publication date:

Aug 2023

Base year:

2022

Forecast year:

2023-2033
- Quick Contact -
- ISO Certified Logo -



---
FAQ
The market is primarily driven by the increasing prevalence of gynecological problems, technological advancements and increasing use of hysteroscopes in fertility examinations.
The market is segmented by product type; rigid hysteroscope segment accounted the highest market share in 2022.
The Asia Pacific region showcases immense growth potential, attributed to the rising incidence of gynecological disorders in the region.
Hysteroscope Market