Glioblastoma Multiforme Treatment Market - Global Size, Share, Trends, Growth and Forecast Year ( 2022 – 2032 )
FREE Report Sample is Available
In-depth report coverage is now just a few seconds away
Get FREE Report Sample
Glioblastoma Multiforme Treatment Market Dynamics
Glioblastoma Multiforme Treatment Market by Treatment (Surgery, Radiation Therapy, Chemotherapy, Targeted Therapy, Tumor Treating Field (TTF) Therapy, Immunotherapy), Drug Class ( Temozolomide, Bevacizumab, Lomustine, Carmustine Wafers, Others), End Use(Hospitals, Clinics, Ambulatory Surgical Centers) and Geographic Regions (North America, Europe, Asia Pacific, Latin America, Middle East and Africa): Industry Trends and Global Forecasts, 2023-2032.
---
Glioblastoma Multiforme Treatment Market Size and Overview:
The glioblastoma multiforme treatment market has witnessed steady growth, achieving a significant compound annual growth rate (CAGR) of 8.9% from 2023 to 2032, with a projected revenue of USD 2.5 billion in 2022, expected to reach USD 5.8 billion by 2032. This growth can be attributed to several factors, including the increasing prevalence of glioblastoma multiforme, advancements in research and development, and favorable regulatory scenarios. The presence of a robust pipeline and the rising incidence of brain tumors have also contributed to the market expansion. Glioblastoma multiforme is the most common malignant tumor, accounting for a significant portion of gliomas and primary brain cancers. As approvals for novel and combination therapies increase, the market is expected to witness further growth.
---
Glioblastoma Multiforme Treatment Market: Report Scope

Base Year Market Size

2022

Forecast Year Market Size

2023-2032

CAGR Value

8.9%

Segmentation

By Treatment
By Drug Class
By End-use
By Geographic Regions

Challenges

Reimbursement issues and stringent regulatory guidelines
High-cost

Growth Drivers

Increasing prevalence of brain disorders
Strong research and development (R&D) initiatives
Increasing aging population worldwide
---
Glioblastoma Multiforme Treatment Market Segmentation:
Treatment:
Surgery
Radiation Therapy
Chemotherapy
Targeted Therapy
Tumor Treating Field (TTF) Therapy
Immunotherapy
Drug Class:
Temozolomide
Bevacizumab
Lomustine
Carmustine Wafers
Others
End-use:
Hospitals
Clinics
Ambulatory Surgical Centers
Geographic Regions:
North America
Europe
Asia Pacific
Latin America
Middle East and Africa
Radiation therapy accounts for the highest share in 2022, owing to advancements in radiotherapy technology and improved survival rates. Radiation therapy is recommended as the primary treatment or in combination with other modalities, such as chemotherapy and surgery. The continuous technological breakthroughs in radiotherapy have led to more cost-effective and user-friendly products, offering enhanced precision and effective drug delivery in treating glioblastoma multiforme.
Hospitals dominate the market, holding the largest share in 2022, and are expected to maintain their lead during the forecast period. Patients prefer hospitals for treatment due to their accessibility and convenience. The high number of surgeries performed to manage glioblastoma multiforme, coupled with the complexity associated with the disease's treatment, further drives the market's growth in hospitals.
---
Regional Analysis:
North America, region boasts the largest and most mature market, with the United States playing a pivotal role. The region's dominance can be attributed to robust government support for the healthcare sector, high awareness about rare disorders, easy access to quality medical facilities, and favorable reimbursement policies. Europe, with key markets such as Germany, France, and the United Kingdom, also holds a significant share, catering to both residential and professional users. The European market exhibits a growing interest in environmentally sustainable and patient-oriented treatment options. The Asia Pacific region is set to register the highest growth rate over the forecast period due to factors such as the introduction of generics of temozolomide, an improving economy, an aging population, and increased investments in the healthcare sector. Latin America demonstrates steady growth, fueled by urban development, a rising middle class, and an increasing demand for advanced treatment options. Notable markets within the region include Brazil, Mexico, and Argentina. Lastly, the Middle East and Africa present a developing market, with an emphasis on urban development, tourism, and a growing demand for green spaces and landscaping in both commercial and residential sectors. The United Arab Emirates, Saudi Arabia, and South Africa are significant contributors to the market's growth in this region.
---
Growth Drivers:
The glioblastoma multiforme treatment market is driven by several key factors that contribute to its steady growth. Firstly, the increasing prevalence of brain disorders, particularly glioblastoma multiforme, fuels the demand for effective treatment options. The rising incidence of this aggressive form of malignant tumor necessitates advanced and innovative therapies to improve patient outcomes.
Secondly, strong research and development (R&D) initiatives undertaken by key players in the pharmaceutical and biotechnology sectors drive the market's growth. These initiatives focus on developing novel treatment approaches, targeted therapies, and immunotherapies that can better target the specific characteristics of glioblastoma multiforme. As a result, new and improved treatment options are continuously being introduced to the market.
Another significant growth driver is the increasing aging population worldwide. Glioblastoma multiforme is more prevalent among older adults, and as the global population ages, the incidence of the disease is expected to rise. This demographic shift creates a greater demand for effective and tailored treatments, leading to market growth.
---
Challenges:
One of the major obstacles is related to reimbursement issues and stringent regulatory guidelines. The complex and high-cost treatment regimens for glioblastoma multiforme may pose challenges for patients in accessing these therapies, especially in regions with limited healthcare coverage and reimbursement support.
---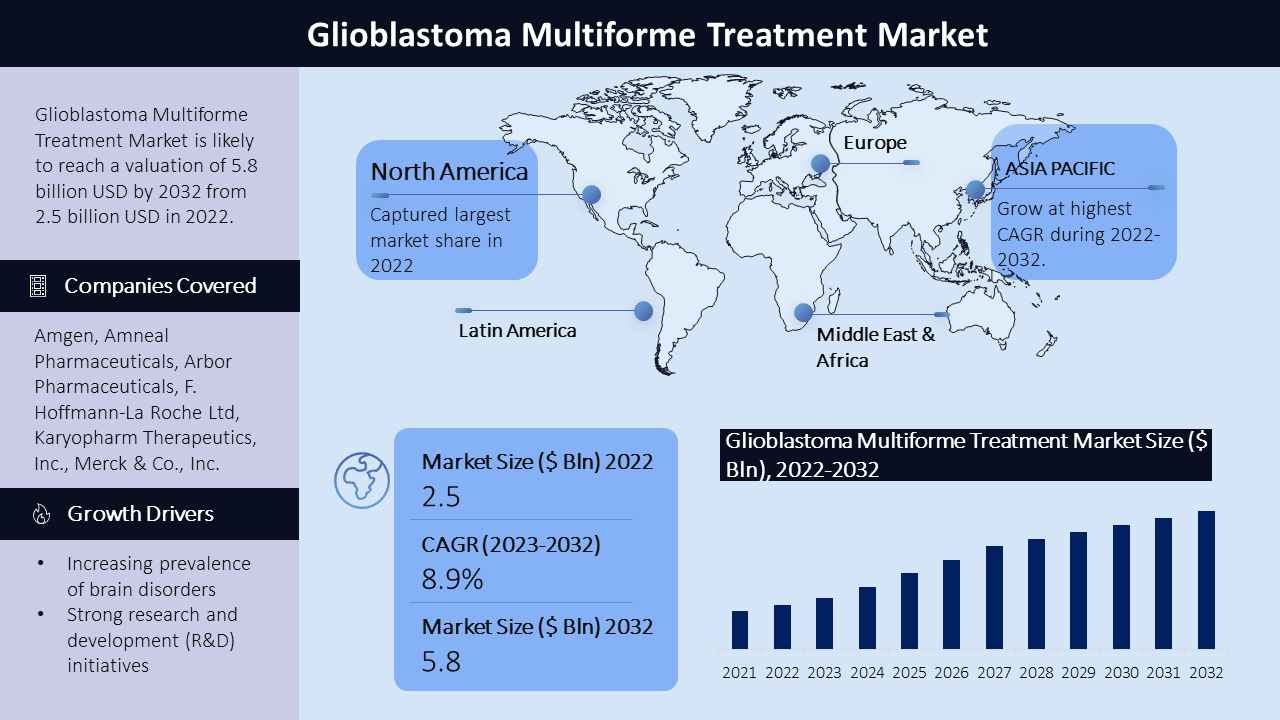 ---
Key Companies:
The glioblastoma multiforme treatment market is shaped by the presence of leading pharmaceutical and biotechnology companies dedicated to advancing research and improving treatment options for this challenging brain cancer. Among the prominent players, Amgen stands out for its commitment to cutting-edge R&D initiatives aimed at developing advanced technology products to gain a competitive edge in the market. The company's unwavering pursuit of innovation has resulted in significant advancements in glioblastoma multiforme treatment. The report profiles leading companies in the glioblastoma multiforme treatment market, Amgen, Amneal Pharmaceuticals, Arbor Pharmaceuticals, F. Hoffmann-La Roche Ltd, Karyopharm Therapeutics, Inc., Merck & Co., Inc., Pfizer Inc., Sumitomo Dainippon Pharma Oncology, Inc. (Boston Biomedical, Inc.), Sun Pharmaceutical Industries Ltd., Teva Pharmaceutical Industries Ltd. Among other players.
In August 2022, Northwest Biotherapeutics achieved a significant milestone when it obtained approval from the United Kingdom Medicines and Healthcare Products Regulatory Agency (MHRA) for the Company's Pediatric Investigation Plan (PIP).
Similarly, in July 2022, Diffusion Pharmaceuticals embarked on a groundbreaking Phase II trial focused on patients diagnosed with glioblastoma multiforme. The trial incorporated cutting-edge imaging methodology, allowing for a comprehensive evaluation of tumor oxygenation.
---
Publication date:

Aug 2023

Base year:

2022

Forecast year:

2023-2033
- Quick Contact -
- ISO Certified Logo -



---
FAQ
The market for Glioblastoma Multiforme treatment is primarily driven by several key factors. Firstly, the increasing prevalence of brain disorders, specifically Glioblastoma Multiforme, is contributing to the growth of the market.
Currently, Temozolomide is one of the most prominent drug classes dominating the Glioblastoma Multiforme treatment market. Temozolomide is widely used as a chemotherapy drug for this specific brain tumor.
The Asia Pacific region is expected to showcase immense growth potential in the Glioblastoma Multiforme Treatment Market. Factors such as introduction of generics of temozolomide, an improving economy, an aging population, and increased investments in the healthcare sector.
Glioblastoma Multiforme Treatment Market