Glaucoma Surgery Devices Market By Surgery Type (Conventional Glaucoma Surgeries and Minimally Invasive Glaucoma Surgeries); Product (Implants & Stents, Glaucoma Drainage Devices, and Glaucoma Laser Devices); By End User (Eye Hospital & Ophthalmology Clinic, Ambulatory Surgical Centers (ASCS), and Outpatient Surgical Centers) And Geographic Regions (North America, Europe, Asia Pacific, Latin America, Middle East and Africa) – Global Market Analysis, Trends, Opportunity and Forecast, 2023-2032
FREE Report Sample is Available
In-depth report coverage is now just a few seconds away
Get FREE Report Sample
---
Glaucoma Surgery Devices Market Size and Overview:
The glaucoma surgery devices market size is poised to reach USD 5.7 billion by the end of 2032, growing at a CAGR of 6.5% during the forecast period, i.e., 2023 – 2032. In the year 2022, the industry size of glaucoma surgery devices market was USD 3.0 billion. The reason behind the growth can be attributed to the growing incidence of glaucoma, a chronic eye disease that could cause blindness if left untreated. The growing geriatric populace and the growing cognizance about eye health have also contributed to the demand for glaucoma surgical procedure devices. The marketplace incorporates a wide range of devices, along with implants. The market is highly competitive with key players striving to meet evolving customer demands.
---
Glaucoma Surgery Devices Market: Report Scope

Base Year Market Size

2022

Forecast Year Market Size

2023-2032

CAGR Value

6.5%

Segmentation

By Surgery Type
By Product
By End-User
By Geographic Regions

Challenges

High cost
Complexity of glaucoma surgeries

Growth Drivers

Growing occurrence of glaucoma worldwide
Growing geriatric population
Advancements in surgical strategies
Favorable reimbursement
Rising demand for minimally invasive strategies
---
Glaucoma Surgery Devices Market Segmentation:
Surgery Type:
Conventional Glaucoma Surgeries
Minimally Invasive Glaucoma Surgeries
Product:
Implants & Stents
Glaucoma Drainage Devices
Glaucoma Laser Devices
Others
End-User:
Eye Hospital & Ophthalmology Clinic
Ambulatory Surgical Centers (ASCS)
Outpatient Surgical Centers
Geographic Regions:
North America
Europe
Asia Pacific
Latin America
Middle East and Africa
On the basis of Surgery Type in the Glaucoma Surgery Devices market the Conventional Glaucoma Surgeries segment accounted the highest market share in 2022. The traditional glaucoma surgeries segment holds a massive marketplace share within the Glaucoma Surgery Devices market. These surgical procedures are the traditional technique to coping with glaucoma and involve developing a new drainage channel for extra fluid to lessen intraocular stress. Despite the emergence of minimally invasive tactics, traditional surgical procedures continue to be a favored desire for patients with higher glaucoma, contributing to the demand for associated devices.
---
Regional Analysis:
North America stands as one of the major markets for glaucoma surgery devices, driven through the well-established healthcare infrastructure. Additionally high prevalence of glaucoma, favorable reimbursement policies, and robust research activities make contributions to the region's dominance. The United States, primarily, is a key contributor on this marketplace. Europe is one of the leading marketplaces for Glaucoma Surgery Devices because of the region's increasing focus on glaucoma management and early diagnosis. The European market showcases a developing interest in healthcare solutions, aiming to enhance overall healthcare. The Asia Pacific Glaucoma Surgery Devices market is estimated to witness significant growth, during the forecast timeframe led by, rising geriatric population, increasing healthcare expenditure, and growing awareness about eye health. The demand for Glaucoma Surgery Devices is anticipated to rise in countries like China and India, in which increasing number of patient populations and a high burden of glaucoma cases. Latin America and the Middle East and Africa display steady growth inside the Glaucoma Surgery Devices market, fueled via improving access to healthcare services and rising healthcare investments, focus on improving eye care services and reducing the prevalence of glaucoma-related blindness in these regions. Key participants to the market's growth in these areas encompass Brazil, Mexico, the United Arab Emirates, and South Africa.
---
Glaucoma Surgery Devices Market Growth Drivers:
The growing occurrence of glaucoma worldwide is a significant growth driver. Glaucoma is one of the leading causes of irreversible blindness, and the growing prevalence of this continual eye ailment has caused a surge in call for glaucoma surgery devices. Early analysis and timely surgical intervention are vital for effective glaucoma management, boosting the adoption of those devices. The growing geriatric population is a key boom driver for the market. With a higher hazard of developing glaucoma, the aged population is searching for advanced and minimally invasive treatment options, contributing to the call for glaucoma surgical procedure devices. Advancements in surgical strategies and technology have progressed the fulfillment prices and safety profiles of glaucoma surgeries. Ophthalmologists are more and more adopting novel surgical devices and techniques to attain higher results for his or her sufferers, stimulating marketplace boom. Favorable reimbursement rules for glaucoma surgical procedures in several nations have endorsed sufferers to opt for surgical interventions. Reimbursement guide makes those procedures extra less expensive, in particular for patients with limited economic assets. Rising demand for minimally invasive strategies, Traditional glaucoma surgical treatment approaches may be invasive and have a long recovery time. In latest years, there was a growing call for minimally invasive glaucoma surgical operation procedures, which might be associated with shorter recovery instances and decrease danger of complications further driving the market growth.
---
Glaucoma Surgery Devices Market Challenges:
High cost of glaucoma surgery devices and limited awareness about glaucoma are hindering the growth of market. In developing regions, this factor has resulted in limited demand for product. Moreover, the complexity of glaucoma surgeries and the need for specialized skills is also restricting the growth of market.
---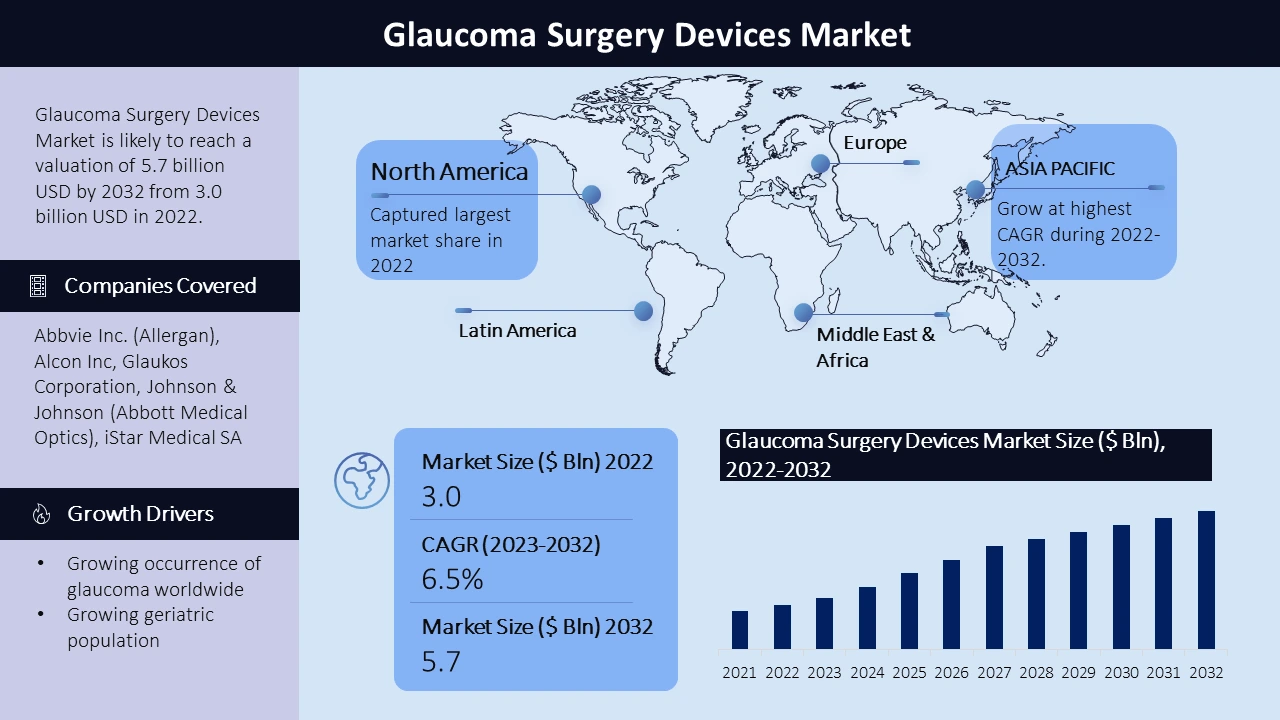 ---
Glaucoma Surgery Devices Market Key Companies:
The Glaucoma Surgery Devices market is poised by several main corporations, each making big contributions to the industry through their sturdy market presence and progressive product offerings. Among these principal players are Abbvie Inc. (Allergan), Alcon Inc, Glaukos Corporation, Johnson & Johnson (Abbott Medical Optics), iStar Medical SA, Lumibird Medical (Ellex Medical Lasers Ltd), Lumenis Ltd, New World Medical, Inc., Santen Pharmaceutical Co. Ltd, Topcon Corporation And other players. These essential players constantly try and revamp their marketplace percentage and meet the desires of a diverse investor base. Their competitive techniques encompass product innovation, forging strategic partnerships, undertaking mergers and acquisitions, and increasing their distribution networks.
In June 2022, AbbVie Inc. Introduced its strategic move to gather iSTAR Medical, a Belgian agency that focuses on growing minimally invasive glaucoma implantable surgical procedure devices. The deal involved a USD 60 million fee for the acquisition rights.
In June 2022, when Iridex Corporation received regulatory approval from China's National Medical Products Administration (NMPA) to market and sell its Cyclo G6 platform.
---
Publication date:

Aug 2023

Base year:

2022

Forecast year:

2023-2033
- Quick Contact -
- ISO Certified Logo -



---
FAQ
The market is primarily driven by the rising prevalence of glaucoma, the increasing geriatric population, and the growing adoption of surgical treatments for glaucoma.
The market is segmented by surgery type; Conventional Glaucoma Surgeries segment accounted the highest market share in 2022.
The Asia Pacific region showcases immense growth potential, attributed to the increasing awareness of glaucoma and the rising demand for advanced glaucoma surgical solutions in the region.
Glaucoma Surgery Devices Market