Femtech Market By Type (Devices, Software, and Services), By Application (Reproductive Health, Pregnancy and Nursing Care, Pelvic and Uterine Healthcare, and General Healthcare and Wellness, Others), By End-user (Hospitals, Fertility Clinics, and Others), And By Geographic Regions (North America, Europe, Asia Pacific, Latin America, Middle East and Africa): Industry Trends and Global Forecasts, 2023-2032
FREE Report Sample is Available
In-depth report coverage is now just a few seconds away
Get FREE Report Sample
Market Size and Overview:
The femtech market size is poised to reach USD 16.0 billion by the end of 2032, growing at a CAGR of 11.1% at some point over the forecast length, i.e., 2023 – 2032. In the year 2022, the enterprise size of the femtech market was USD 5.6 billion. The motive behind this growth is the growing awareness around women's fitness and well-being, advancement in the age, increasing attention of investors and venture capitalists in this market, accessible among women. The growing demand for healthcare solutions and related problems can be attributed to the integration of technology. For women's health. The marketplace is fiercely competitive as primary businesses constantly strive to innovate and adapt to the changing desires of customers.
---
Femtech Market: Report Scope

Base Year Market Size

2022

Forecast Year Market Size

2023-2032

CAGR Value

11.1%

Segmentation

By Type
By Application
By End-User
By Geographic Regions

Challenges

High cost
Lack of awareness

Growth Drivers

Increasing awareness surrounding womens health and wellbeing
Advancements in technology
The growing interest from investors and venture capitalists in femtech
Rising demand for accessible healthcare solutions among women
---
Market Segmentation:
Type
Devices
Software
Services
Application
Reproductive Health
Pregnancy & Nursing care
Pelvic & Uterine Healthcare
General Healthcare & Wellness
Others
End User
Hospitals
Fertility Clinics
Others
Geographic Regions:
North America
Europe
Asia Pacific
Latin America
Middle East and Africa
The devices phase holds the largest marketplace share within the FemTech market. This may be attributed to the increasing demand for progressive femcare, a huge range of devices addressing sexual health and reproductive health, and wearable technology for adolescents' health. With the growing popularity of virtual fitness solutions, the demand for devices is anticipated to witness steady growth. Additionally, advancements in generation, together with artificial intelligence and gadget getting to know, are further fueling the boom capability of this section.
Regional Analysis:
North America stands as one of the major markets for Femtech, driven through the emphasis on women's health and well-being in both residential and commercial sectors make contributions to the region's dominance. The United States, primarily, is a key contributor on this marketplace. Europe is one of the leading marketplaces for Femtech because of the region's increasing focus on awareness of women's health issues. The European market showcases a developing interest in growing demand for personalized and convenient healthcare solutions. The Asia Pacific Femtech market is estimated to witness significant growth, during the forecast timeframe led by, rapid urbanization, growing appreciation for women's health, and increasing disposable income of women. The demand for Femtech is anticipated to rise in countries like China and India, in which expanding healthcare industries and rising popularity of digital health. Latin America and the Middle East and Africa display steady growth inside the Femtech market, fueled via improving focus on improving healthcare infrastructure, urban development, and increasing investment in digital health solutions in these regions. Key participants to the market's growth in these areas encompass Brazil, Mexico, the United Arab Emirates, and South Africa.
Growth Drivers:
The increasing awareness surrounding womens health and wellbeing is driving the demand, for dependable healthcare solutions. Advancements in technology have resulted in the creation of devices and software attracting health individuals. The growing prevalence of illnesses in women and the growing presence of young woman within the tech community are fueling innovation and technological development in this enterprise. The growing interest from investors and venture capitalists in femtech presents opportunities for increase. There has been a boom in investment directed closer to femtech startups with more funding and packages tailored to assist those startups and woman entrepreneurs. This has led to the development of creative products and services that cater to purchaser requirements. There is a rising demand for accessible healthcare solutions among women. They are in search of healthcare alternatives that are tailored to their requirements whilst additionally being easily accessible. As a result, there is an increased demand for femtech services and products that may be accessed via platforms or mobile applications. The integration of technology into femtech has revolutionized the marketplace panorama. Smart functions such, as automatic operations, remote manipulate talents and real time monitoring decorate user revel in and productivity consequently using market increase.
Challenges:
High cost of Femtech and lack of awareness are hindering the growth of market. In developing regions, this factor has resulted in limited demand for product. Moreover, the lack of reimbursement for femtech products is also restricting the growth of market.
---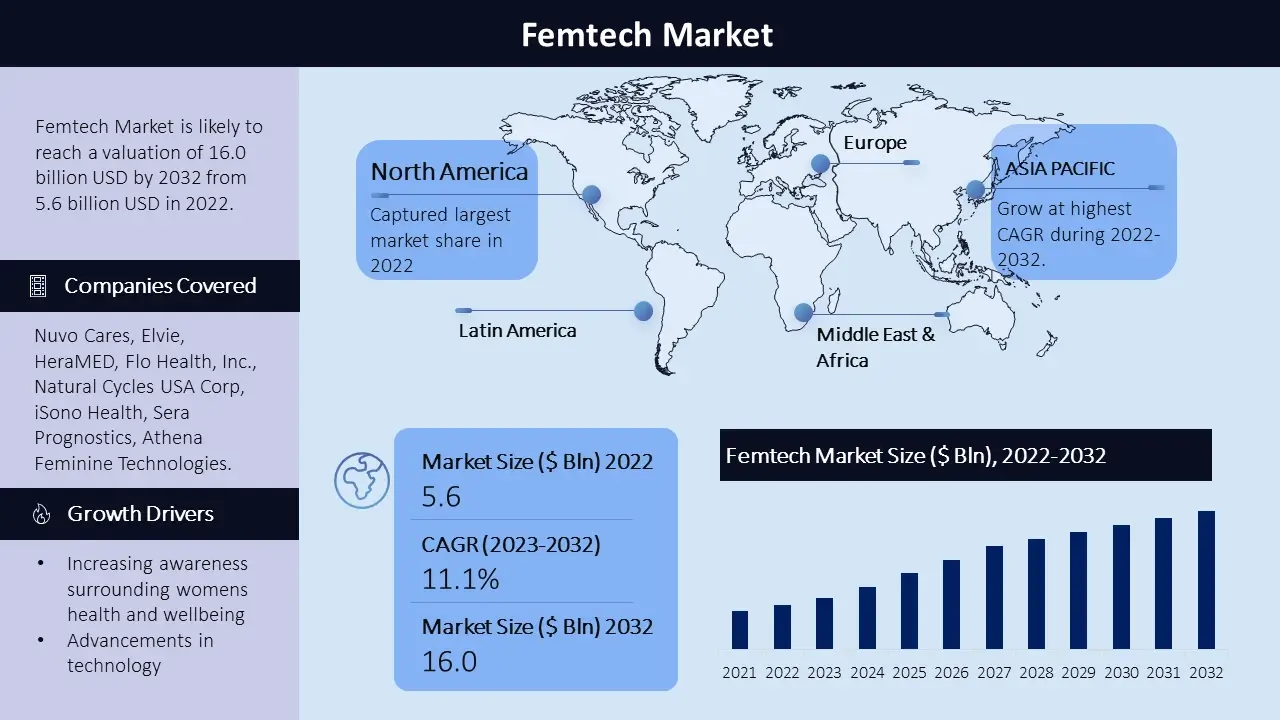 ---
Key Companies: The Femtech market is poised by several main corporations, each making big contributions to the industry through their sturdy market presence and progressive product offerings. Among these principal players are Nuvo Cares, Elvie, HeraMED, Flo Health, Inc., Natural Cycles USA Corp, iSono Health, Sera Prognostics, Athena Feminine Technologies, NUROKOR LIMITED, Canopie. And other players. These essential players constantly try and revamp their marketplace percentage and meet the desires of a diverse investor base. Their competitive techniques encompass product innovation, forging strategic partnerships, undertaking mergers and acquisitions, and increasing their distribution networks.
In May 2023, Nuvo Cares announced that it had partnered with the company Maven to provide its products to Maven's members.
In January 2023, HeraMED announced that it had received FDA clearance for its Hera Fertility Test, which is designed to help women determine their fertility status at home.
---
Publication date:

Aug 2023

Base year:

2022

Forecast year:

2023-2033
- Quick Contact -
- ISO Certified Logo -



---
Femtech Market