Dermatology Imaging Market Size (2022-2032) | Forecast Indicates Strong Industry Growth and Development
FREE Report Sample is Available
In-depth report coverage is now just a few seconds away
Get FREE Report Sample
---
Market Size and Overview:
The dermatology imaging market has witnessed significant growth in recent years, driven by the increasing need for accurate diagnosis and monitoring of cutaneous diseases. With a compound annual growth rate (CAGR) of 7.6 % from 2022 to 2032, the market reached a value of $3.5 billion in 2032.
---
Market Segmentation:
Imaging Modality:
Digital Photographic Imaging
Dermoscopy
Others
Application:
Pigmented Lesions
Psoriasis
Skin Cancer
Plastic and Reconstructive Surgery
Others
End-Use:
Hospitals
Specialty Clinics
Skin Rejuvenation Centers
Research Institutes
Geographic Regions:
North America
Europe
Asia Pacific
Latin America
Middle East and Africa
Digital Photographic Imaging: Digital photographic imaging holds a significant market share in the dermatology imaging market. It enables dermatologists to capture high-resolution images of the patient's skin condition or lesion, facilitating documentation and monitoring of changes over time. This imaging modality has become an essential tool in clinical diagnosis and has the potential to reduce unnecessary biopsies.
Hospitals: Hospitals are major end-users of dermatology imaging devices. With the rising prevalence of skin disorders and the increasing need for accurate and timely diagnosis, hospitals are investing in advanced imaging technologies. The availability of skilled dermatologists and a comprehensive range of diagnostic services in hospitals further drives the demand for imaging devices in this setting.
---
Regional Analysis:
North American, region has a well-established market, driven by the high incidence of skin cancer and the presence of advanced healthcare infrastructure. The United States, in particular, leads the market in North America, with a focus on early disease detection and improving diagnostic accuracy.
In Europe, countries like Germany, France, and the United Kingdom hold significant market shares. The region benefits from robust research and development activities, government initiatives to promote advanced imaging techniques and a growing emphasis on personalized medicine.
The Asia Pacific region presents significant growth opportunities for the dermatology imaging market. Rapid urbanization, increasing disposable incomes, and the rising awareness of skin health contribute to market expansion. Countries like China, Japan, and India are witnessing increased adoption of advanced imaging technologies in dermatology practices.
Latin America demonstrates steady growth, propelled by increasing demand for dermatological services and rising awareness of skin cancer. Brazil, Mexico, and Argentina are key markets within the region. Lastly, the Middle East and Africa region shows potential for market development, with a focus on expanding healthcare infrastructure and increasing access to specialized dermatology services. The United Arab Emirates, Saudi Arabia, and South Africa are emerging markets within the region.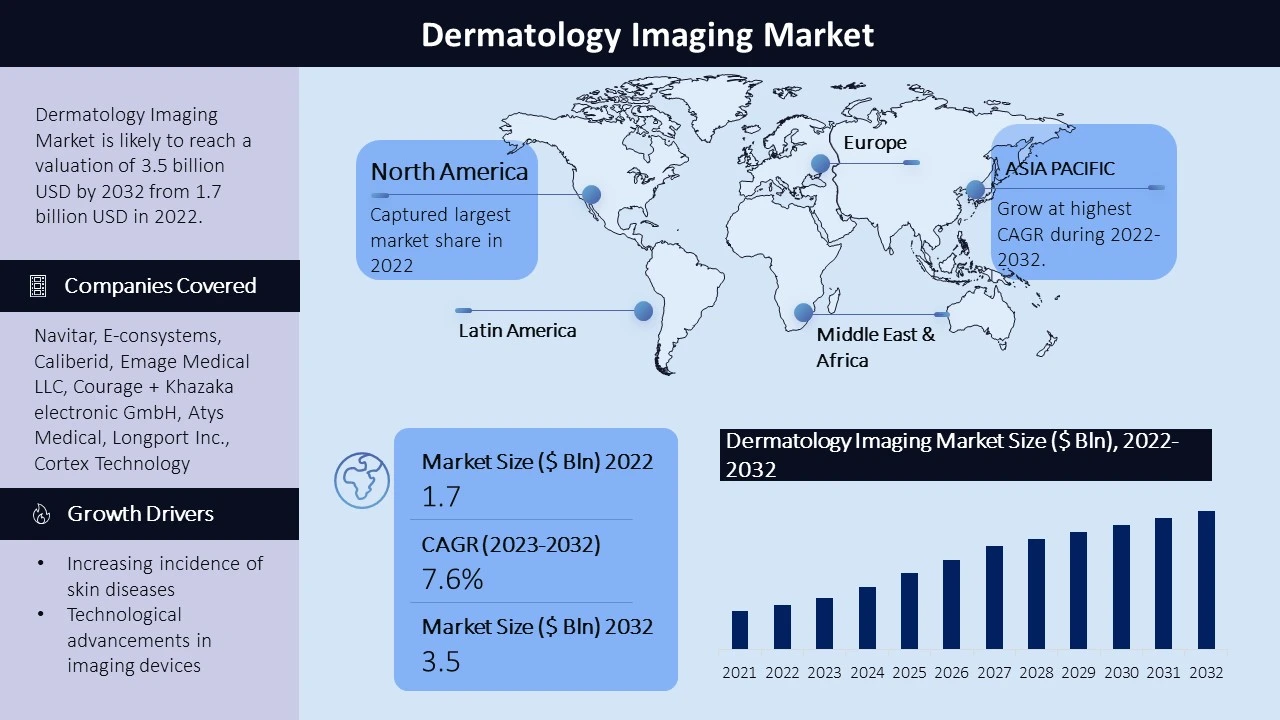 ---
Growth Drivers:
The growth of the dermatology imaging market is driven by several factors. Firstly, the rising incidence of skin cancer, including BCC, SCC, and melanoma, necessitates accurate and timely diagnosis. Dermatology imaging techniques provide non-invasive methods to assess and monitor skin conditions, reducing the need for unnecessary biopsies and improving patient outcomes.
Additionally, advancements in imaging modalities, such as digital photographic imaging, dermoscopy, and technologies like confocal microscopy and optical coherence tomography, have enhanced diagnostic accuracy and expanded the capabilities of dermatologists. These technologies enable clinicians to visualize and analyze the skin at a cellular level, aiding in the early detection and management of various dermatological conditions.
The increasing awareness of skin health and the growing demand for aesthetic procedures, such as skin rejuvenation and plastic surgery, also contribute to the market growth. Dermatology imaging plays a crucial role in assessing treatment outcomes, guiding surgical interventions, and monitoring patient progress.
Furthermore, the rising healthcare expenditure, particularly in developed regions, and the availability of reimbursement policies for dermatology imaging procedures drive market growth. The reimbursement support encourages healthcare providers to adopt advanced imaging technologies, leading to improved patient care and outcomes.
---
Challenges:
Despite the advancements in dermatology imaging, there are challenges to overcome. The high cost of equipment and the requirement for specialized training pose barriers to the widespread adoption of these technologies. Additionally, the shortage of skilled dermatologists proficient in operating and interpreting imaging devices can hinder market growth.
---
Key Companies:
The dermatology imaging market is characterized by the presence of several key players. Companies such as Navitar, E-systems, Caliberid, Emage Medical LLC, Courage + Khazaka electronic GmbH, Atys Medical, Longport Inc., Cortex Technology, Canfield Scientific, Inc., tpm – taberna pro medium GmbH, MetaOptima Technology Inc., and DermSpectra are prominent players in the market. These companies offer a wide range of imaging devices and technologies, catering to the diverse needs of dermatologists and healthcare facilities.
For instance, Navitar is known for its expertise in digital imaging solutions, providing high-quality imaging systems for dermatology applications. E-con systems specialize in developing advanced camera modules and imaging solutions, contributing to the advancement of dermatology imaging technology.
On April 10, 2023, Caliberid, a leader in dermatology imaging, announced the launch of its latest dermoscopy device, equipped with advanced features for improved image resolution and analysis.
These key players play a crucial role in driving market growth by continually pushing the boundaries of dermatology imaging technology and providing innovative solutions to meet the evolving needs of healthcare professionals and patients.
---
Publication date:

Aug 2023

Base year:

2022

Forecast year:

2023-2033
- Quick Contact -
- ISO Certified Logo -



---
FAQ
The market is primarily driven by the increasing incidence of skin cancer, advancements in imaging modalities and the rise in demand for cosmetic procedures.
Skin cancer diagnosis is a major application of dermatology imaging and is expected to be a significant driver of the market's growth.
North America is the largest market for dermatology imaging, owing to the high prevalence of skin diseases, advanced healthcare infrastructure, and favorable reimbursement policies.
Dermatology Imaging Market