Dental Sterilization Market By Product (Instruments (Sterilization Equipment (high temperature, Low temperature), Cleaning and Disinfectant Equipment, Packaging Equipment), Consumables and Accessories), By End User (Hospitals, Clinics, Dental Laboratories) And by Geographic Regions (North America, Europe, Asia Pacific, Latin America, Middle East and Africa): Industry Trends and Global Forecasts, 2023-2032
FREE Report Sample is Available
In-depth report coverage is now just a few seconds away
Get FREE Report Sample
---
Market Size and Overview:
The dental sterilization market size is poised to reach USD 2.6 billion by the end of 2032, growing at a CAGR of 6.6% during the forecast period, i.e., 2023 – 2032. In the year 2022, the industry size of dental sterilization market was USD 1.3 billion. The reason behind the growth can be attributed to the increasing emphasis on infection control and prevention, technological advancements, growing adoption of digital dentistry, increasing awareness about dental aesthetics and expanding dental industry, particularly in developing regions. The marketplace incorporates a wide range of products, along with accessories. The market is highly competitive with key players striving to meet evolving customer demands.
Dental Sterilization Market: Report Scope

Base Year Market Size

2022

Forecast Year Market Size

2023-2032

CAGR Value

6.6%

Segmentation

By Product
By End-User
By Geographic Regions

Challenges

High cost
Complex regulatory requirements

Growth Drivers

Increasing emphasis on infection control and prevention
Technological advancements
Growing adoption of digital dentistry
Increasing awareness about dental aesthetics
Expanding dental industry, particularly in developing regions
Market Segmentation:
Product
By Instruments

Sterilization Equipment

High-temperature Sterilizers
Low- temperature Sterilizers

Cleaning and Disinfectant Equipment

Washer Disinfectants
Ultrasonic Cleaners

Packaging Equipment

By Consumables and Accessories

Sterilization Packaging Accessories
Instrument Disinfectants
Surface Disinfectants
Sterilization Indicators
Lubrication and Cleaning Solutions
End User
Hospitals
Clinics
Dental Laboratories
Geographic Regions:
North America
Europe
Asia Pacific
Latin America
Middle East and Africa
On the basis of product in the dental sterilization market the high-temperature sterilizers segment accounted the highest market share in 2022. The segment of high temperature sterilizers held the market share. Is projected to maintain its dominance throughout the forecast period. This growth can be attributed to the cost effectiveness and reliability of these instruments as their ability to effectively disinfect complex dental devices. Creating a comfortable environment, for patients remains a priority, for dental healthcare providers. Dental high temperature sterilizers are used to ensure sanitation of equipment after it has been used.
Regional Analysis:
North America stands as one of the major markets for Dental Sterilization, driven through the increasing awareness of oral healthcare, increasing incidences of dental diseases, and increasing demand for advanced cosmetic dental procedures make contributions to the region's dominance. The United States, primarily, is a key contributor on this marketplace. Europe is one of the leading marketplaces for Dental Sterilization because of the region's increasing focus on eco-friendly and energy-efficient equipment, fueled by environmental sustainability concerns. The European market showcases a developing interest in healthcare solutions. The Asia Pacific Dental Sterilization market is estimated to witness significant growth, during the forecast timeframe led by, increasing prevalence of dental diseases, the rising disposable income, and the growing demand for aesthetic dentistry. The demand for Dental Sterilization is anticipated to rise in countries like China and India, in which expanding dental industry and rising popularity of dental procedures among urban residents. Latin America and the Middle East and Africa display steady growth inside the Dental Sterilization market, fueled via propelled by urban development, a rising middle class, and a growing demand for dental services in these regions. Key participants to the market's growth in these areas encompass Brazil, Mexico, the United Arab Emirates, and South Africa.
Growth Drivers:
The growing focus, on controlling and preventing infections in practices is driving the demand for dependable equipment. Moreover, advancements in technology have resulted in the creation of energy efficient equipment, which is attracting consumers who are mindful of the environment. The increasing awareness of hygiene and the importance of maintaining health are also contributing to the growth of the market. The adoption of dentistry is experiencing growth potential. Digital dentistry enables efficient procedures reducing the risk of infections and improving patient outcomes. This shift towards digital dentistry aligns with the growing emphasis on precision and accuracy in treatments. The rising awareness about aesthetics along with an increase in procedures is fueling the demand for effective and reliable cosmetic dentistry procedures. The expanding dental industry in developing regions is boosting the demand for sterilization equipment. Dental procedures require infection control measures hence driving sales for equipment such, as autoclaves, ultrasonic cleaners and sterilization pouches.
Challenges:
High cost of cosmetic dentistry procedures and complex regulatory requirements are hindering the growth of market. In developing regions, this factor has resulted in limited demand for product. Moreover, the stringent quality standards are also restricting the growth of market.
---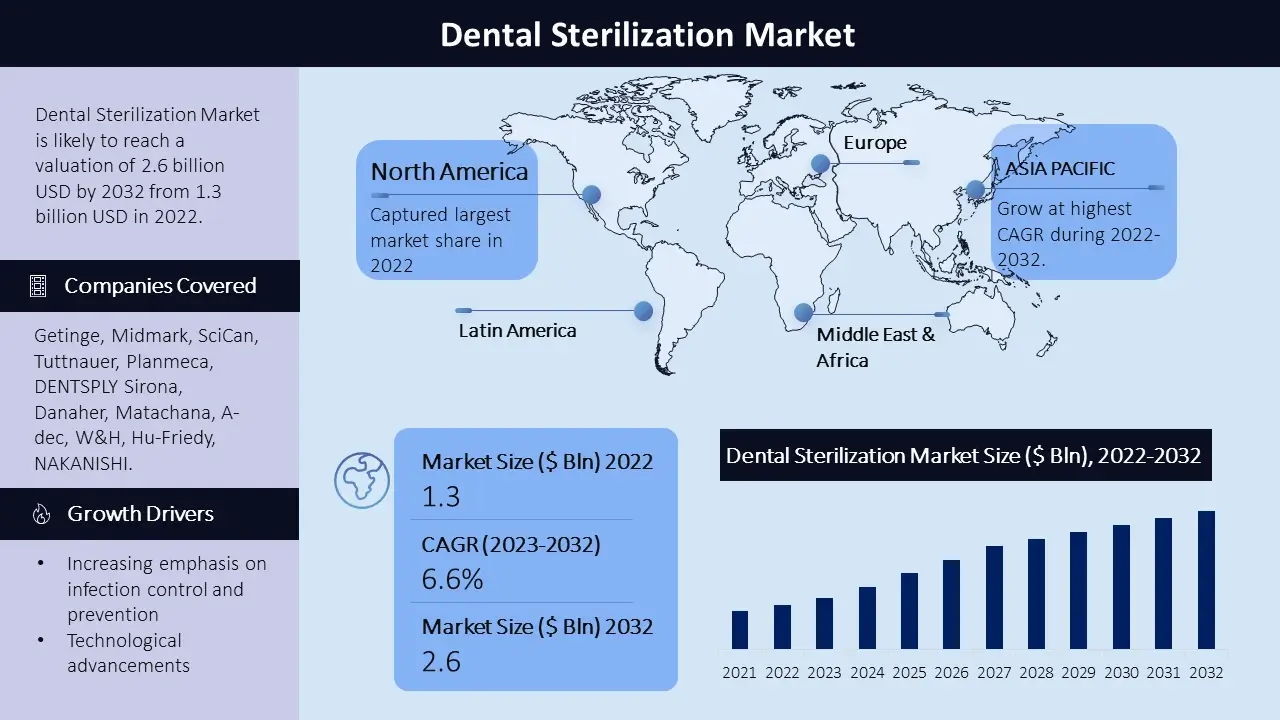 ---
Key Companies: The Dental Sterilization market is poised by several main corporations, each making big contributions to the industry through their sturdy market presence and progressive product offerings. Among these principal players are Getinge, Midmark, SciCan, Tuttnauer, Planmeca, DENTSPLY Sirona, Danaher, Matachana, A-dec, W&H, Hu-Friedy, NAKANISHI. And other players. These essential players constantly try and revamp their marketplace percentage and meet the desires of a diverse investor base. Their competitive techniques encompass product innovation, forging strategic partnerships, undertaking mergers and acquisitions, and increasing their distribution networks.
In May 2022, DOVE Dental Products launched new AERO HVE Wide Mouth – a single-use hybrid device.
In February 2023, Getinge (Sweden): Acquired Maquet (Germany) solution.
---
Publication date:

Aug 2023

Base year:

2022

Forecast year:

2023-2033
- Quick Contact -
- ISO Certified Logo -



---
FAQ
The market is primarily driven by the increasing emphasis on infection control and prevention, technological advancements.
The market is segmented by Product; High-temperature Sterilizers segment accounted the highest market share in 2022.
The Asia Pacific region showcases immense growth potential, attributed to the increasing prevalence of dental diseases, the rising disposable income, and the growing demand for aesthetic dentistry in the region.
Dental Sterilization Market