Controlled Environment Agriculture Market
Controlled Environment Agriculture Market - By Crop, By Growing Method, By Component & Global Region - Market Size, Trends, Share & Forecast 2022-2027
Request Sample
Request Discount
Status : Published
Published on: Feb 2022
Report ID: KDMI-2480
Available Format: PDF/Excel/DOC
COVID-19
Pandemic disrupted the entire world and affected many industries.
Get detailed COVID-19 impact analysis on the Controlled Environment Agriculture Market
Request Sample
Thriving Needs for New Ways to Cultivate Crops is Likely to Foster the Controlled environment agriculture Market at 18.9% CAGR during 2022 & 2027.
Global controlled environment agriculture market is projected to grow from USD 74,499.7 Million in 2022 and is estimated to reach USD 172,164.64 Million in 2027, registering a compound annual growth rate (CAGR) of 18.7% between 2022 and 2027.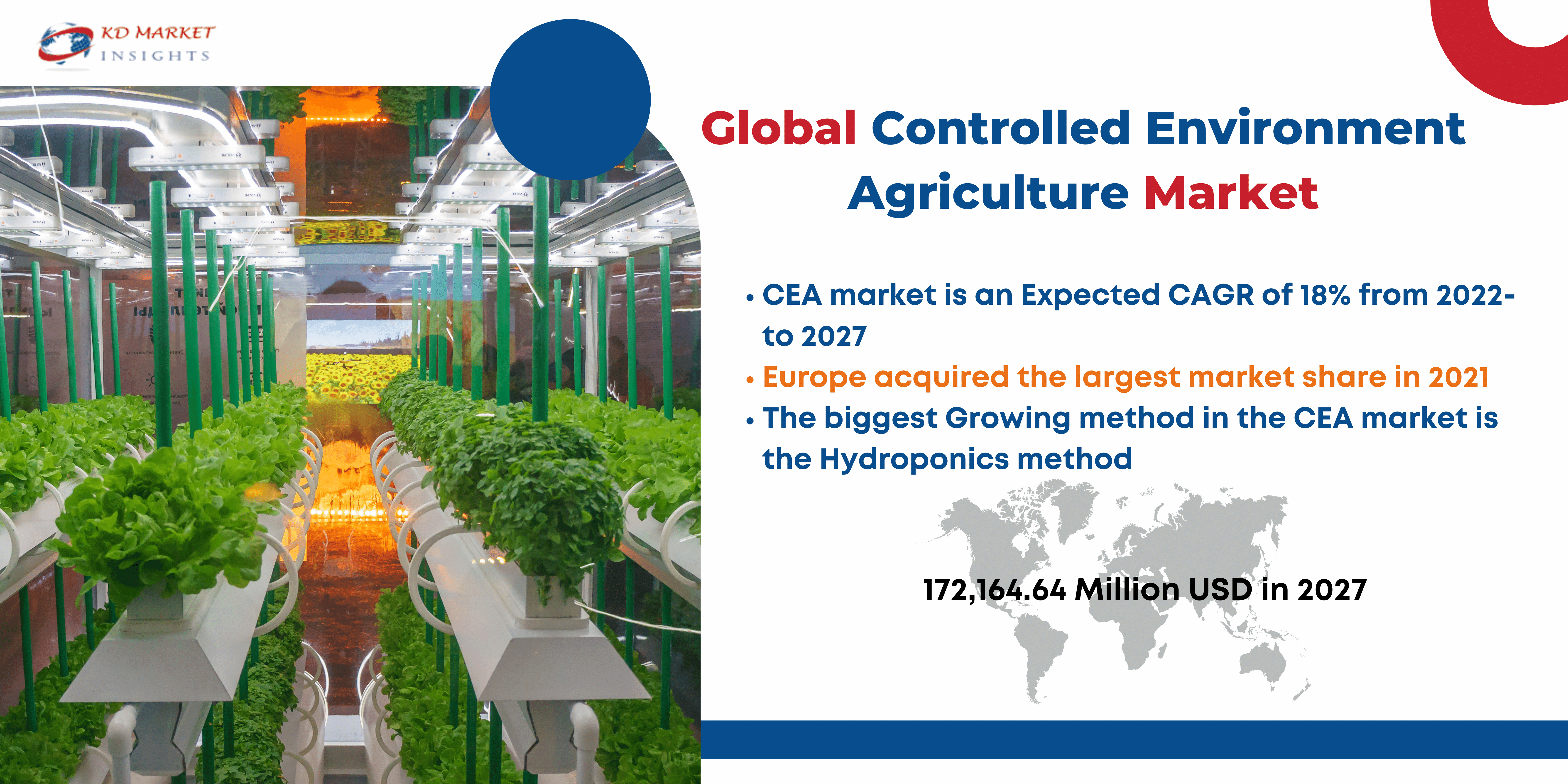 Rising Global Demand for Food
The world's population is expected to grow to almost 10 billion by 2050. It is becoming increasingly difficult to satisfy the rising global demand for food in a sustainable manner. Due to this, in order to meet the food demand of an increasing population, the government and farmers are adopting more advanced farming techniques such as Hydroponics, Aeroponics, Aquaponics, soiled based and other hybrid methods. The farmers are majorly growing leafy greens, tomatoes, cannabis, flowers, microgreens, strawberries, herbs, cucumbers, peppers, mushrooms, onions, leeks, hops, figs, sweet corn, eggplant, fish, insects, carrots, and shrimp. This rising popularity of controlled environmental agriculture techniques is resulting in an increase in the number of small and large indoor farms across the globe and these farms are also encouraging the consumption of other supplies such as nutrients, growing media, and others.
Loss of Agricultural Land
Land use across the globe is shifting from agriculture to urban and industrial uses. Changing climate has also resulted in lower production yields, loss of arable land and reduced resilience. Further, growing scarcities of natural resources have been encouraging the adoption of CEA since controlled environment farming an efficient way to produce more food with fewer resources than conventional farming, without being dependent on arable land availability and external climate conditions.
Strong Demand for Local Foods
Today, 55% of the world's population lives in urban areas, a proportion that is expected to increase to 68% by 2050. Yet, the population living in urban areas are demanding locally grown foods such as fruits, vegetables, meat, etc. CEA producers across the globe are setting up their production centers near to urban consumers to take advantage of this trend due to their proximity to urban centers. Other advantages of CEA such as the requirement of less time and expense in the transportation of crop products and better product quality are also expected to strengthen the growth of global controlled environment agriculture market in upcoming years.
Remarkable Advantages of CEA
Conservation of water and nutrients is one of the many advantages of controlled environment agriculture over conventional farming methods. These advanced farming techniques such as hydroponics, aquaponics, and other soilless farming methods are effectively preventing wastage of water and overuse of nutrients. In a controlled environment, the plants have better health and faster growth, which reduces the need for pesticides and other supplements. Owing to their good health, CEA grown produces are noticeably better in both size and quality then soil-grown crops.
Barriers in CEA Market
The high cost of Nutrients used in Hydroponics
Although, CEA allows faster plant growth throughout the year, allowing larger yields. In order to do this, like any form of agriculture, CEA production is a high-risk, low margin enterprise. Establishing a CEA hydroponic vegetable operation requires considerable capital investment. Depending on the size of the operation and the level of technology involved, the investment can run into the tens of millions of dollars. This high required investment, high operating cost and high risks a huge challenge for growers and for the controlled environment agriculture market.
Lack of Awareness & Low Adoption Rate
The awareness regarding controlled environmental farming methods in underdeveloped countries is other countries which are restricting the growth of global controlled environment agriculture market. The dominance of traditional farming methods in low-income countries such as India is slowing down the growth of CEA market.
The need of skilled Labors & Operational Complexity
CEA industry is witnessing a shortage of skilled labors, also the labor cost is considerably high in the case of hydroponics farming. The labor cost accounts for almost 15% of the total operation cost of hydroponics farming. Controlled environment agriculture requires great precision in monitoring. Growing in controlled environments and providing proper plant nutrition requires quality farm education. A high level of operating complexity is also a major restraining factor in the growth of CEA market.
Market Segmentation
With respect to the growing method, the market is segmented into hydroponics, aquaponics, aeroponics and other growing methods, in this segment, the controlled environment agriculture market for hydroponics segment is expected to expand at a CAGR of 14.2% in terms of value over the forecast period i.e. 2022-2027. The global controlled environment agriculture market for the hydroponics segment accounted for USD 9,571 Million in 2021 and is predicted to reach USD 18,586.5 Million by the end of 2027.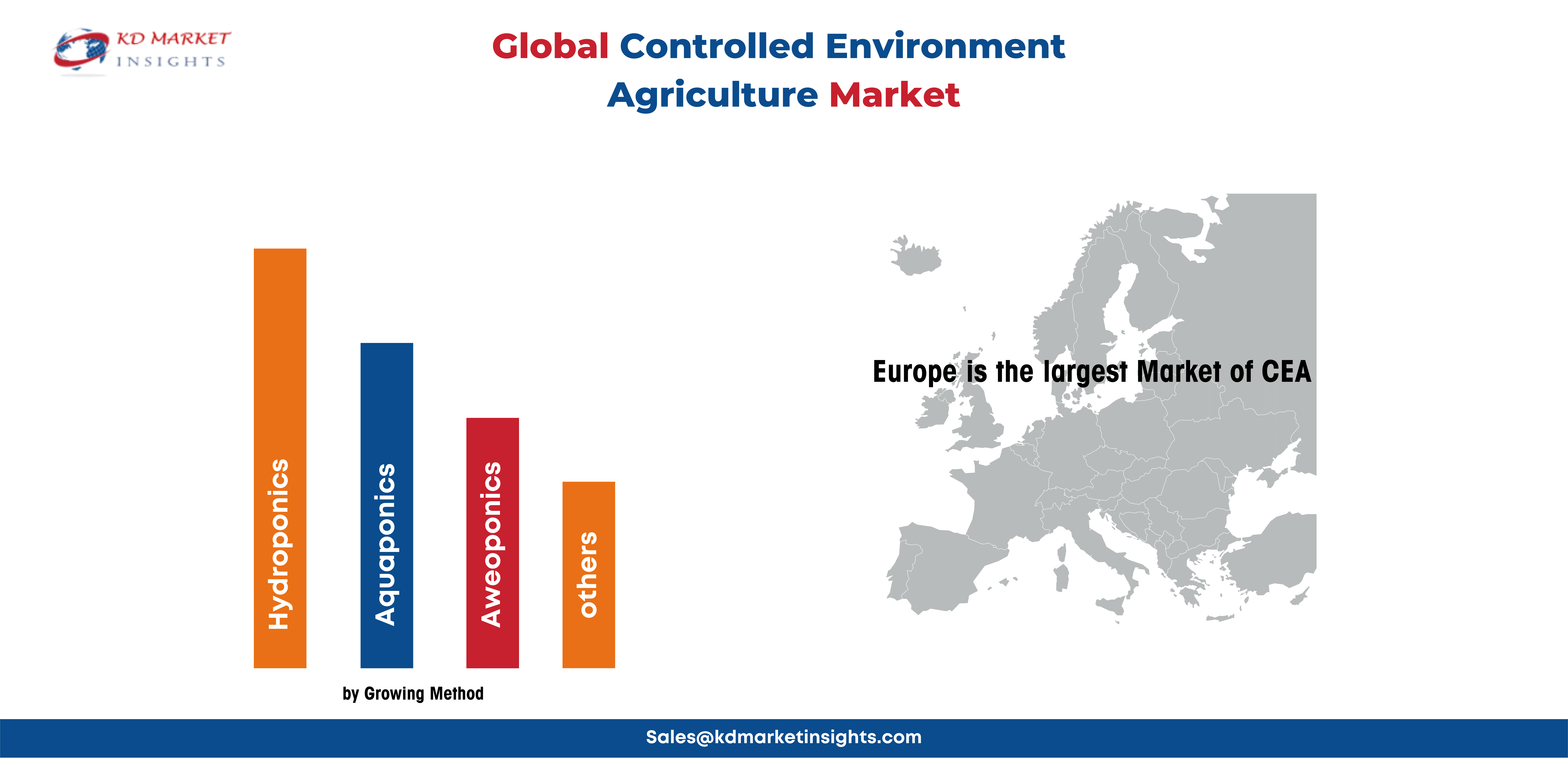 The market is segmented by crop into the tomato, cucumber, peppers, cannabis, lettuce & leafy greens, strawberries, and others. According to KDMI, in the crop segment, tomato segment is expected to be the most attractive market in the global controlled environment agriculture market over the forecast period. Further, this segment is projected to open new avenues for the market players and to be the most lucrative market over the forecast period. Apart from this, when compared with other segments, the strawberries segment is anticipated to attain the highest CAGR over the upcoming years i.e. 2022-2027.
The market is also segmented by components. The component segment comprises of lighting, growing media, nutrients, and other components. Further, Nutrients segment is likely to witness an increase of +300 BPS during the forecast period. Further, the market is anticipated to grow at a CAGR of 17.1% during the forecast period i.e. 2022-2027. Nutrients are a major shareholder among three (seeds, nutrients, and grow media) inputs. Growers are using nutrients in order to ensure maximum yield of their farms.
The market is also analyzed on a region basis, which includes North America, Europe, Asia Pacific, Latin America, and Middle East & Africa regions. Among which, Europe controlled environment agriculture market reached USD 36,150.0 Million in 2021 and is expected to witness a CAGR of 16.3% over the forecast period. In addition to this, Europe controlled environment agriculture market value is projected to witness a Y-O-Y growth of 17.6% in 2027 as compared to previous years. Europe controlled environment agriculture market represented a market share of 50.3% in 2021 and is likely to account for a notable market share by the end of 2027.
The key players profiled in the report include American Hydroponics, Nelson and Pade Inc., Aerofarms LLC and other major key players. These market players have adopted different business strategies, such as acquisition, product launch, merger, and partnership to stay competitive in the global CEA market.
Market Segmentation Analysis:
By Crop
- Lettuce & Leafy Greens
- Cucumber
- Tomato
- Peppers
- Cannabis
- Strawberries
- Others
By Growing Method
- Hydroponic
- Aquaponics
- Aeroponics
- Others
By Components
- Lighting
- Growing Media
- Nutrients
- Others
Organizations are directly concentrating on cutting edge imaginative innovations and investments in the controlled environment agriculture sector. On a global scale, major investments are being made by start-ups and established corporations in hydroponics, vertical farming, urban agriculture, and technology to optimize plant yield in controlled environments. For instance, Scotts Miracle-Gro spent USD 136 million on indoor-growing company Gavita. They also invested in other companies including Boulder's Aerogrow, General Hydroponics Inc. and Botanicare.
The CEA market report provides market analytics for major economies worldwide. Global CEA market has been categorized into various regions including North America, Europe, Asia Pacific, Latin America, and Middle East & Africa. The report also comprises of detailed market analysis of major countries.
Regional Markets
- North America (U.S. & Canada)
- Europe (Germany, United Kingdom, France, Italy, Spain, Russia and Rest of Europe)
- Asia Pacific (China, India, Japan, South Korea, Indonesia, Taiwan, Australia, New Zealand and Rest of Asia Pacific)
- Latin America (Brazil, Mexico, Argentina and Rest of Latin America)
- The Middle East & Africa (GCC, North Africa, South Africa and Rest of the Middle East & Africa
---
Custom Research requirement.
Controlled Environment Agriculture Market