Cervical Implants Market : Global Market Scope, Share, Research Report, Manufacturers, Size, Growth, Trends, Geography and Forecast (2023 - 2032)
FREE Report Sample is Available
In-depth report coverage is now just a few seconds away
Get FREE Report Sample
Cervical Implants Market Dynamics
Cervical Implants Market, By Product Type (Anterior Cervical Plate, Artificial Cervical Discs, Posterior Plates and Screws, Hybrid Systems), Material (Metals, Polymers, Ceramics) Surgery (Minimally Invasive, Open Surgery), End-user (Hospitals, Ambulatory Surgical Centers, Specialized Orthopaedic Centers, Clinics) and Geographic Regions (North America, Europe, Asia Pacific, Latin America, Middle East and Africa): Industry Trends and Global Forecasts, 2023-2032.
---
Market Size and Overview:
The cervical implants market has witnessed substantial growth, with a notable compound annual growth rate (CAGR) of 7.1% from 2023 to 2032, reaching a market value of $2.5 billion in 2032. This growth can be attributed to the increasing prevalence of cervical spine disorders, such as degenerative disc disease and herniated discs, along with the growing aging population worldwide. Additionally, advancements in surgical techniques and the rising demand for minimally invasive procedures have fueled the adoption of cervical implants. The market encompasses a wide range of implant types, including cervical plates, cervical interbody cages, and artificial discs. With a focus on improving patient outcomes and enhancing surgical techniques, key players in the market are investing in research and development activities and strategic collaborations.
---
Cervical Implants Market: Report Scope

Base Year Market Size

2022

Forecast Year Market Size

2023-2032

CAGR Value

7.0%

Segmentation

By Product Type
By Material
By Surgery
By End-user
By Geographic Regions

Challenges

Stringent regulatory requirements
High costs
Lack of skilled healthcare professionals

Growth Drivers

Rising prevalence of cervical spine disorders
Advancements in surgical techniques
Increasing awareness among patients and healthcare professionals
Strategic collaborations and partnerships
---
Market Segmentation:
Product Type:
Anterior Cervical Plate
Artificial Cervical Discs
Posterior Plates and Screws
Hybrid Systems
Material:
Surgery:
Minimally Invasive
Open Surgery
End-user:
Hospitals
Ambulatory Surgical Centers
Specialized Orthopedic Centers
Clinics
Geographic Regions:
North America
Europe
Asia Pacific
Latin America
Middle East and Africa
Anterior Cervical Plate: The anterior cervical plate segment holds a significant market share in the cervical implants market. These plates are widely used in anterior cervical discectomy and fusion (ACDF) procedures to provide stability and promote fusion. With the increasing prevalence of cervical spine disorders and the growing demand for surgical interventions, the demand for anterior cervical plates is expected to witness steady growth. Additionally, advancements in plate design and material technology contribute to the growth potential of this segment.
Hospitals: The hospital segment represents a major share of the cervical implants market. Hospitals serve as primary healthcare providers and cater to a large patient population. The availability of advanced surgical facilities, skilled healthcare professionals, and comprehensive post-operative care contributes to the significant utilization of cervical implants in hospitals.
---
Regional Analysis:
North America, this region exhibits a strong and mature market, driven primarily by the United States. Factors such as favorable reimbursement policies, advanced healthcare infrastructure, and high disposable income contribute to the market's dominance in this region. Moving to Europe, both Western and Eastern European countries present an optimistic outlook for the cervical implants market. Companies in the region are reassessing their investment priorities and focusing on core offerings to navigate the market trends. In the Asia Pacific region, strong income growth supports the demand for premium cervical implant products. Countries like China, India, Japan, South Korea, and Southeast Asian nations are witnessing a focus on new and diversified products, leading to increased demand and new product launches. Latin America presents potential growth opportunities for cervical implant sales. Despite increasing inflation, the demand for cervical implants is expected to continue growing. Global cervical implant companies are expanding their presence in countries like Brazil, Argentina, Chile, Colombia, and others. The Middle East and Africa region showcases a positive demand outlook for cervical implants, supported by high disposable incomes and an easing of restrictions. However, price sensitivity and spending cuts are emerging trends in this region, influencing consumer behavior.
---
Growth Drivers:
Several factors drive the growth of the cervical implants market. Firstly, the rising prevalence of cervical spine disorders, including degenerative conditions and trauma-related injuries, contributes to the increasing demand for surgical interventions and cervical implants. The aging population, coupled with sedentary lifestyles and poor posture habits, further fuels the incidence of cervical spine disorders.
Additionally, advancements in surgical techniques and the development of innovative implant materials have improved surgical outcomes and patient satisfaction. The shift towards minimally invasive procedures has also gained traction, leading to reduced surgical complications and faster recovery times, thereby driving the adoption of cervical implants.
Increasing awareness among patients and healthcare professionals about the benefits of cervical implant procedures has further fueled market growth. Improved spinal stability, pain relief, and enhanced quality of life are some of the advantages associated with cervical implants. Patient education initiatives and promotional activities by manufacturers have contributed to raising awareness and driving market expansion.
Furthermore, strategic collaborations and partnerships between medical device manufacturers and healthcare institutions enhance product development and market penetration. These collaborations facilitate the introduction of technologically advanced and patient-specific cervical implant solutions, addressing the diverse needs of patients.
---
Challenges:
The cervical implants market faces challenges such as stringent regulatory requirements for product approvals, high costs associated with implants and surgical procedures, and the risk of implant failures or complications. Additionally, the lack of skilled healthcare professionals and limited awareness among patients in certain regions can hinder market growth.
---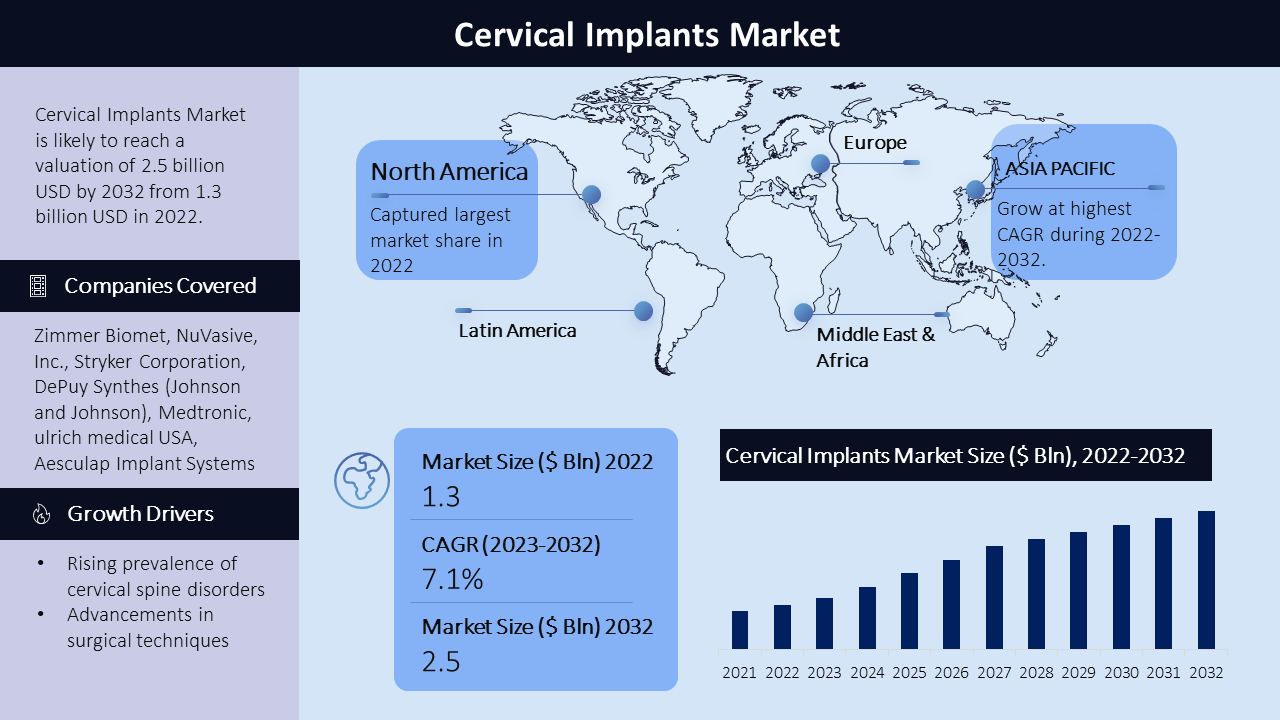 ---
Key Companies:
Some of the major players operating in the global cervical implants market include Zimmer Biomet, NuVasive, Inc., Stryker Corporation, DePuy Synthes (Johnson and Johnson), Medtronic, ulrich medical USA, Aesculap Implant Systems, LLC, B. Braun Company, Orthofix Holdings, Inc., Aegis Spine, Inc., and Globus Medical, Inc. among other players These companies have a proven track record in the field of cervical implants and have made significant contributions to advancements in spinal surgery.
These key players in the cervical implants market prioritize product innovation as a key component of their competitive strategy. They invest heavily in research and development to introduce new and improved cervical implant products that offer enhanced functionality and better patient outcomes. Additionally, these companies actively engage in strategic partnerships, mergers, and acquisitions to expand their product portfolio and strengthen their market presence.
For instance, Zimmer Biomet, a leading player in the market, focuses on developing innovative cervical implant solutions to address the evolving needs of patients and surgeons. NuVasive, Inc. is known for its cutting-edge technology and advanced implant designs that optimize surgical outcomes. Stryker Corporation is committed to developing minimally invasive solutions for spinal surgeries, including cervical implants.
---
Publication date:

Aug 2023

Base year:

2022

Forecast year:

2023-2033
- Quick Contact -
- ISO Certified Logo -



---
FAQ
The market is primarily driven by the increasing prevalence of cervical spine disorders, advancements in surgical techniques, and the growing adoption of minimally invasive procedures.
anterior cervical plate holds a significant market share, owing to their widespread use in anterior cervical discectomy and fusion (ACDF) surgeries.
The Asia Pacific region showcases significant growth potential, attributed to factors such as rapid urbanization, improving healthcare infrastructure, and a growing geriatric population.
Cervical Implants Market