Blood Culture Tests Market - Global Size, Share, Trends, Growth and Forecast Year ( 2022 – 2032 )
FREE Report Sample is Available
In-depth report coverage is now just a few seconds away
Get FREE Report Sample
Blood Culture Tests Market Dynamics
Blood Culture Tests Market, By Method (Conventional Methods and Automated Methods), Product (Consumables, Instruments and Software and Services), Technology (Culture-Based Technology, Molecular Technologies and Proteomics Technology), Application (Bacteraemia, Fungaemia and Mycobacterial Detection), End User (Hospital Laboratories, Reference Laboratories, Academic Research Laboratories and Other) and Geographic Regions (North America, Europe, Asia Pacific, Latin America, Middle East and Africa): Industry Trends and Global Forecasts, 2023-2032.
---
Market Size and Overview
The blood culture test market has experienced steady growth, with a compound annual growth rate (CAGR) of 8.9% from 2023 to 2032, reaching a market value of $11.4 billion in 2032. This growth can be attributed to the increasing prevalence of infectious diseases and the growing demand for early and accurate diagnosis. Blood culture tests play a crucial role in identifying and determining the presence of bacterial or fungal infections in the bloodstream. The market comprises a wide range of test kits and systems designed to detect and identify microorganisms in blood samples. Key players in the market are continuously investing in research and development to introduce advanced technologies and innovative products, catering to the evolving needs of healthcare providers and improving patient outcomes.
---
Blood Culture Test Market: Report Scope

Base Year Market Size

2022

Forecast Year Market Size

2023-2032

CAGR Value

8.9%

Segmentation

By Method
By Product
By Technology
By Application
By End Users
By Geographic Regions

Challenges

High cost
Shortage of skilled professionals

Growth Drivers

Increasing prevalence of infectious diseases
Rise in the geriatric population
Surge in demand for diagnostic tests
Technological advancements
---
Market Segmentation:
Method:
Conventional Methods
Automated Methods
Product:
Consumables
Instruments
Software and Services
Technology:
Culture-Based Technology
Molecular Technologies
Proteomics Technology
Application:
Bacteraemia
Fungaemia
Mycobacterial Detection
End User:
Hospital Laboratories
Reference Laboratories
Academic Research Laboratories
Other
Geographic Regions:
North America
Europe
Asia Pacific
Latin America
Middle East and Africa
Conventional method: Conventional or manual methods of blood culture testing segment holds a significant market share in the blood culture test market. These methods involve the traditional approach of culturing blood samples and visually observing the growth of microorganisms. Although this segment is witnessing moderate growth due to the advent of automated methods, it still holds a significant market share.
Hospital Laboratories: Hospital laboratories are the primary end-users of blood culture testing. These laboratories play a critical role in diagnosing and monitoring infectious diseases in patients. With the increasing burden of infectious diseases, hospital laboratories are witnessing a growing demand for blood culture testing services.
---
Regional Analysis:
North America, region is expected to dominate the market, there is a significant presence of blood culture test providers in this region, including well-established diagnostic laboratories and healthcare facilities. Furthermore, the presence of a large number of prominent players in the market contributes to the region's dominance. In Europe, countries like Germany, France, and the United Kingdom hold significant market shares in the Blood Culture Test Market. The European market benefits from a mix of residential and professional users, with a strong emphasis on healthcare infrastructure and diagnostic capabilities. In the Asia Pacific region, rapid urbanization, increasing disposable incomes, and a growing appreciation for healthcare services drive the expansion of the Blood Culture Test Market. Countries such as China and India, with their expanding healthcare infrastructure and rising population, play pivotal roles in the market's growth. Latin America demonstrates steady growth in the Blood Culture Test Market, fueled by urban development, a rising middle class, and a growing demand for quality healthcare services. Brazil, Mexico, and Argentina are key markets within the region. Lastly, the Middle East and Africa exhibit a developing market with a focus on enhancing healthcare infrastructure, and an increasing emphasis on disease management and prevention. The United Arab Emirates, Saudi Arabia, and South Africa are notable contributors to the market's growth in this region.
---
Growth Drivers:
Several factors drive the growth of the blood culture test market. Firstly, the increasing prevalence of infectious diseases, including bloodstream infections, drives the demand for accurate and timely diagnosis. Blood culture tests play a crucial role in identifying the causative pathogens, enabling appropriate treatment strategies and reducing morbidity and mortality rates.
the rise in the geriatric population contributes to the growth of the Blood Culture Test Market. With aging populations, there is a higher prevalence of infectious diseases, bloodstream infections (BSIs), and sepsis. The need for reliable diagnostic tests to detect these infections drives the demand for blood culture tests.
Furthermore, there is a surge in demand for diagnostic tests, including blood culture tests, driven by the growing awareness of the importance of early detection and effective management of infectious diseases.
Technological advancements in blood culture systems play a crucial role in market growth. The development of automated and rapid diagnostic platforms enhances the sensitivity, specificity, and time-to-results of blood culture tests. These technological innovations improve the efficiency and accuracy of testing, driving their adoption in clinical settings.
---
Challenges:
One of the challenges is the high cost of automated instruments used for blood culture testing. The cost of blood culture systems can be a financial burden for healthcare providers, limiting their adoption. Additionally, the shortage of skilled professionals trained in performing and interpreting blood culture tests can hinder widespread implementation, particularly in certain regions.
---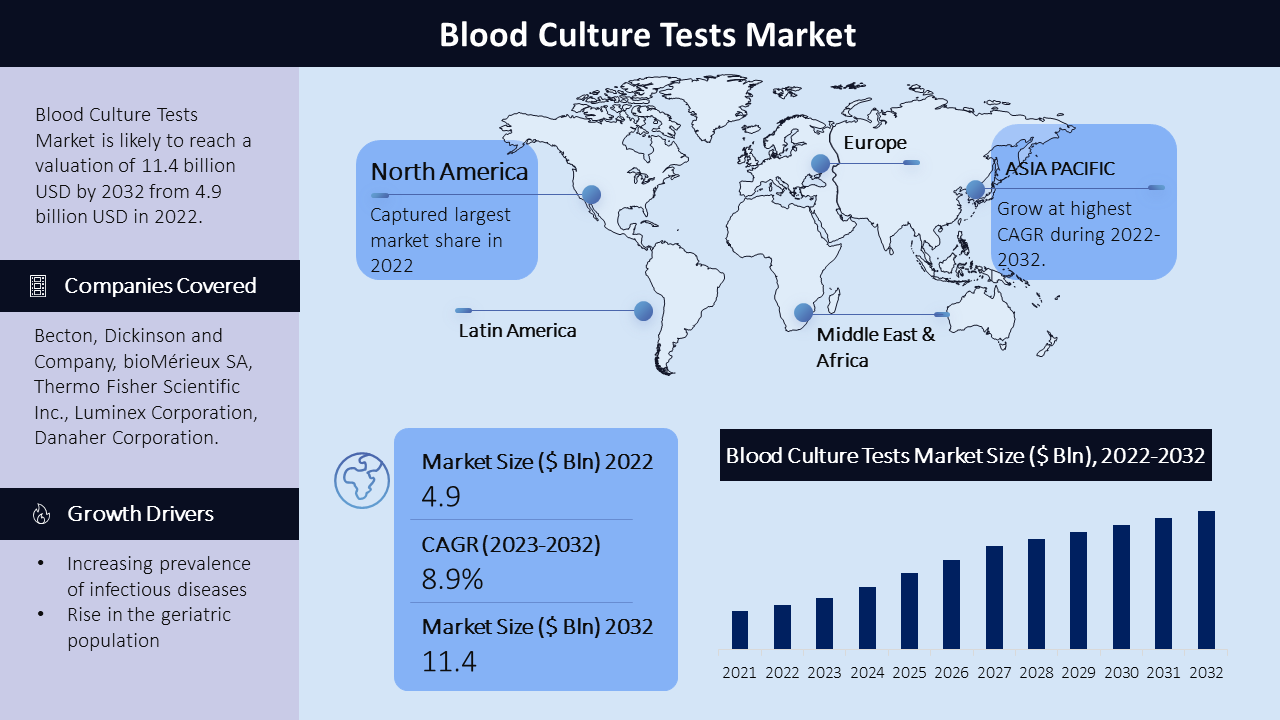 ---
Key Companies :
The Blood Culture Test Market is led by prominent players such as Becton, Dickinson and Company, bioMérieux SA, Thermo Fisher Scientific Inc., Luminex Corporation, Danaher Corporation, Bruker Corporation, IRIDICA (a subsidiary of Abbott Laboratories), Roche Diagnostics, T2 Biosystems, Inc., Anaerobe Systems, Inc., OpGen, Inc., Meditech Technologies India Private Limited, Carl Zeiss AG, Nikon Corporation, BINDER GmbH, Biobase Biotech Co., Ltd., Scenker Biological Technology Co., Ltd., Bulldog Bio, Inc., Axiom Laboratories, and HiMedia Laboratories Pvt. Ltd among others. These companies have established a strong market presence with extensive distribution networks and a diverse product portfolio. They employ competitive strategies that focus on product innovation, strategic partnerships, mergers, and acquisitions to enhance their market share and meet the evolving needs of customers.
In 2020, Becton, Dickinson and Company entered into an agreement with Babson Diagnostics to enable small-volume blood collection for diagnostic testing in retail settings. This collaboration aimed to improve accessibility to diagnostic testing and enhance patient convenience.
In May 2021 when F. Hoffmann-La Roche Ltd acquired genmark Diagnostics. This strategic acquisition aimed to expand Roche's molecular diagnostics portfolio by leveraging genmark's expertise in syndromic testing. Genmark's eplex systems enhance Roche's capabilities in managing infectious diseases and antibiotic resistance.
---
Publication date:

Aug 2023

Base year:

2022

Forecast year:

2023-2033
- Quick Contact -
- ISO Certified Logo -



---
FAQ
The blood culture test market is primarily driven by the increasing prevalence of infectious diseases, the growing awareness about the importance of early diagnosis, and advancements in blood culture test technologies.
Conventional or manual methods of blood culture testing segment dominate the market, owing to their higher sensitivity, faster turnaround times, and improved detection capabilities compared to conventional systems.
The Asia Pacific region showcases significant growth potential in the blood culture test market, attributed to the region's growing population, increasing healthcare investments, and rising awareness about infectious diseases.
Blood Culture Tests Market