Biohacking Market - Global Size, Share, Trends, Growth and Forecast Year ( 2022 – 2032 )
FREE Report Sample is Available
In-depth report coverage is now just a few seconds away
Get FREE Report Sample
Biohacking Market Dynamics
Biohacking Market, By Product type (Wearables, Implants (Chips), Gene Modification Kits, Smart Drugs, Supplements, Mobile Apps and Others), Application (Monitoring, Treatment, Research, Others), End User (Pharmaceutical and Biotechnology Companies, Hospitals & Clinics, Forensic Laboratories, , Research & Academic Institutes and Others) and Geographic Regions (North America, Europe, Asia Pacific, Latin America, Middle East and Africa): Industry Trends and Global Forecasts, 2023-2032
---
Market Size and Overview
The biohacking market has experienced significant growth, with a compound annual growth rate (CAGR) of 19.0% from 2023 to 2032, reaching a market value of $114.4 billion in 2032. This growth can be attributed to the increasing interest in self-improvement and the pursuit of optimal health and performance. The biohacking market encompasses a wide range of products and services, including wearable devices, nutritional supplements, cognitive enhancers, and genetic testing kits. The market is driven by the growing awareness of personalized medicine and the desire to take control of one's health. Key players in the market continually innovate to meet the evolving demands of biohackers and health enthusiasts.
---
Biohacking Market: Report Scope

Base Year Market Size

2022

Forecast Year Market Size

2023-2032

CAGR Value

19.0%

Segmentation

By Product Type
By Application
By End-User
By Geographic Regions

Challenges

Stringent regulations and ethical concerns
Lack of standardized practices

Growth Drivers

Increasing awareness of personalized health management
Favorable public and private funding initiatives
Rise of chronic diseases
Growing emphasis on preventive healthcare
Demand for smart devices and drugs
Increasing adoption of biohacking in sports and fitness
---
Market Segmentation:
Product Type:
Wearables
Implants (Chips)
Gene Modification Kits
Smart Drugs
Supplements
Mobile Apps
Others
Application:
Monitoring
Treatment
Research
Others
End-user:
Pharmaceutical & Biotechnology Companies
Hospitals & Clinics
Forensic Laboratories
Research & Academic Institutes
Others
Geographic Regions:
North America
Europe
Asia Pacific
Latin America
Middle East and Africa
Wearables: The wearables segment holds the largest revenue share in the biohacking market. With advancements in technology, wearable devices have become increasingly popular for monitoring and enhancing various aspects of personal health and well-being. These devices, ranging from fitness trackers to biofeedback monitors, provide real-time data on vital signs, physical activity, sleep patterns, and more. The convenience and accessibility of wearables have made them a preferred choice for individuals seeking to optimize their performance and track their biohacking progress.
Hospitals & Clinics: The hospitals & clinics segment represents a significant portion of the biohacking market. Healthcare facilities play a crucial role in implementing biohacking practices for patient monitoring, treatment, and research purposes. The integration of biohacking technologies in hospitals and clinics allows for personalized healthcare management and the exploration of innovative treatment approaches. With a focus on precision medicine and patient-centered care, hospitals and clinics are expected to drive the adoption of biohacking solutions and contribute to the market's growth.
---
Regional Analysis:
North America, region dominates the market, primarily driven by the United States. The prevalence of health-conscious individuals, advancements in wearable technology, and the presence of key biohacking companies contribute to the market's dominance. In Europe, countries like Germany, the United Kingdom, and the Netherlands show significant market shares, with a focus on wellness and preventive healthcare. The European market also showcases a growing interest in personalized nutrition and biohacking interventions. In the Asia Pacific region, increasing disposable incomes, a rising middle class, and the growing awareness of health and fitness are driving the expansion of the biohacking market. China, Japan, and India are key contributors to market growth, given their large population and increasing adoption of digital health technologies. Latin America demonstrates steady growth in the biohacking market, driven by urban development, a rising middle class, and increasing awareness about personalized healthcare. Countries like Brazil, Mexico, and Argentina present key market opportunities within the region. the Middle East and Africa exhibit a developing market with a rising interest in biohacking and wellness practices. Countries like the United Arab Emirates, Saudi Arabia, and South Africa are witnessing increased investments in health and wellness, contributing to the market's growth in this region.
---
Growth Drivers:
Several factors drive the growth of the biohacking market. Firstly, the increasing awareness of personalized health management and the desire for self-optimization fuel the demand for biohacking products and services. Individuals are seeking innovative tools and interventions to improve their physical and mental well-being, leading to market growth.
Furthermore, favorable public and private funding initiatives support the growth of the biohacking market. Governments and organizations recognize the potential of biohacking in advancing healthcare and are providing financial support for research and development in this field. The availability of funding encourages innovation and drives market expansion. The rise of chronic diseases is also a significant driving factor for the biohacking market. As the prevalence of chronic conditions increases, individuals are seeking alternative approaches to manage and improve their health. Biohacking techniques offer personalized solutions and empower individuals to take control of their well-being, leading to the market's expansion.
Furthermore, the growing emphasis on preventive healthcare and the rising interest in wellness practices contribute to the expansion of the biohacking market. Individuals are proactively seeking ways to prevent health issues and enhance their overall well-being, driving the demand for biohacking interventions and tools. The demand for smart devices and drugs also contributes to the growth of the biohacking market. Technological advancements enable the development of wearable devices, mobile apps, and smart drugs that enhance biohacking practices, moreover, the increasing adoption of biohacking in sports and fitness activities drives market growth.
---
Challenges:
Stringent regulations and ethical concerns surrounding certain biohacking interventions may limit market expansion. Additionally, the lack of standardized practices and guidelines in the field of biohacking poses challenges in ensuring consumer safety and effective outcomes.
---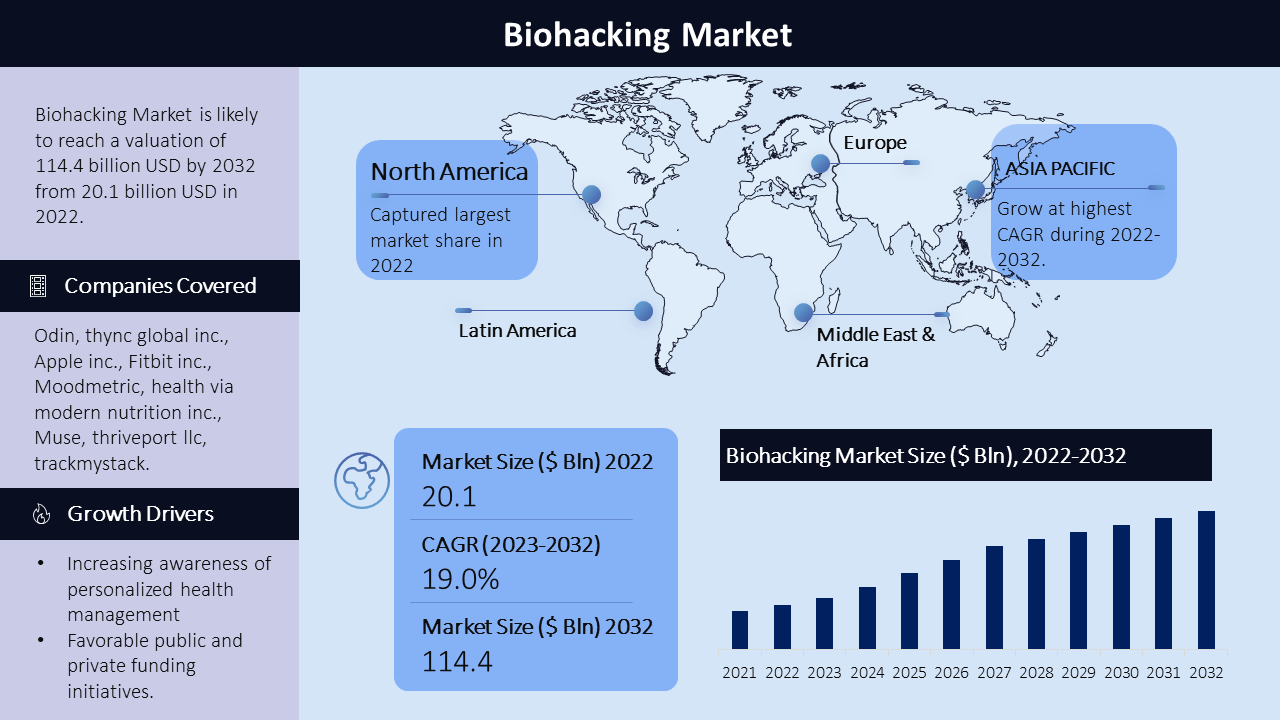 ---
Key Companies: The biohacking market is populated by leading companies such as the ODIN, Thync Global Inc., Apple Inc., Fitbit Inc., MOODMETRIC, Health Via Modern Nutrition Inc., Muse, ThrivePort LLC, TrackMyStack, OSTEOSTRONG, Synbiota, SynBioBeta LLC, and Grindhouse Wetware, among other players. These companies have established a strong presence in the market, boasting extensive distribution networks and a diverse product portfolio. Their competitive strategies revolve around product innovation, strategic partnerships, mergers, and acquisitions to enhance market share and meet the varied needs of biohacking enthusiasts.
In October 2021, Interaxon Inc., the company behind Muse, launched the Muse S (Gen 2), a new iteration of its original Muse S headband. This innovative device serves as a sleep tracker and meditation assistance tool, equipped with sensors that monitor brain activity by sitting against the user's forehead. The Muse S (Gen 2) showcases the company's commitment to continuous improvement and the integration of advanced technologies in the field of biohacking.
Novo Nordisk introduced semaglutide, an anti-diabetes pill, in India in January 2022. The GLP-1 receptor analog molecule in semaglutide offers a promising treatment for type 2 diabetes.
---
Publication date:

Aug 2023

Base year:

2022

Forecast year:

2023-2033
- Quick Contact -
- ISO Certified Logo -



---
FAQ
The market is primarily driven by the increasing interest in self-improvement, personalized health management, and the pursuit of optimal well-being. The growing awareness of biohacking practices and the availability of innovative biohacking tools contribute to market growth.
Wearable devices, such as fitness trackers and biofeedback monitors, currently dominate the market. These devices enable individuals to track and analyze various health parameters, providing valuable insights for optimizing performance and well-being.
The North America region showcases high market share in the biohacking market. With a strong presence of health-conscious individuals and technological advancements, coupled with the presence of key biohacking companies, the region remains at the forefront of biohacking trends.
Biohacking Market