Bag Filter Market By Product Type (Pulse Jet, Shaker Bag, Reverse Air); By Material (Nylon, Polyester, Polypropylene); By Application (Cement, Mining, Chemical, Pulp & Paper, Municipal Waste); By Region (North America, Europe, Asia Pacific, Latin America, Middle East & Africa) - Global Market Analysis, Trends, Opportunity and Forecast, 2022-2032
FREE Report Sample is Available
In-depth report coverage is now just a few seconds away
Get FREE Report Sample
Bag Filter Market Overview
The global bag filter market size was valued at around USD 8.2 billion in 2022 and is projected to grow at a compound annual rate of growth (CAGR) of around 5.3% from 2022 to 2032.The market size is projected to succeed in USD 13.1 billion by 2032.
Global Bag Filter Market, 2022-2032, is a market research report by KD Market Insights that offers extensive and highly detailed current and future market trends in the global and regional/market. The report offers market size and structure of the overall industry based upon a unique combination of industry research, fieldwork, market sizing analysis, and our in-house expertise.
The market research report demonstrates market dynamics including growth drivers, barriers and opportunities and trends spearheading current nature and future status of this market. The report is supplemented with various indicators which are believed to propel the growth of the market during the forecast period.
In Addition, Porter's Five Forces analysis demonstrates the five forces i.e. buyers bargaining power, suppliers bargaining power, threat of new entrants, threat of substitutes, and degree of competition in Bag Filter Market. The report also offers value chain analysis for the Bag Filter Market.
---
Global Bag Filter Market Size & Forecast
The report reviews the preliminary estimates for 2021 and forecasts for growth in Bag Filter demand for 2022-2032. It analyses the market by geographies i.e. North America, Europe, Asia Pacific, Latin America & Middle East & Africa. Further, the geographies are fragmented into country and regional groupings:
- North America (U.S. & Canada)
- Europe (Germany, United Kingdom, France, Italy, Spain, Russia and Rest of Europe)
- Asia Pacific (China, India, Japan, South Korea, Indonesia, Taiwan, Australia, New Zealand and Rest of Asia Pacific)
- Latin America (Brazil, Mexico, Argentina and Rest of Latin America)
- Middle East & Africa (GCC, North Africa, South Africa and Rest of Middle East & Africa)
The report segments the market based on by Product Type into …
- Pulse Jet
- Shaker Bag
- Reverse Air
The report segments the market based on by Material into …
- Nylon
- Polyester
- Polypropylene
- Others
Further, the market has been also segmented by Application into …
- Cement
- Mining
- Chemical
- Pulp & Paper
- Municipal Waste
- Others
Along with figures and tables, a market attractiveness and BPS analysis has been provided for every segment in the report.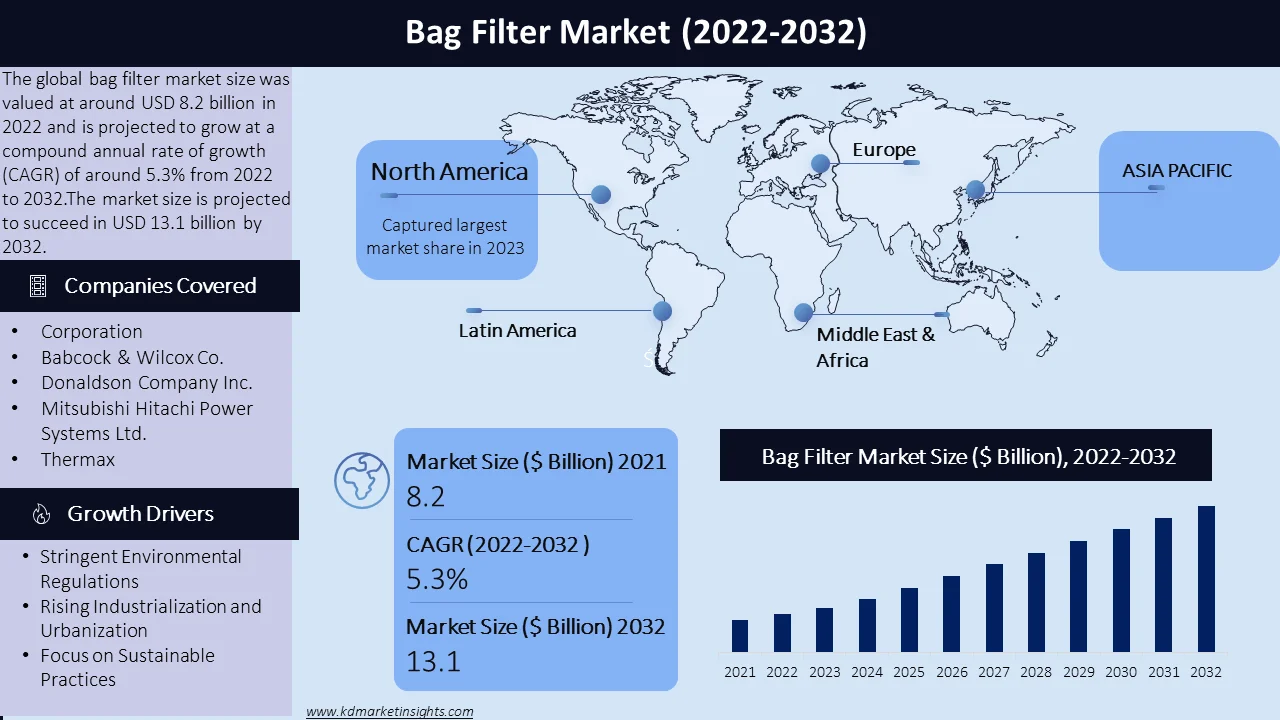 ---
Global Bag Filter Market Competitive Landscape
The report also highlights the competitive landscape of the global Bag Filter Market, positioning of all the major players in industry. Competitive landscape analysis provides detailed strategic analysis of the company's business and performance such as financial information, revenue breakup by segment and by geography, SWOT Analysis, risk analysis, key facts, company overview, business strategy, key product offerings, marketing and distribution strategies, new product development, recent news (acquisition, expansion, technology development, research & development expansion and other market activities.
The research study includes profiles of leading companies operating in the global Bag Filter Market.
---
Bag Filter Market Key Players
- Corporation
- Babcock & Wilcox Co.
- Donaldson Company Inc.
- Mitsubishi Hitachi Power Systems Ltd.
- Thermax
- Rosedale Products Inc.
- Parker Hannifin Corporation
- BWF Envirotech
- General Electric
- Babcock & Wilcox Co.
- Other Major Key Players
---
Publication date:

21st November 2023

Base year:

2022

Forecast year:

2023-2033

Format:

PDF, PPT,Word,Excel
- Quick Contact -
- ISO Certified Logo -



---
Bag Filter Market