Autogenous Vaccines Market size by Product, by End User, by Geographic Regions : Industry Trends and Global Forecasts, 2023-2032.
FREE Report Sample is Available
In-depth report coverage is now just a few seconds away
Get FREE Report Sample
---
Autogenous Vaccines Market Size by Product (Bacterial Strain, Virus Strain), End User (Veterinary Research Institutes, Livestock Farming Companies, Veterinary Clinics, and Hospitals), and Geographic Regions (North America, Europe, Asia Pacific, Latin America, Middle East, and Africa): Industry Trends and Global Forecasts, 2023-2032.
---
Market Size and Overview:
The autogenous vaccines market has witnessed significant growth in recent years, with a compound annual growth rate (CAGR) of 5.6% from 2023 to 2032, reaching a market value of $223.4 million in 2032. This growth can be attributed to the increasing demand for specialized vaccines tailored to individual pathogens and specific epidemiological units. Autogenous vaccines offer several advantages, including the ability to replicate real infections, built-in adjuvant qualities, and improved oral administration options. The market comprises a wide range of products, including autogenous vaccines derived from bacterial strains and virus strains. As the veterinary industry focuses on preventive healthcare and the need to control infectious diseases, the demand for autogenous vaccines is expected to continue growing. The market is highly competitive, with leading players investing in research and development to introduce innovative autogenous vaccine solutions that address evolving healthcare challenges and cater to the diverse needs of veterinary research institutes, livestock farming companies, and veterinary clinics and hospitals.
---
Market Segmentation :
Product:
Bacterial Strain
Virus Strain
End User:
Veterinary Research Institutes
Livestock Farming Companies
Veterinary Clinics and Hospitals
Geographic Regions:
North America
Europe
Asia Pacific
Latin America
Middle East and Africa
The bacterial strain segment is expected to hold the highest share in the product segment by 2023. Bacterial strains are widely used in the development of specialized autogenous vaccines due to their ability to replicate real infections, possess built-in adjuvant qualities, and offer better oral administration options. These advantages have contributed to the growing utilization of bacterial strains in the production of autogenous vaccines.
Livestock farming companies are expected to emerge as the market leaders, projected to hold a larger share by the end of 2023. The global livestock farming sector is experiencing significant growth, especially in emerging nations, driven by the increasing demand for animal products. Factors such as population growth, rising income levels, and urbanization contribute to the growing consumption of livestock products. Livestock farming companies play a crucial role in meeting this demand and are therefore expected to drive the adoption of autogenous vaccines.
---
Regional Analysis:
North America, region dominates the market and is expected to maintain its revenue dominance during the forecast period. Increased research activities in veterinary medicine and biologics sectors, along with rising investments in animal healthcare, contribute to North America's strong market position.
Europe exhibits a significant market share, with countries like Germany, France, and the United Kingdom playing crucial roles. The region showcases a growing emphasis on existing livestock care, investments, and initiatives to prevent zoonotic diseases.
The Asia Pacific region presents fertile ground for novel opportunities in the autogenous vaccines market. Developing countries in this region are experiencing rapid urbanization, leading to increased demand for associated products and subsequent evolution in livestock rearing and management.
Latin America demonstrates steady growth in the autogenous vaccines market, propelled by urban development, and a growing demand for animal healthcare services. Brazil, Mexico, and Argentina emerge as key markets within the region, driven by increased awareness and investments in animal welfare. Middle East and Africa exhibit a developing market with a focus on urban development, and an increasing emphasis on animal health and welfare. The United Arab Emirates, Saudi Arabia, and South Africa contribute significantly to the market's growth in this region.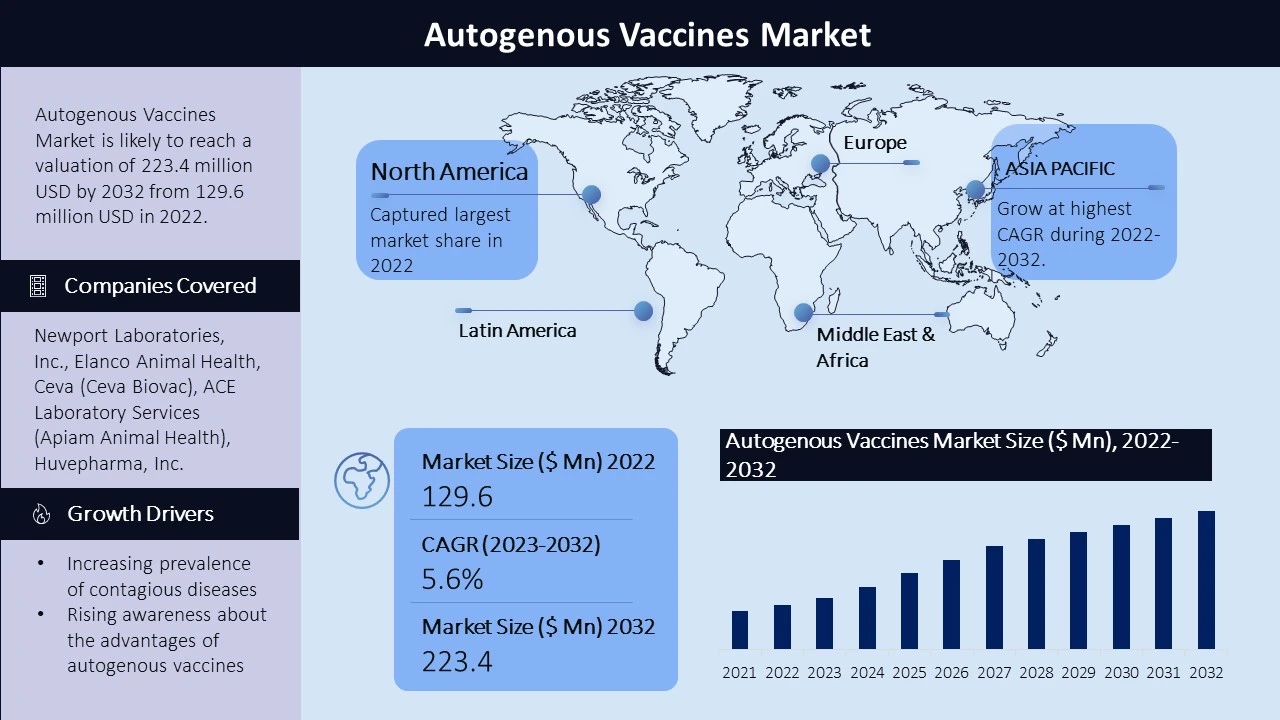 ---
Growth Drivers:
The autogenous vaccines market is experiencing significant growth due to the increasing prevalence of contagious diseases worldwide, which has generated a demand for customized autogenous vaccines. Animals are highly susceptible to various contagious diseases such as pink eye and peste des petits ruminants (PPR) or goat plague, particularly affecting ruminants. The outbreak of these contagious diseases disrupts livestock production, resulting in substantial direct and indirect financial losses. Both government and public organizations are allocating economic resources to prevent and control contagious infections in livestock, further facilitating the market growth of autogenous vaccines during the forecast period.
the rising awareness about the advantages of autogenous vaccines has fueled their demand. These vaccines offer benefits such as replicating real infections, built-in adjuvant qualities, and better oral administration options. Their ability to prevent diseases rather than cure them stands out as a significant advantage, driving their adoption across various end-users in the veterinary industry.
Overall, the autogenous vaccines market is driven by the increasing need for preventive veterinary medicine, government initiatives promoting animal health, the expansion of livestock farming activities, and advancements in biotechnology. With a growing focus on disease prevention and animal welfare, the market is poised for significant growth in the coming years
---
Challenges:
The autogenous vaccines market also faces certain challenges. These include regulatory complexities associated with vaccine development and approval, high manufacturing costs due to the need for customization, and limited awareness and adoption of autogenous vaccines in some regions. Overcoming these challenges will be crucial for sustained market growth and expansion.
---
Key Companies:
The autogenous vaccines market is characterized by the presence of worldwide and regional market players. To maintain market competitiveness, leading companies in the industry focus on inorganic expansions as one of their primary growth strategies. Additionally, industry participants are actively working on expanding their local and international reach through mergers and acquisitions. Other key companies in the autogenous vaccines market include Newport Laboratories, Inc., Elanco Animal Health, Ceva (Ceva Biovac), ACE Laboratory Services (Apiam Animal Health), Huvepharma, Inc., AniCon Labor GmbH, Cambridge Technologies, Dyntec s.r.o, Hygieia Biological Laboratories, HIPRA, Vaxxinova, sanphar (ipeve), Addison Biological Laboratory, Zoetis (PHARMAQ AS), Barramundi Asia Pte Ltd. (UVAXX Asia), Kennebec River Biosciences and other players. These companies have established a strong market presence, extensive distribution networks, and a diverse product portfolio. They employ competitive strategies such as product innovation, strategic partnerships, and mergers and acquisitions to enhance their market share and cater to the needs of a wide range of customers. Notable instances of market activity include:
In January 2020, Merck Animal Health, a division of Merck & Co., Inc., Kenilworth, New Jersey, USA, and Automazioni VX Inc. unveiled Innoject Pro, a newly developed subcutaneous chick vaccination technology.

---
Publication date:

Aug 2023

Base year:

2022

Forecast year:

2023-2033
- Quick Contact -
- ISO Certified Logo -



---
FAQ
The market is primarily driven by the increasing demand for customized vaccines to combat specific pathogens in livestock and aquaculture, along with growing awareness of animal health and welfare.
The livestock autogenous vaccines segment currently dominates the market due to the need for customized vaccines to address specific diseases in livestock.
The Asia Pacific region showcases immense growth potential, driven by the expansion of the aquaculture industry and the increasing demand for safe and high-quality animal products.
Autogenous Vaccines Market