Atrial Fibrillation market segments encompass disease type (paroxysmal, persistent, long-standing persistent), treatment (medications, catheter ablation, surgery), end-users (hospitals, clinics), and Geography - Market Size, Trends, Opportunity, Forecast 2023-2032
FREE Report Sample is Available
In-depth report coverage is now just a few seconds away
Get FREE Report Sample
The global atrial fibrillation market was estimated to be worth USD 15.2 billion in 2022 and is expected to reach USD 63.2 billion by 2032, at a CAGR of 14.4% over the forecast period of 2023 to 2032.
Atrial fibrillation refers to an irregular and rapid heart rate when the two upper chambers of heart witness chaotic electrical signals. This leads to fast and irregular heart rhythm. The heart rate in atrial fibrillation generally range from 100 to 175 beats a minute.
Ideally, to treat atrial fibrillation, the heart rate and rhythm should be normal. To correct your condition, doctors may be able to reset your heart to its regular rhythm (sinus rhythm) using a procedure called cardioversion.
Electrical cardioversion aids to treat abnormal heart rhythms. This method is also used to treat atrial fibrillation (AFib). In atrial fibrillation, atria of the heart quiver instead of beating the right way. Symptoms of AFib may include shortness of breath, fatigue and a very fast heartbeat.
Market Drivers
Increased geriatric population and preference for catheter ablation for cardiac arrhythmia treatment contributed to the growth of this market. Lifestyle choices like the prevalence of work from home culture and living in a virtual world lead to increased obesity among children and adults, increasing potential for growth and this market as most heart diseases come from lesser daily movement and inefficient cholesterol management.
Consuming a large amount of alcohol also increases the probability of irregular heart rate, which nudges the market in the forward direction in the coming years.
With the advent of AI, big data and machine learning algorithms, companies are known to change the world and develop devices with algorithms for personalized monitoring and make this market an attractive investment opportunity for the future.
The government is investing in research and testing of the innovative solutions developed by various firms such as implantable pacemakers, refrigerators, and catheters regarded as high-risk medical devices by the US FDA. State regulations are also positively impacting the growth in this market.
Lack of qualified and skilled professionals like cardiologists, technicians & electrophysiologists is a significant factor that can restrict the growth of this market. Shortage in cardiovascular treatment and lesser practically trained professionals who can't perform procedures on advanced devices negatively impact markets growth.
Pharmaceutical alternatives have also been developing and medications have preferred over atrial fibrillation treatment devices to improve the cost-effectiveness of pharmaceutical drugs and relative effectiveness.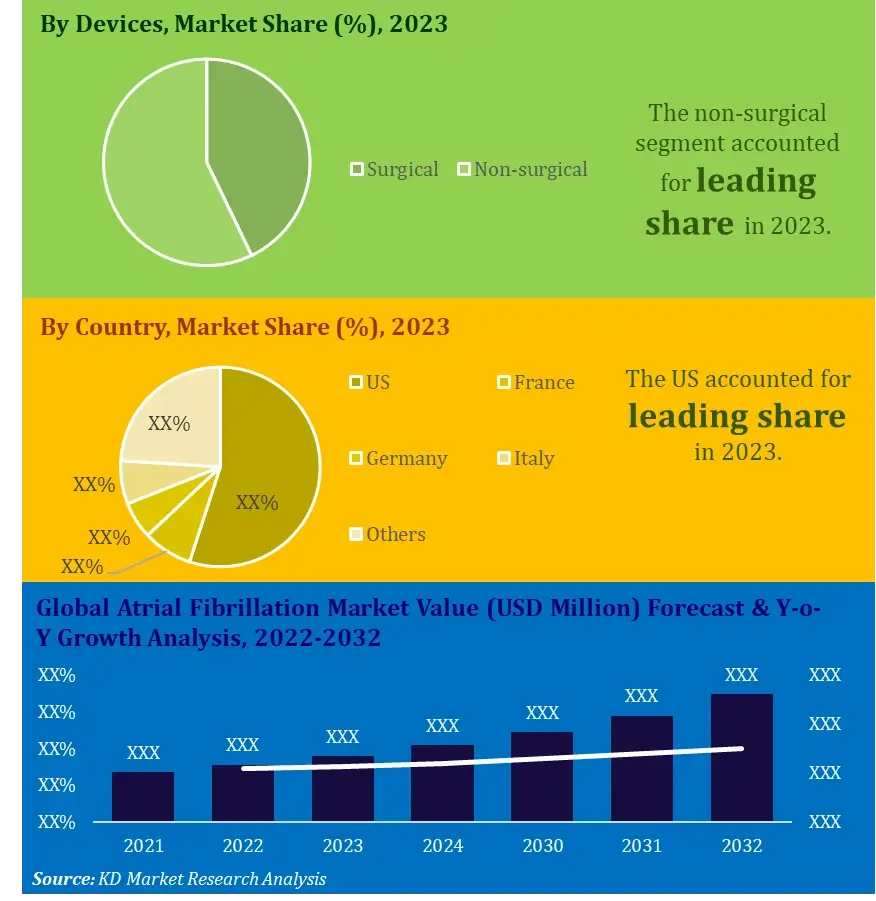 Market Segmentation
By Devices
Maze Surgery
Catheter Ablation
Radiofrequency Catheter Ablation

Conventional RF Ablation Catheters
Irrigated-tip RF Ablation Catheters

Cryoablation
Microwave Based Catheter Ablation
Laser Based Catheter Ablation
Navigational Advanced Mapping Accessories
Electric Cardioversion
Diagnostic Catheters
Conventional Diagnostic Catheters

Fixed Diagnostic Catheters
Steerable Diagnostic Catheters

Advanced Diagnostic Catheters
Mapping and Recording Systems
Cardiac Monitors
Access Devices
Left Atrial Appendage and Closure Devices
Intracardiac Echocardiography (ICE) Systems
By Geography
North America
Europe

Germany
UK
France
Spain
Italy
Rest of Europe

Asia-Pacific
China
Australia
South Korea
Rest of Asia-Pacific

Latin America-Middle East-Africa

Brazil
Argentina
Egypt
Israel
South Africa
Regional Insights
In terms of region, the North America region generated the highest market value in 2022. This is due to the refined medical care framework and the high reception pace of exceptionally cutting-edge innovations in North American nations like the U.S., Canada, and Mexico. Additionally, emerging markets, for example, Mexico, have seen critical ventures by the public authority and merchants.
In addition, Asia-Pacific is anticipated to be the quickest developing region during the forecast period because of its large population base and distinctive age groups being powerless to cardiovascular sicknesses. The interest for AF gadgets is relied upon to help because of progress in medical care foundation and consumption in the rising business sectors (like India and China) to meet the clinical necessities in these countries. Japan and China have a huge portion of geriatric urban population which are more prone cardiac malfunctions, and will make the devices in this market more relevant and a lucrative opportunity.
Key Players
Pfizer,
Menarini,
Bristol-Myers Squibb,
Daiichi Sankyo,
Pierre Fabre,
Gilead Sciences,
ARCA Biopharma,
Xention,
HUYA Biosciences,
Servier,
ChanRx,
Sanofi,
Baxter,
Janssen Pharmaceuticals,
Boehringer Ingelheim,
Recent Developments
May 2020, CardioFocus, Inc. received the U.S. Food and Drug Administration approval for the next-generation HeartLight X3 Endoscopic Ablation System for the treatment of drug refractory recurrent symptomatic paroxysmal atrial fibrillation.
Atrial Fibrillation Market: Report Scope

Base Year Market Size

2022

Forecast Year Market Size

2023-2032

CAGR Value

14.4 %

Segmentation

Challenges

Lack of Skilled Physicians
Limited Awareness Among Patients
High Cost
Reimbursement Challenges

Growth Drivers

Increasing Prevalence of AFib
Rising Healthcare Expenditure
Growing Awareness about AFib
Favorable Reimbursement Policies
Technological Advancements
---
Publication date:

19th September 2023

Base year:

2022

Forecast year:

2023-2033

Format:

PDF, PPT,Word,Excel
- Quick Contact -
- ISO Certified Logo -



---
FAQ
Atrial fibrillation (AFib) is a heart condition characterized by an irregular heartbeat. It can cause symptoms such as palpitations, shortness of breath, and fatigue, and can lead to serious complications such as stroke, heart failure, and other cardiovascular diseases.
Treatment options for AFib include medications, minimally invasive procedures such as catheter ablation, and implantable devices such as pacemakers and implantable cardioverter defibrillators (ICDs).
Global atrial fibrillation market was estimated to be worth USD 15.2 billion in 2022 and is expected to reach USD 63.2 billion by 2032, at a CAGR of 14.4% over forecast year 2023-2032
The market is dominated by several key players, including Bristol-Myers Squibb, Sanofi, Johnson & Johnson, Pfizer, and Boehringer Ingelheim.
The major drivers of the AFib market include increasing prevalence of AFib, advancements in technology, rising healthcare expenditure, growing awareness about AFib, and favorable reimbursement policies.
The major challenges facing the AFib market include high cost of treatment, lack of skilled physicians, limited patient awareness, a stringent regulatory environment, and reimbursement challenges.
Atrial Fibrillation Market