Activated Carbon Market By Form (Powdered Activated Carbon, Granular Activated Carbon); By Application (Liquid Phase Application, Gas Phase Application); By Region (North America, Europe, Asia Pacific, Latin America, Middle East & Africa) - Global Market Analysis, Trends, Opportunity and Forecast, 2022-2032
FREE Report Sample is Available
In-depth report coverage is now just a few seconds away
Get FREE Report Sample
Activated Carbon Market Overview and Definition
Activated carbon, also known as activated charcoal, is a highly porous material with a large surface area that is used to purify liquids and gases. Activated carbon is produced by heating organic materials, such as coal, wood, or coconut shells, at high temperatures in the presence of steam, which creates a highly porous material with a large internal surface area.
The activated carbon market includes the production, sale, and distribution of activated carbon products, which are used in a wide range of industries and applications. Activated carbon is commonly used in water treatment to remove impurities, such as organic compounds, chlorine, and other contaminants, as well as in air purification to remove odors and pollutants. It is also used in the food and beverage industry to purify and decolorize liquids, such as sugar, wine, and fruit juices, as well as in the medical industry to treat poisoning and drug overdoses.
The global activated carbon market has been growing steadily over the years, driven by increasing demand for clean water and air, as well as by growing concerns about environmental pollution. The market includes various types of activated carbon, such as powdered activated carbon, granular activated carbon, and extruded activated carbon, among others. Popular activated carbon manufacturers include Calgon Carbon Corporation, Jacobi Carbons AB, Haycarb PLC, and Kuraray Co., Ltd.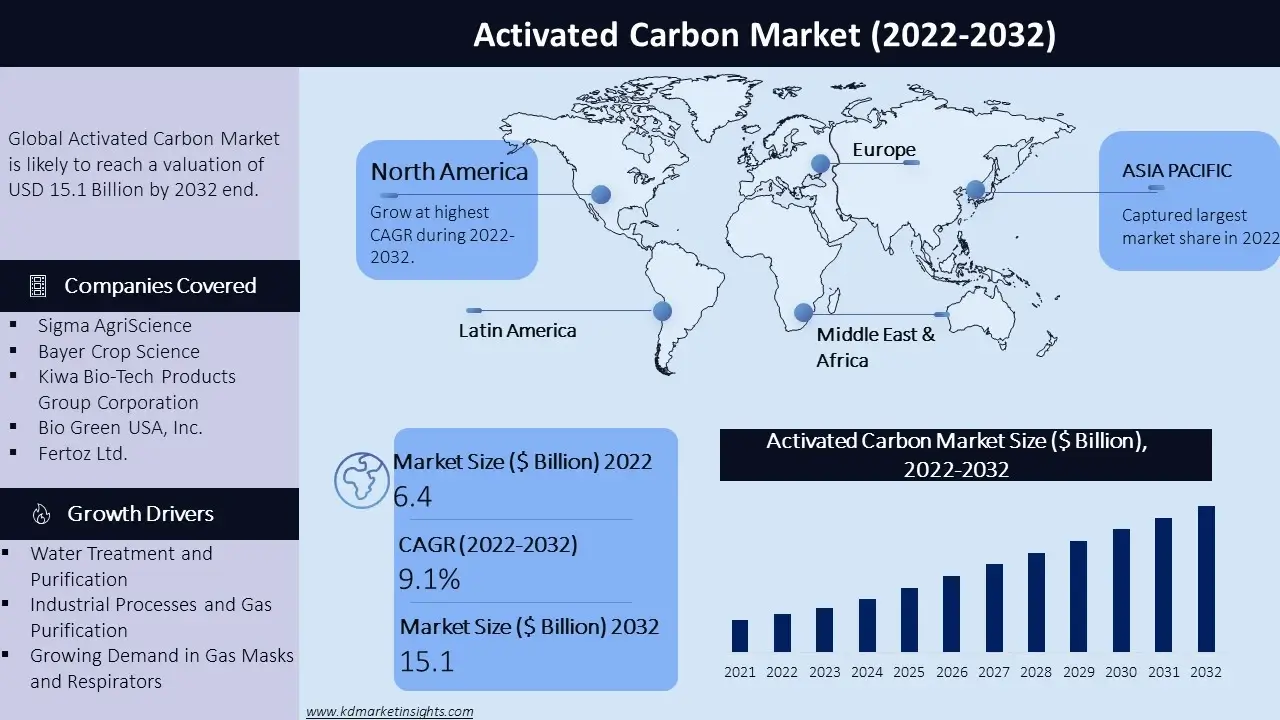 Activated carbon market revenue will reach approximately USD 6.4 billion in 2022. Further, our activated carbon market insights show that the market is expected to grow at a CAGR of approximately 9.1% during the forecast period and reach a value of approximately USD 15.1 billion by 2032. Growing utilization of activated carbon in various industrial applications is expected to impel the growth of the market. Moreover, stringent government regulations to control mercury emissions is also a key factor propelling the growth of the global activated carbon markets.
Activated Carbon Market Segmentation
The research offers a comprehensive analysis of activated carbon market with respect to following sub-markets:
By Form
- Powdered Activated Carbon
- Granular Activated Carbon
- Other
By Application
- Liquid Phase Application
- - Water Treatment
- - -Drinking Water Treatment
- - - Wastewater & Sewage Treatment
- - - Groundwater Treatment
- - - Other
- - Food & Beverage Processing
- - Pharmaceutical & Medical
- - Mining
- - Other Liquid Phase Applications
- Gas Phase Application
- - Industrial
- - - Industrial Gas Stream Treatment
- - - HVAC
- - - Others
- - Motor Vehicles
- - Others
By Geography
- North America (U.S. & Canada)
- Europe (Germany, United Kingdom, France, Italy, Spain, Russia and Rest of Europe)
- Asia Pacific (China, India, Japan, South Korea, Indonesia, Taiwan, Australia, New Zealand and Rest of Asia Pacific)
- Latin America (Brazil, Mexico, Argentina and Rest of Latin America)
- Middle East & Africa (GCC, North Africa, South Africa and Rest of Middle East & Africa)
Activated Carbon Market Competitive Landscape
The report profiles various major market players such as
- Jacobi Carbon Groups
- Indo German Carbons Limited
- Carbon Activated Corporation
- Raj Carbon
- Cabot Corporation
- Calgon Carbon Corporation
- Kuraray Co. Ltd
- Donau Carbon GmbH
- Kureha Corporation
- Haycarb PLC
- Other Major & Niche Players
Competitive landscape analysis provides detailed strategic analysis of the company's business and performance such as financial information, revenue breakup by segment and by geography, SWOT Analysis, risk analysis, key facts, company overview, business strategy, key product offerings, marketing and distribution strategies, new product development, recent news (acquisition, expansion, technology development, research & development expansion and other market activities.
The study also provides company's positioning and market share in activated carbon market.
Timeline Considered for Analysis:
- 2021: Base Year
- 2022: Estimated Year
- 2022 to 2032: Forecasted Year
Research Scope and Deliverables
- Overview & Executive Summary
- Market Drivers, Trends, Challenges and Opportunities
- Market Size and Forecast Projections
- Macroeconomic Indicators of Various Countries Impacting the Growth of the Market
- Extensive Coverage of Industry Players including Recent Product Launches and Market Activities
- Porter's Five Force Analysis
Market Segmentation Analysis:
Industry report analyzes the global activated carbon market by the following segments:
- Form
- Application
Geographic Market Analysis:
The report offers separate analysis of North America, Europe, Asia Pacific, Latin America, and Middle East & Africa. In addition, further breakdown of market data and analysis of region into countries is covered in the report.
Customization: We also offers customization is in the industry report as per the company's specific needs.
---
Key Questions Answered in the Global Advanced Material Industry Report:
- What is the overall market size in 2021 ? What will be the market growth during the forecast period i.e., 2022-2032?
- Which region would have high demand for product in the upcoming years?
- What are the factors driving the growth of the market?
- Which sub-market will make the most significant contribution to the market?
- What are the market opportunities for existing and entry-level players?
- What are various long-term and short-term strategies adopted by the market players?
---
Publication date:

14th November 2023

Base year:

2022

Forecast year:

2023-2033

Format:

PDF, PPT,Word,Excel
- Quick Contact -
- ISO Certified Logo -



---
Activated Carbon Market