3D Printing Metals Market - Global Size, Share, Trends, Growth and Forecast Year ( 2022 – 2032 )
FREE Report Sample is Available
In-depth report coverage is now just a few seconds away
Get FREE Report Sample
Market Size and Overview:
The 3D printing metals market has experienced exponential growth, and is predicted to grow with a compound annual growth rate (CAGR) of 32.5% from 2023 to 2032, reaching a market value of USD 30.0 billion in 2032, says KD Market Insights. This growth can be attributed to the increasing mass customization process used in manufacturing. In addition, the 3D printing of metal mass production has reduced the cost as well. The market is segmented into various segments, like technology, forms, metals, components, regions, and others. The market is emerging, with many new players entering into the market.
---
3D Printing Metals Market Report Scope

Base Year

Market Size

2022

USD 1.8 billion

Forecast Year

Market Size

2032

USD 30.0 billion

CAGR Value

32.5% from 2023 to 2032

Segmentation

•By form

•By components

•By technology

•By software

•By application

•By metal type

•By end-use industry

•By geography

Challenges

•High cost

Growth Drivers

•Increasing mass customization

•Increasing Market of 3D Printing

•Reduce waste
---
Market Segmentation:
By Form:
By Components:
Hardware
Software
Services
By Technology:
Powder Bed Fusion
Directed Energy Deposition
Inkjet printing
Selective Laser Sintering
Electron Beam Melting
Binder Jetting
Metal Extrusion
Others
By Software:
Design Software
Inspection Software
Printer Software
Scanning Software
By Application:
Prototyping
Tooling
Functional Parts
By Metal Type:
Titanium
Nickel
Stainless Steel
Aluminum
Others
By End-use Industry:
Aerospace & Defense
Automotive
Medical & Dental
Others
By Region:
North America
Europe
Asia Pacific
South America
Middle East & Africa
Powder Segment: The powder segment currently dominates the market, owing to the rising emphasis on the increasing demand for high-density products with complex geometries as they are used to manufacture engine parts and components.
Proto-typing: The prototyping segment holds the largest share of applications in 2022. It is expected that it will rise in the coming years due to its extensive use in the automotive, aerospace, and defense sectors. It offers several advantages to the manufacturers, like high accuracy and the development of high-end and reliable products.
Regional Analysis:
The regional analysis of the 3D printing metals market reveals diverse trends and dynamics across different parts of the world. Asia-Pacific is expected to showcase the highest CAGR among all the regions of the world. In Asia, China is a significant market for the 3D printing metals market. The manufacturers of 3D printing metal, who are established in North America and Europe, are expanding their presence by making their geographical footprints in Asia-Pacific by adopting several growth strategies.
In 2022, North America region dominated the market share for 3D printing metals. This is because they are adopting additive manufacturing in the region. The United States and Canada are the significant markets in this region. There are various opportunities for 3D printing metal market in the region as they are early adopters of technology.
In terms of geographical footprints, Europe captured second largest position for 3D printing metals. It has several well-established market players who are specialized in additive manufacturing processes.
Growth Drivers:
Various factors are impelling the growth of the 3D printing metals market. The increasing mass customization process with complex designs and structures is one of the factors aiding to the growth of market. 3D printing is rising due to its mass customization by consumers. It has made it easier for customers to design their styles using 3D printing. With this, mass production also offers result in reducing production cost.
Moreover, 3D printing metals has also enhanced manufacturing with its advantages like mass customization and short production runs. It has benefitted manufacturing by decreasing the use of tools during production. Also, being produced at a large scale, it has reduced the cost and waste which is being produced during manufacturing.
Challenges:
The high cost of 3D printing metals is a very important concern for its growth. This is due to the special requirements of the metal powder in the process. The metal is converted into small spherical shape molecules to create the powder. The spherical shape helps in better flow and high packing characteristics. These special requirements act as a challenge for the 3D printing metal market.
---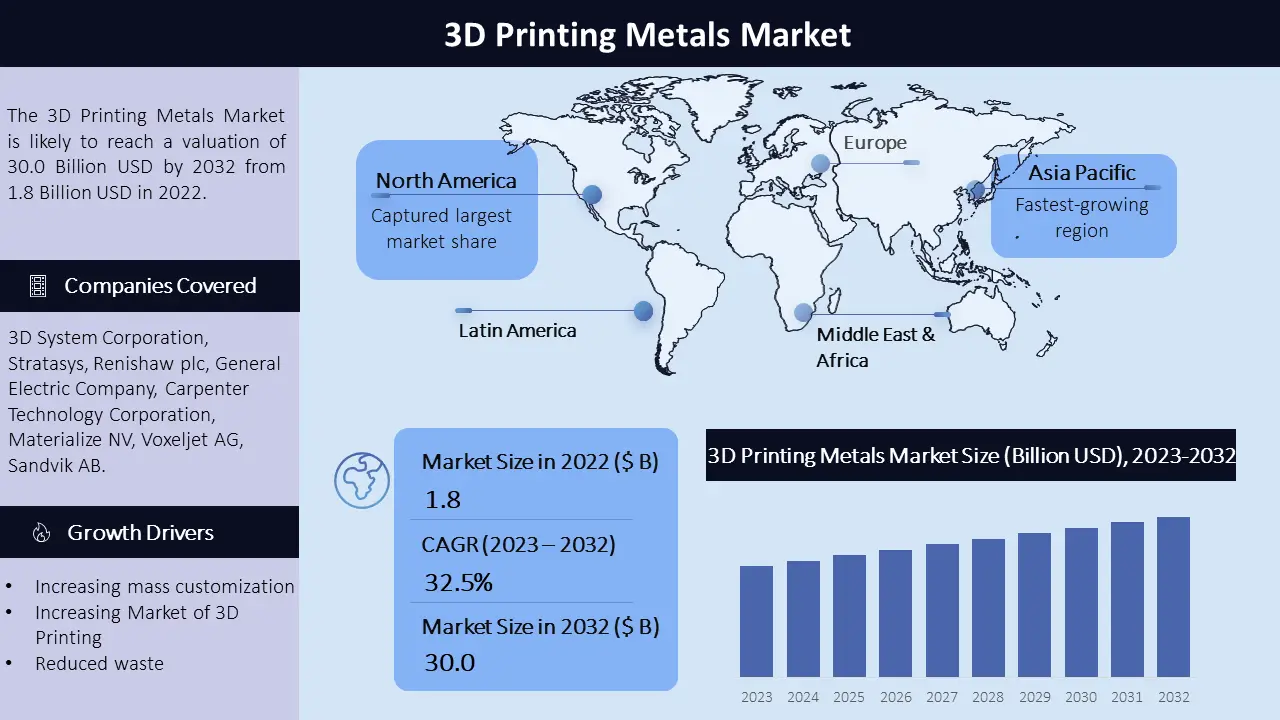 ---
Key Companies:
3D System Corporation
Stratasys
Renishaw plc
General Electric Company
Carpenter Technology Corporation
Materialize NV
Voxeljet AG
Sandvik AB
EOS GmbH Electro Optical Systems
The ExOne Company
Proto Labs Inc.
Other Players
The report profiles leading companies in the 3D printing metals market, such as Renishaw plc., Materialise NV, Sandvik AB, and others. These companies have a strong market presence, extensive distribution networks, and a wide product portfolio. Their competitive strategies involve product innovation, strategic partnerships, mergers, and acquisitions to enhance their market share and cater to diverse customer needs.
In October 2021, 3D System Corporation announced that it is acquiring Volumetric Biotechnologies to expand its business and create new 3D printing metals.
---
Publication date:

Aug 2023

Base year:

2022

Forecast year:

2023-2033
- Quick Contact -
- ISO Certified Logo -



---
FAQ
The market is primarily driven by the increasing demand from the aerospace & defense and automotive industries, mass communication of products with complex design and structure, lower manufacturing cost, reduction in lead times, and reduction in waste generated during production.
The powder segment currently dominates the market, owing to the rising emphasis on the increasing demand for high-density products with complex geometries as they are used to manufacture engine parts and components.
The North America region showcases immense growth potential, attributed to rapid urbanization, infrastructure development, and the increasing focus on technological advancements.
3D Printing Metals Market